It's early Wednesday morning, Eastern Time, so that means it's time for Previews World to publish the latest batch of solicits! Coming our way Transformers-wise in June is the (very) long-awaited debut of
Till All Are One
, the successor to
Windblade
, issues 54 of both
The Transformers
and
More Than Meets The Eye
, and the final issue of
Transformers vs GI Joe
. Joining those is a collection of collections, and another
Robots in Disguise
cartoon-adaptation screencap comic. Keep reading for the teasers and covers!
TRANSFORMERS #54
(W) John Barber (A/CA) Andrew Griffith
ALL HAIL OPTIMUS-part 5! OPTIMUS PRIME orders all all-out siege against the DECEPTICONS... leaving himself wide open to a counterattack by the human forces. Which is just what GALVATRON wanted all along...
In Shops: 6/15/2016
SRP: $3.99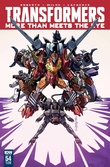 TRANSFORMERS MORE THAN MEETS EYE #54
(W) James Roberts (A/CA) Alex Milne
MASSACRE! The battle between the DECEPTICON Justice Division and MEGATRON's AUTOBOTS reaches its nerve-shredding climax. Pray for your favorites-because not everyone makes it out of this issue alive.
In Shops: 6/29/2016
SRP: $3.99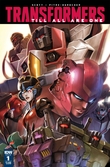 TRANSFORMERS TILL ALL ARE ONE #1
(W) Mairghread Scott (A/CA) Sara Pitre-Durocher
PEACE IN OUR TIME! STARSCREAM and WINDBLADE have given everything to bring together CYBERTRON's Lost Colonies into a Council Of Worlds. But when the increasingly brutal tactics of STARSCREAM's secret police increase tension among the former DECEPTICONS... how long can the Council maintain this fragile peace?
In Shops: 6/22/2016
SRP: $3.99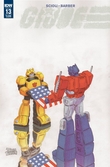 TRANSFORMERS VS GI JOE #13
(W) John Barber, Tom Scioli (A/CA) Tom Scioli
THE END IS NIGH! Final battle erupts-the forces of G.I. JOE and the AUTOBOTS head-to-head (or head-to-toe, depending on the size difference) with the DECEPTICOBRA alliance! The fate of the universe hangs on every decision!
In Shops: 6/22/2016
SRP: $7.99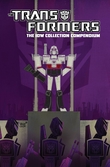 TRANSFORMERS IDW COLL COMPENDIUM TP VOL 01
(W) Eric Holmes & Various (A) Alex Milne & Various
The TRANSFORMERS universe is vast and full of ongoing conflict between the AUTOBOTS and DECEPTICONS. A war that stretches across the galaxy and throughout time. These tales-from IDW's timeline of events-re-present the saga as it unfolded. From CYBERTRON to Earth, this is the story of The TRANSFORMERS. Included are The Transformers: The IDW Collection volumes 1 and 2.
In Shops: 6/1/2016
SRP: $79.99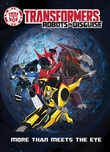 TRANSFORMERS ROBOTS IN DISGUISE MTMTE TP
(W) Steven Melching, Michael Ryan (A/CA) Various
A new generation of TRANSFORMERS continues in adaptations of the celebrated animated series! The Great War has passed and CYBERTRON is rebuilt with BUMBLEBEE now leading a small group of AUTOBOTS on Earth in a secret mission from OPTIMUS PRIME! This volume collects the season one episodes "More Than Meets The Eye" and "As The Kospego Commands!"
In Shops: 6/15/2016
SRP: $7.99