Just in from Previews World we have the upcoming comic info for what's heading to shops in June.
Till All Are One
sees its second collected volume hit - as well as an apparent new run of volume 1 as well! TAAO also ships its regular issue alongside
Optimus Prime
and
Lost Light
. Plus we get a new one shot,
Transformers Salvation
, picking up the story of the DInobots after
Redemption
. Click through to check out the solicitations and cover previews below!
TRANSFORMERS TILL ALL ARE ONE #11
(W) Mairghread Scott (A/CA) Sara Pitre-Durocher
With Elita One's influence closing in around Starscream, he's desperate to make any alliances he can. Turns out, a powerful ally might already be within his grasp. But is he willing to risk his own sanity to reach them?
In Shops: Jun 28, 2017
SRP: $3.99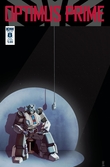 OPTIMUS PRIME #8
(W) John Barber (A) Casey W. Coller (CA) Kei Zama
Jazz confronts his past-and the Autobot's future-in front of millions of television viewers. But will he make the people of Earth understand Optimus Prime's mission... or turn against it?
In Shops: Jun 14, 2017
SRP: $3.99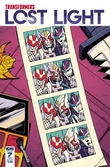 TRANSFORMERS LOST LIGHT #7
(W) James Roberts (A/CA) Jack Lawrence
AFTERMATH! The war with the Functionalists is over-and Rodimus is left wondering whether he won or lost. It's the beginning of a new chapter for the displaced crew of the Lost Light, as decisions are made that will change their lives forever.
In Shops: Jun 28, 2017
SRP: $3.99

TRANSFORMERS SALVATION
(W) John Barber (A/CA) Livio Ramondelli
Exiled from civilization, the Dinobots are the last line of defense against the ultimate Cybertronian dinosaur-Trypticon! But how much are the Dinobots willing to sacrifice for a world that hates them?
• Dinobots versus the biggest dino of them all-Trypticon!
• John Barber and Livio Ramondelli finish their Dinobot trilogy that started in Transformers: Punishment and Transformers: Redemption!
In Shops: Jun 21, 2017
SRP: $7.99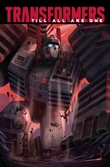 TRANSFORMERS TILL ALL ARE ONE TP VOL 02
(W) Mairghread Scott (A/CA) Sara Pitre-Durocher
Epic space-opera action continues as the dramatic TRANSFORMERS continuity leads on to new and explosive revelations! REVOLUTION is over but the danger isn't! A wave of undead TITANS threatens CYBERTRON! STARSCREAM will need more than secret police to stop the oncoming horde, but our Fearless Leader finds himself short on friends and firepower. Who can be called upon-and why aren't they stepping up to the plate? Collects issues #5-9.
In Shops: Jul 05, 2017
SRP: $19.99