Previews World has posted the latest round of comic solicits, taking us in to the summer. Notable on the block this month is the return of IDW's movie continuity tie in comics, once again written by John Barber and to feature interior art by Andrew Griffith. This time out it's a prequel to the Bumblebee movie, noted as being aimed at younger readers. Apart from that, we have the usual
Optimus Prime
and two
Lost Light
issues, plus some trades including a complete collection of the Wreckers titles. Keep reading for all the solicits and (a few) cover previews!

TRANSFORMERS BUMBLEBEE MOVIE PREQUEL #1
(W) John Barber (A/CA) Andrew Griffith
Some call him Goldfender, but the name's Bee... Bumblebee. On loan to MI6 and teamed with a human partner, Bee's trapped in the middle of a Cold War plot to disrupt British Secret Intelligence. But when things go wrong, it's up to Bee to discover if there's a traitor in their midst. In the spy world, allegiances can change just as easily as a Transformer.

*The prequel to the new Bumblebee film (coming this winter), geared toward a younger audience!
In Shops: Jun 20, 2018
SRP: $3.99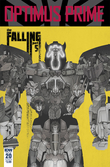 OPTIMUS PRIME #20
(W) John Barber (A/CA) Kei Zama
"The Falling," Part 5. Optimus Prime has faced defeat before and come back... but he's never seen anything like this. Beyond life, beyond death-only the wisdom of an old friend can save him. Meanwhile, Victorion battles Devastator... and only one will survive.
The return of Bumblebee! One shall rise, one shall fall, but who will destroy them all?
In Shops: Jun 20, 2018
SRP: $3.99
TRANSFORMERS LOST LIGHT #19
(W) James Roberts (A) E. J. Su (CA) Nick Roche
DEATH FROM ABOVE! Years ago, the crew of the Lost Light fought a demonic Cybertronian mutant that fed on its victims' souls. Years later, Rodimus and Co. are about to discover that the only thing worse than a sparkeater... is an army of spark eaters!
In Shops: Jun 13, 2018
SRP: $3.99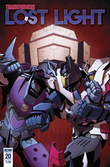 TRANSFORMERS LOST LIGHT #20
(W) James Roberts (A) Casey Coller (CA) Jack Lawrence
Rodimus vs. Getaway! Finally!
In Shops: Jun 27, 2018
SRP: $3.99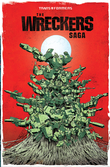 TRANSFORMERS WRECKERS SAGA TP
(W) Nick Roche, James Roberts (A) Guido Guidi (A/CA) Nick Roche
Three tales of the legendary Wreckers from creators Nick Roche and James Roberts are collected into this special edition! From the prison planet of Garrus-9 and a mysterious siege, to the lonely exploits of a kidnapped Prowl, Roche and Roberts, with artist Guido Guidi reveal traitors, long-lost secrets, and all the hard-nosed action that made the Wreckers the legends they are.
In Shops: Jul 18, 2018
SRP: $29.99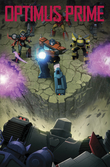 TRANSFORMERS OPTIMUS PRIME TP VOL 03
(A) Casey Coller, Priscilla Tramontano, Kei Zama (CA) Joana Lafuente
What new future will the Transformers bots face? With Optimus Prime trapped on Cybertron, embroiled in the First Strike event, the Autobots on Earth set off on a mission to find their missing friend, Jazz. But anti-Cybertronian humans are after him as well, and they're armed with Cybertronian weapons! Collects Optimus Prime issues #11-14 and the Optimus Prime: First Strike and Transformers: First Strike one-shots.
In Shops: Jul 11, 2018
SRP: $19.99