It's that time once again. The middle Wednesday of the month is on us, so it's time to jump forward and see the teasers for the upcoming Transformers comic titles. Previews World brings us word of
The Transformers
and
More Than Meets The Eye
's respective issues 53, plus the conclusion to
Sins of The Wreckers
! Also listed for May are the 9th collected volume of MTMTE, and a Classics Compendium containing the first 50 Marvel Transformers issues! Keep reading for covers and summaries!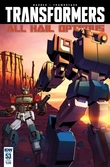 TRANSFORMERS #53
(W) John Barber (A) Priscilla Tramontano (CA) Andrew Griffith
ALL HAIL OPTIMUS part 4! It's all-out war as OPTIMUS PRIME's forces move on GALVATRON's DECEPTICONS-with Earth caught in the middle! Unusual alliances have formed... and secrets will be revealed.
• The best underwater fighting since Thunderball! But this time-they're giant metal aliens with lasers!
• GALVATRON's secret weapon comes alive!
In Shops: 5/11/2016
SRP: $3.99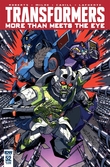 TRANSFORMERS MORE THAN MEETS EYE #53
(W) James Roberts (A/CA) Alex Milne
THE DYING OF THE LIGHT part 4! Twilight's last gleaming! The end is nigh. No chance of escape. No last-minute reprieve. But nothing loosens the tongue like imminent death, and the crew of the Lost Light use their final hours to say what-until now-was unsayable.
In Shops: 5/25/2016
SRP: $3.99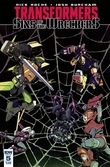 TRANSFORMERS SINS OF WRECKERS #5 (OF 5)
(W) Nick Roche & Various
THIS IS THE END! Will PROWL get his comeuppance? Will TARANTULAS conquer all? Will any of the WRECKERS survive? It's wreck and rule one last time, with everything on the line!
In Shops: 5/4/2016
SRP: $3.99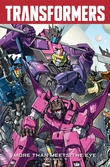 TRANSFORMERS MORE THAN MEETS THE EYE TP VOL 09
(W) James Roberts (A) Alex Milne & Various (CA) Alex Milne
OPTIMUS PRIME struggles to find his place on CYBERTRON where half the population hates him and the other half worships him. Meanwhile, on Earth, GALVATRON doesn't care what anybody thinks. Collects issues #45-49.
In Shops: 5/11/2016
SRP: $19.99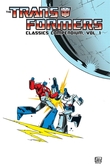 TRANSFORMERS CLASSICS COMPENDIUM TP VOL 01
(W) Bob Budiansky & Various (A) Don Perlin & Various (CA) Guido Guidi
A huge compendium containing the first 50 issues of the classic Transformers comics series!
In Shops: 5/18/2016
SRP: $99.99