Previews World has the complete listings up for what's coming our way in November, and as usual we have the Transformers-relevant titles from IDW collected here for you to check out. Planned for release are issue 13 of
Optimus Prime
, starting a new storyline following First Strike concluding;
Lost Light
issue 12, the conclusion of the 'Mutineers Trilogy'; and the finale of
ROM vs Transformers: Shining Armor
with issue 5 of that miniseries. Check out the blurbs and cover previews below!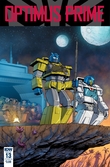 OPTIMUS PRIME #13
(W) John Barber (A) Livio Ramondelli (CA) Casey Coller
As the consequences of the First Strike event reverberate, Optimus Prime ventures into the wilderness of Cybertron to search for the first new Cybertronian life to emerge in four million years!
Bullet points:
* Optimus Prime deals with the fallout of the First Strike event!
In Shops: Nov 15, 2017
SRP: $3.99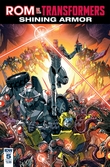 ROM VS TRANSFORMERS SHINING ARMOR #5
(W) John Barber, Christos Gage (A/CA) Alex Milne
Bumblebee vs. Rom vs. Starscream vs. the Dire Wraiths! All alliances are off-this is a fight for survival! Torn between her Cybertronian heritage and her Solstar Knight upbringing, Stardrive takes control of her fate!
In Shops: Nov 22, 2017
SRP: $3.99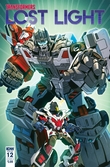 TRANSFORMERS LOST LIGHT #12
(W) James Roberts (A) Jack Lawrence (CA) Alex Milne
NO TURNING BACK! Getaway has crossed one too many lines and made one too many enemies. Hunted down on his own ship, the master manipulator has one last trick of his sleeve-something so shocking, so audacious, that it would put the most evil Decepticon to shame. No one is safe as the Mutineers Trilogy reaches its jaw-dropping climax.
In Shops: Nov 22, 2017
SRP: $3.99