We've got the latest round of comic solicitations straight from Previews World, and this October, the Revolution event will be in full swing!
The Transformers
and
Till All Are One
begin their "Revolution" renumbering... but interestingly,
More Than Meets The Eye
is nowhere to be seen for the month of October! Plus issues 4 and 5 of
Revolution
will keep filling in the overarching storyline that ties in to all the other franchise books. Keep reading for cover previews and blurbs for the Transformers-relevant issues.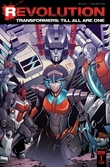 TRANSFORMERS TILL ALL ARE ONE REVOLUTION #1
(W) Mairghread Scott (A) Naoto Tsushima (CA) Sara Pitre-Durocher
WINDBLADE ON EARTH! The mysterious link between METROTITAN and MICROSPACE threatens to tear two universes apart, and only WINDBLADE has a chance to heal the Titan... and there she learns a terrifying secret that changes the stakes of the REVOLUTION.
• Featuring OPTIMUS PRIME, ROM, and much, much more!
In Shops: Oct 05, 2016
SRP: $3.99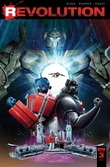 REVOLUTION #3
(W) Cullen Bunn, John Barber (A) Fico Ossio (CA) Tradd Moore
THEY CAME FROM MICROSPACE! What terror reaches through the tendrils of entropy into our universe-and why does ROM want to kill it? Meanwhile, M.A.S.K.'s MATT TRAKKER makes a startling discovery about the TRANSFORMERS-but will G.I. JOE's SCARLETT believe him?
In Shops: Oct 12, 2016
SRP: $3.99
TRANSFORMERS REVOLUTION #1
(W) John Barber (A) Andrew Griffith (CA) Marcelo Matere
THUNDERCRACKER AND BUSTER SAVE THE WORLD! A DECEPTICON who wants to be a screenwriter. A dog who wants to, I don't know, eat stuff and chase squirrels or whatever dogs want to do. A White House under siege by DIRE WRAITHS. And the phone call that brings them all together.
• Just because OPTIMUS PRIME and SOUNDWAVE are leading the REVOLUTION doesn't mean the rest of the TRANSFORMERS aren't keeping busy!
In Shops: Oct 19, 2016
SRP: $3.99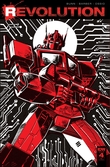 REVOLUTION #4
(W) Cullen Bunn, John Barber (A) Fico Ossio (CA) Tradd Moore
SILENT INTERLUDE! One human has the skill to break into AUTOBOT CITY-but what is SNAKE EYES going to do when he finds himself face-to-knee with OPTIMUS PRIME? And outside, MILES MAYHEM and the M.A.S.K. team wait to see who walks out alive...
In Shops: Oct 26, 2016
SRP: $3.99