Robots Wage War for Sci-Fi Supremacy in TRANSFORMERS VS. THE TERMINATOR
Fan-Favorite Properties Cross Over in Comic Book Miniseries from IDW Publishing
SAN DIEGO, CA (December 17, 2019) – IDW Publishing (OTC: IDWM) is proud to announce the March 2020 launch of TRANSFORMERS VS. THE TERMINATOR, a four-issue monthly series in partnership with Dark Horse Comics that pits the deadly race of futuristic cyborgs against the sentient, converting robots from Cybertron.
TRANSFORMERS VS. THE TERMINATOR brings together three longtime TRANSFORMERS contributors (writers David Mariotte and John Barber, and artist Alex Milne) with writer Tom Waltz (fresh off his celebrated 100-issue Teenage Mutant Ninja Turtles run) for an epic crossover that revisits the concepts of alien invasion and time-traveling resistance fighters… but twists them in unexpected ways!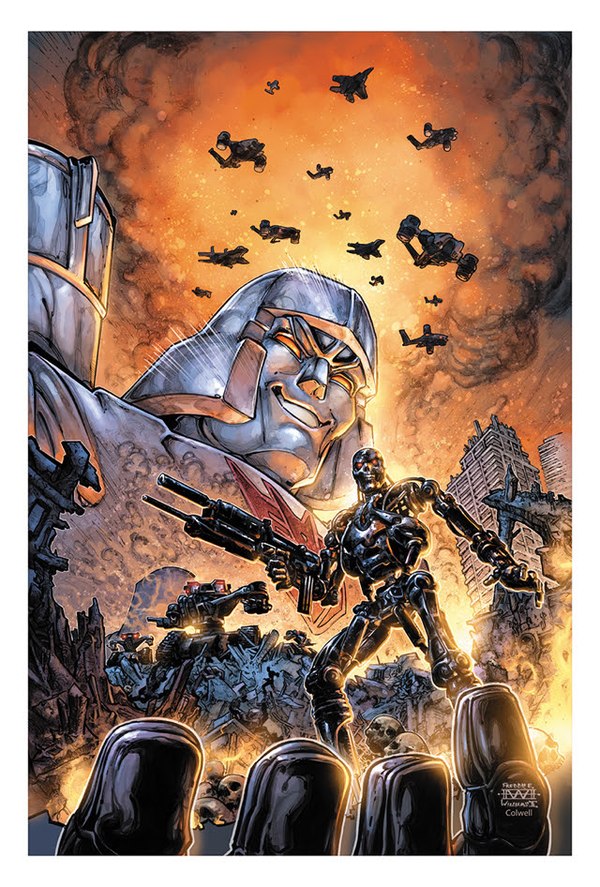 "I still remember the visceral thrill and terror of my first viewing of THE TERMINATOR, and while I've seen it a hundred times since then, it still gets my pulse running," says John Barber, co-writer and IDW Editor-in-Chief. "I've worked on TRANSFORMERS a lot over the years, and the opportunity to combine these two mechanistic universes together to see who comes out on top (while working alongside Tom, David, and my old collaborator Alex, no less) —well, it's way too exciting a chance to pass up."
"TRANSFORMERS was a large part of my childhood; I was captivated, wanting to see how Optimus Prime would foil the plans of Megatron," says artist Alex Milne. "Later, I came across THE TERMINATOR and was amazed by the idea of a robot pretending to be a human, sent back in time to hunt down a specific target. Now, as an adult, I'm very pleased to lend my talents to a project which sees these sci-fi icons brought together!"
TRANSFORMERS VS. THE TERMINATOR #1 will be available with multiple cover variants for retailers and fans to enjoy, including Cover A by Gavin Fullerton (Samurai Jack: Lost Worlds, Bags), Cover B by series artist Alex Milne, and two Retailer Incentive editions by comic book sensations Freddie E. Williams II (Batman/TMNT) and Francesco Francavilla (Star Wars Adventures), respectively.
For information on how to acquire copies of the TRANSFORMERS VS. THE TERMINATOR miniseries, please contact your local comic shop or visit www.comicshoplocator.com to find a store near you.

TRANSFORMERS and all related characters are trademarks of Hasbro and are used with permission. © 2019 Hasbro. All Rights Reserved. Licensed by Hasbro.
About Hasbro
Hasbro (NASDAQ: HAS) is a global play and entertainment company committed to Creating the World's Best Play and Entertainment Experiences. From toys and games to television, movies, digital gaming and consumer products, Hasbro offers a variety of ways for audiences to experience its iconic brands, including NERF, MY LITTLE PONY, TRANSFORMERS, PLAY-DOH, MONOPOLY, BABY ALIVE, MAGIC: THE GATHERING and POWER RANGERS, as well as premier partner brands. Through its entertainment labels, Allspark Pictures and Allspark Animation, the Company is building its brands globally through great storytelling and content on all screens. Hasbro is committed to making the world a better place for children and their families through corporate social responsibility and philanthropy. Hasbro ranked No. 13 on the 2019 100 Best Corporate Citizens list by CR Magazine, and has been named one of the World's Most Ethical Companies® by Ethisphere Institute for the past eight years. Learn more at www.hasbro.com, and follow us on Twitter (@Hasbro) and Instagram (@Hasbro).