A couple of themes have recurred in the discussion about Titan Class Scorponok since we saw a first leaked image of the main body of this year's big ticket Generations toy. One of them is an ongoing debate over whether it shares parts with Omega Supreme, a theory which I don't think even has enough merit to be worth debunking right now. The other is about the overall height of Scorponok. This might also stem from that Omega Supreme retool nonsense, but it's still a worthy question. After all, just like Omega Supreme has a designated rival in Devastator which encourages a certain comparative size, Scorponok has Fortress Maximus, so it would be kind of bad if there was a significant gap between their heights, right?
What we have available right now to work with is, I'm afraid, not enough to judge the height of Scorponok. So this whole premise has been slightly misleading so far, I admit. But one thing we are able to do is work out how big Zarak is, and that's still useful information to have. Zarak was debuted to us during New York Comic Con in October, though somehow it feels like about five years ago already. We got some pretty good looks at the figure, and that'll be able to give us a solid idea about the overall size.
One thing greatly working in the Toy Detective's favor here is that Zarak has a Titan Master for a head. Titan Masters have a basically uniform maximum width of 14mm, with a variance of about half a millimeter. That's a great point of reference, because if we were to take one of those preview images from NYCC where Zarak is pretty dead-on with the camera, we can adjust the scale of the image until the width of the head is 14mm. Even better, we can check our math on this because at the same scale, the openings in the hands correctly measure as being 5mm in diameter, so we're set to start working out the rest.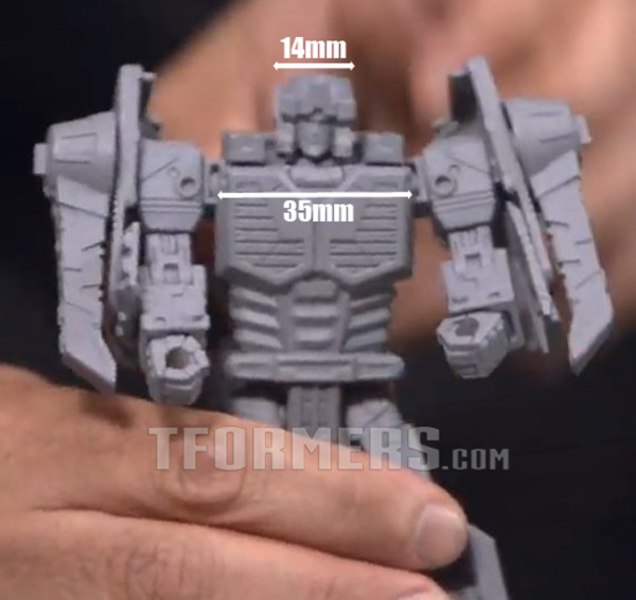 We can use the same reference image to determine the width of the chest. That came out to about 35mm - or 3.5cm if you prefer. And this is what I set as a "yardstick" for measuring the overall height. Unfortunately, the best straight-on image of Zarak where the toy is standing basically upright and the legs aren't obscured by the hands of John Warden or Ben Montano is a wide shot where Zarak is very small in the frame. But we can still undertake the same process to get where we're going. Blowing that up so our reference points match, we can measure the height directly. It comes out to between 13 and 13.5cm, or about 5 1/4 inches. We can check the math on this as well, since Siege 35th Anniversary Megatron is in frame too, and Zarak seems to come up just past the midpoint of Megatron's chest. This would support a height in the 13cm range, just as we already found.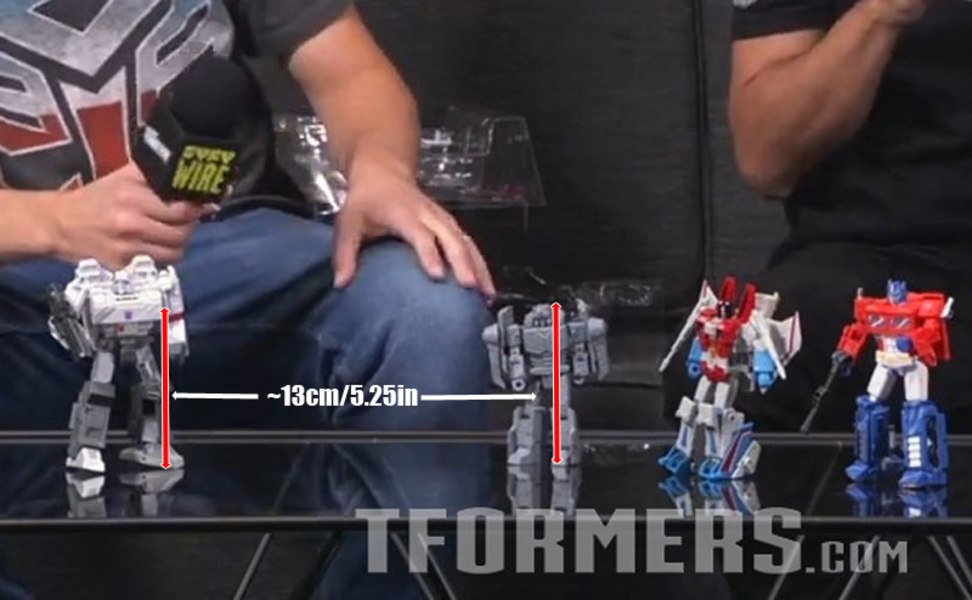 So, that is smaller than Cerebros by a bit. But a height in this range is taller than our average modern Deluxes, and is in fact right about equal height with Weirdwolf and the other Deluxe Headmasters characters from Titans Return. That doesn't seem like something that would happen by accident. It may not have been feasible at this point in time to make Zarak just as big as Cerebros, but making sure he's at least as tall as the character's he's supposed to be the boss over is the next best outcome.
Now, even though Zarak isn't as big as Cerebros, it's still plenty big enough that the head mode would be much bigger than Omega Supreme's head, which is at least a good pointer towards the Scorponok body being overall bigger, though it's impossible to say exactly how much bigger right now. If I were to guess, I'd expect Scorponok will be shorter than Fortress Maximus, maybe halfway between that and Omega Supreme. For my money that's certainly a more-than-workable scaling, and is for sure a better deal than Scorponok's G1 toy got.
Toy Fair is right around the corner, and naturally we'll be seeing Scorponok there and being able to get a much better idea of the actual size of our latest Titan. TFormers will be bringing coverage direct from the event, so stay with us to make sure you don't miss any of it!