Hasbro Pulse is beyond excited to share their latest collaboration with Tokyo Direct where they worked with three amazing Japanese artists to bring us all something truly special. Each artist created a piece of art depicting an iconic Transformers character in their own unique art style. These illustrations are featured on exclusive T-shirts available for purchase now at $24.99 USD each on Hasbro Pulse. Read on to see the official details and imageswith links to buy each shirt.


---
Optimus Prime T-shirt by Artist Acky Bright
The legendary Autobot leader has a new look in this exclusive T-shirt design, rolling out in the style of Japanese manga artist, Acky Bright.
This freehand drawing breathes life into the giant converting robot, offering a unique version of the iconic character. Bright took inspiration from kabuki theater to pose Optimus Prime and added graphics to his legs inspired by kumadori, the stage makeup worn by kabuki actors. He also added "Optimus Prime" across his right thigh. On his shoulder, alongside the Autobot badge, is the Japanese symbol for courage, a fitting emblem for the brave bot. And across his chest is "roll out," inspired by his iconic quote. Finally, across the bottom reads "Transformers" and at the top right is the artist's signature. Read interview with Acky Bright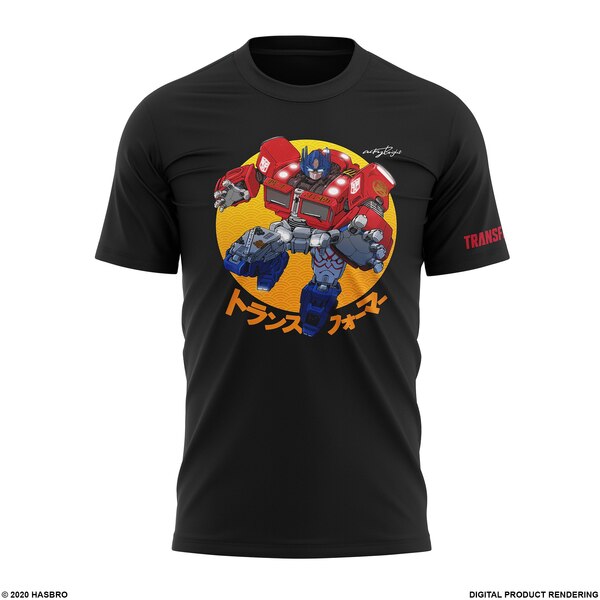 ---
Beast Wars Megatron T-shirt by Artist Hidekichi Shigemoto
Shigemoto has done work for Bandai, Marvel and Star Wars, and has honed his own unique sumi-e style. Yess. Sumi ink (which translates to "Black Ink" in Japanese) is mostly used for calligraphy writing in Japan. Sumi-e is a special style within the ink painting history of Asian culture using Sumi ink. Sumi ink (which translates to "Black Ink" in Japanese) is mostly used for calligraphy writing in Japan. Yeesss.
Shigemoto is a master at using simple, black ink to achieve intricate details. Feel Beast Wars Megatron, leader of the Predacons, come to life in a new way as Shigemoto captures the complex robotic and T-Rex elements of Megatron, while also adding a sense of dynamic movement through the technique of ink splashes and smudges commonly used in calligraphy writing. Yeesss. Read interview with Hidekichi Shigemoto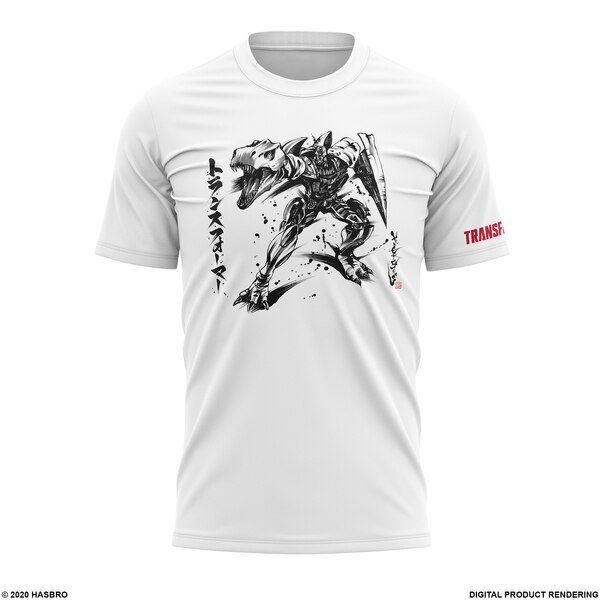 ---
Bumblebee T-shirt by Artist Crimson_15
For those fans who have always wanted to see Bumblebee as a Japanese samurai on a T-shirt, video game artist Crimson_15 has delivered! Her dreamy use of watercolor depicts the courageous Autobot scout in Japanese samurai armor with colors blending into each other to create a truly magical effect.
"Some of my best friends are humans!" -Bumblebee
Understanding the bodacious bot's affinity for humans, Crimson_15 incorporated a human girl, also in samurai armor, to fight alongside Bumblebee.
You may be familiar with Crimson_15's work as a video game designer, which includes titles like Fate/Grand Order and Million Arthur. Don't miss out on this rare opportunity to add this unique T-shirt to your collection. Read interview with Crimson_15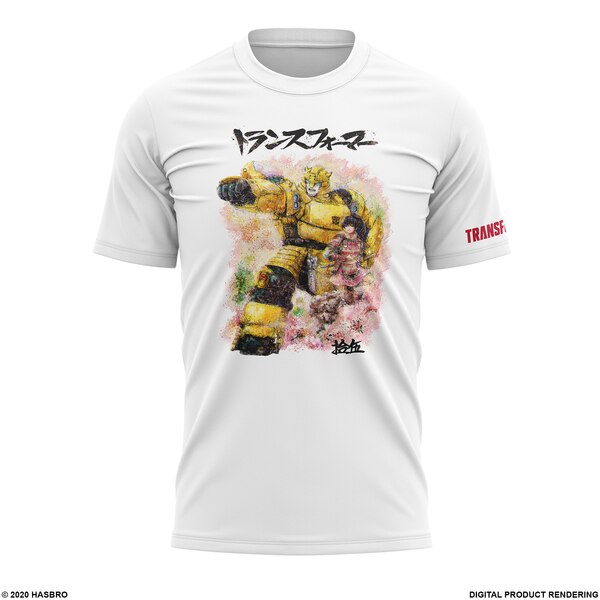 ---