TakaraTomy Mall posted a new listing that might understandably cause some concern and confusion for collectors. Beginning immediately and running until sold out, TakaraTomy Mall is offering the Generations Selects King Poseidon Perfect Mode Set for delivery in March. The Perfect Mode Set is priced at ¥25,500, plus 10% sales tax for a total of ¥28,050. At a casual glance, one might worry that this is a new, enhanced set of the same individual toys that we all have already locked in preorders for months ago.
In fact, some may recall that immediately after the Legends series Godbomber was released, TakaraTomy revealed a TakaraTomy Mall exclusive God Ginrai set with new Headmasters, and deco tweaks to the previously released toys, for a total price that was actually a little less than the individually sold versions. Much frustration was had.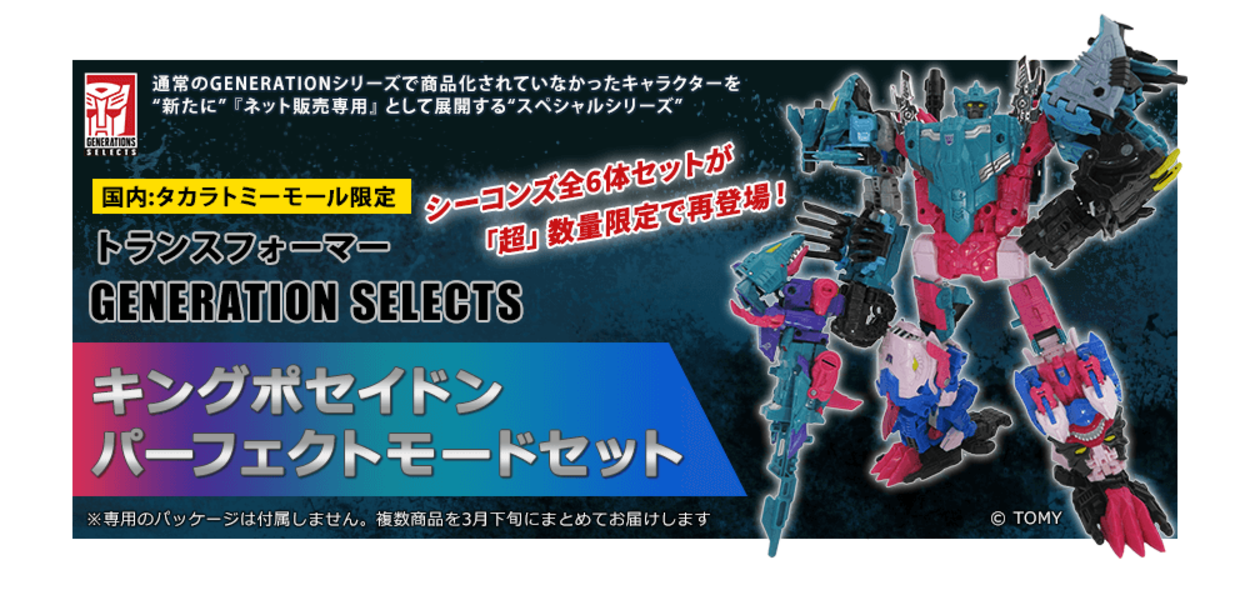 We can be thankful though that this is not the situation we find ourselves in now. All indications we can see show nothing pointing to new accessories, or deco alterations, or even fancy packaging. No, what we have is something of a "second chance" sale. These are just the same individually packaged Seacons that will be released starting late next month, but you'll get all of them at once starting near the end of March. A great chance if you are both in Japan and could not catch one or more sets before the order period for each wave closed.
So, why is TakaraTomy offering this now? We can't be entirely sure, but the most simple answer is that they've done some accounting and found they have some surplus sets from the production batch above and beyond what the first round of preorders called for. That it's being presented as available until sold out indicates there's an already determined quantity available; if this was preorders for an additional production run, it would more likely be an open-ended number of orders within a limited time frame as is the typical method.
For all of us outside of Japan, this will probably have little, if any impact on us at all. It's unlikely Hasbro Pulse will offer this, and unclear at best whether any other import retailers will bother trying to secure stock from this offering. For anyone outside Japan that did miss out on part or all of the first Seacons offering, hopefully this will materialize in some way that's helpful. If not, maybe TakaraTomy will ultimately pull another God Ginrai and start preorders for Super Perfect King Poseidon the day after the last batch of the regular versions ship out.
But hopefully not.