Kotobukiya updates on their Bishoujo Transformers Optimus Prime project with full color Images and more details on the product release. The new images show the figurine designed by Shunya Yamashita from many sides, as well as with the face mask. The page also reveals they are working on a Bishoujo Bumblebee figurine in addition to Megatron. See the product information and images that follow for more detials on the Kotobukiya Bishoujo Transformers Optimus Prime release.
Kotobukiya Bishoujo Transformers Optimus Prime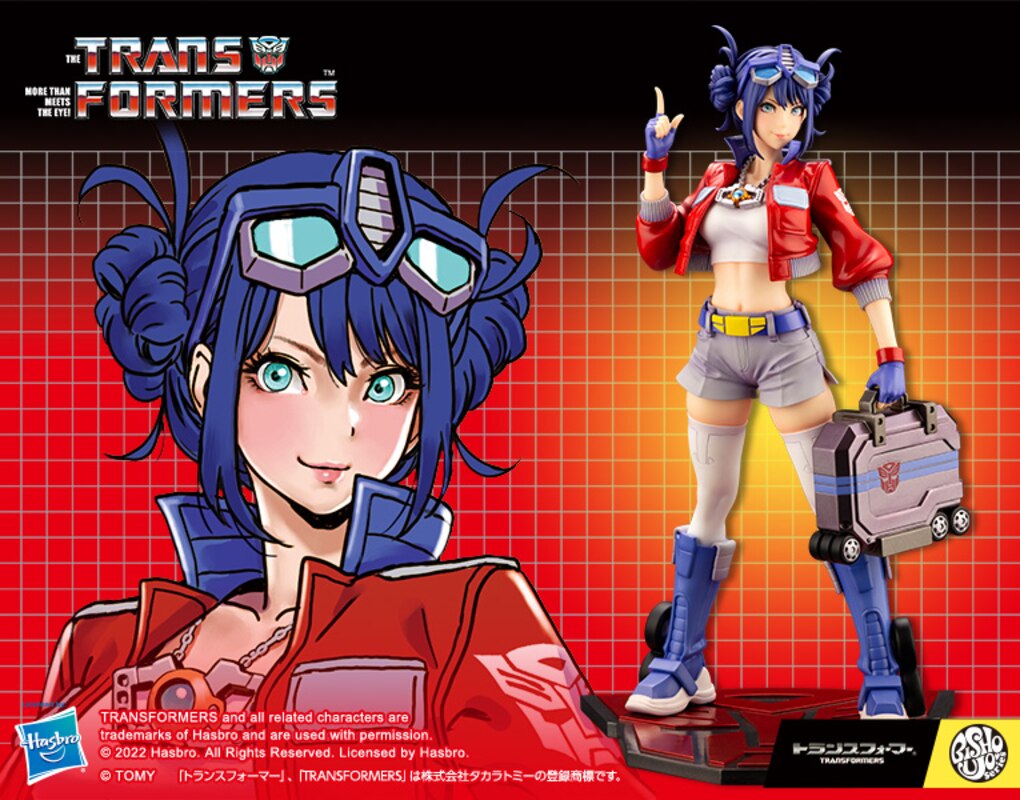 The TRANSFORMERS series was originally a line of toys that stood out for having familiar objects that could transform into robotic lifeforms, and became widely known through the anime and movies!
In a collaboration between Hasbro, Takara Tomy, and Kotobukiya, this series which has been loved by fans around the world since 1984 will be released as a new line as TRANSFORMERS BISHOUJO!
The statue was made into the BISHOUJO style by Shunya Yamashita based on the first ever, core series that is still beloved to this very day, THE TRANSFORMERS!
First in the series comes one who loves peace, AUTOBOT LEADER, OPTIMUS PRIME.
Starting with OPTIMUS PRIME'S head parts, which have been rearranged into loose buns on the statue to the trailer reimagined into a briefcase, the original design has been carefully incorporated into this new appearance. Be sure to check out the details on the boots and belt as well.
See the leadership shining through with this famous pose, "I've got an idea."
Change out the head part to the battle mask version for an even more gallant look!
The base is designed with the AUTOBOT logo in metallic paint.
MEGATRON and BUMBLEBEE are currently in development as the second and third additions to the series!!
Roll out!
Additional Details & Dimensions
Materials: ABS , PVC
Scale: 1:7
Product Size: Height: 9.25" (23.5 cm) *
Box Size
Height: 6.69" (17 cm)
Width: 8.66" (22 cm)
Depth: 11.02" (28 cm) *

Shipping Weight: 1.00 lbs (0.5 kg) *
* Size and weight are approximate values. Learn more
SKU: 911348
UPC: 190526041011
Price: 17,600 円 / $150 USD
Release Date: Feb 2023 - Apr 2023
PROTOTYPES SHOWN,PENDING LICENSOR APPROVAL.FINAL PRODUCT MAY VARY.
CONCEPT ART SHOWN PENDING LICENSOR APPROVAL.