An official Masterpiece Jazz has been one of those things on the minds of fans ever since the regular Autobot cars began getting visited in the MP line. But factors work against it, chiefly securing a car likeness license. That doesn't stop a parade of supposed teases, leaks, and other purported signs that the time has finally come, often running just ahead of a big event. And this year is no different, as we have an image allegedly showing that Masterpiece Jazz will be officially revealed at Tokyo Toy Show. But it's now certain this is fake. Keep reading to see why.
Let's preface this with that we cannot rule out the chance that, hey, maybe this finally will be the year where TakaraTomy gets to proudly announce they've got all the problems worked out and Jazz is on the way. Seeing Sunstreaker happening certainly lends a little bit to unlikely things becoming less unlikely. But I doubt that's the case. So here is our rumor image supposedly telling us about Jazz for the first time.
What immediately jumps out to me is the mottled grain, which could be a genuine result of an image that was taken from far away with a long optical zoom - or a filter applied to cover up edits to the image. My experience with programs like Photoshop make me think it's the latter. The pattern is too regular and clear. Genuine noise of this type is not this uniform, and I typically find it to be fuzzier looking. But not all cameras behave the same, so let's say we give this the benefit of the doubt. I still believe this is a fake even without that immediate indicator.
This comes down to how TakaraTomy presents their teases. I did some checking back just to be sure, and the examples I can find are pretty consistent: TakaraTomy uses either toys (prototypes, testshots, physical samples) or in rare cases may use design art that is accurate and very representative of the toy in situations where they lead with a silhouette teaser. The exception to this seems to be with Beast Wars; Cheetor and Dinobot have both used the cartoon CGI models for their initial teasers, but my research could not find a comparable instance for a G1 Masterpiece. And the silhouettes of Jazz presented in this image are most certainly cartoon representations. In particular, they're character model elements, which are among the first things that turn up in a Google image search for G1 Jazz. They fit the spaces almost perfectly, with the variance simply accounting for shortcuts to making clean silhouettes that can't be level-tweaked after the fact to potentially reveal the deception.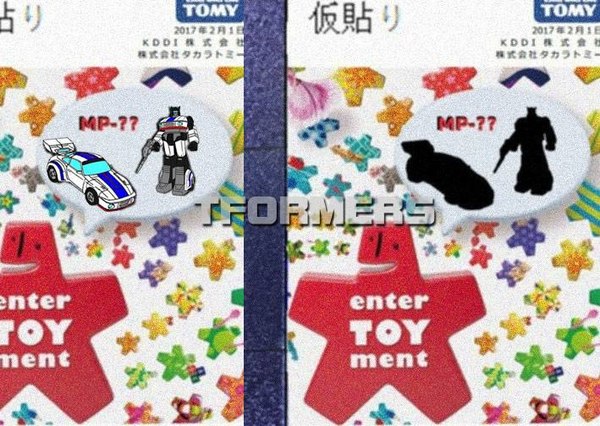 TakaraTomy doesn't (as far as I could find) use these cartoon references for silhouette reveals of G1 Masterpieces, but there is one place they frequently appear: Fake MP "reveals". Naturally without a physical object to start from, anyone wanting to fake such a thing would have to resort to cartoon models or other available art assets to use as a starting point.
I'll say again, this isn't something we can entirely rule out. I'm sure TakaraTomy is working all the time to secure the agreements that let them bring more and more of the original G1 cartoon cast to life in Masterpiece form. But the signs tell me that this is not likely to be legitimate. And a big reason for that outside of what this image presents me? Because it's pretty certain that we'll be getting a first look at the testshot or prototype of Masterpiece Dinobot at Tokyo Toy Show, as well as a spotlight on the just-revealed Sunstreaker. I think TakaraTomy might not want to take away from those with the announcement of another one that arguably has been even more desired. It seems like something they would allow to have its own space, in its own time.
I'll fully admit that it's possible I'm wrong, and this is for real. If so, cool! There's a lot of collectors who'll be really happy to finally have an official Masterpiece of this character, and I think that's great. But everything I see right now tells me this is a fake. We'll know for sure in a couple of weekends, though!
UPDATE - More evidence has surfaced since the initial writing to prove pretty much beyond a doubt this is fake. Andrea Cheem Stefanelli on Facebook has found and posted one of the component images, cementing this as false. Even though we were pretty certain that was the case anyway. The image below was composited with an overlay from some random Transformers presentation, a silhouetted cartoon Jazz laid over that, and a noise filter put over the entire thing to tie it together. Not a bad Photoshop job, all told, but also one that was easily picked apart.