Masterpieces continue to climb in price, and so far the Beast Wars lineup has stood even that much higher than comparable Autobot or Decepticon releases. While it's still my person belief that the upcoming Megatron will not exceed the 25,000 Yen price tag that Dinobot will be launching with come the end of July or so, it's very likely to be right there alongside among the priciest of Masterpieces. Accessory inclusions are often a way to make a steep retail price easier to accept, but what could we see included with Megatron? Keep reading for some ideas.
Platforming
Dinobot caught some attention for a large portion of its extra material mass being taken up with a display stand, and there is the possibility Megatron might feature something similar. In this case it could be more specifically themed than Dinobot's kind of generic stand. The Predacons often were seen moving around inside their base on hovering platforms, and that design could easily be incorporated with a larger display unit to imitate moments from the cartoon.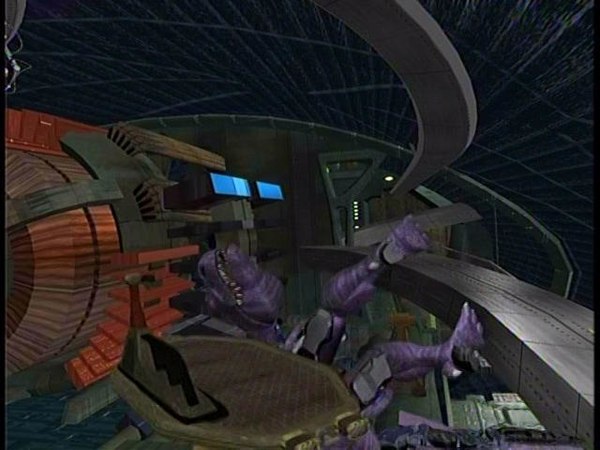 The Best Seat in The House
As an alternate approach to the platform, an attachment for a stand might take the form of the chair Megatron was occasionally seen in. While this would only be useful for the robot mode, it could prove to be a piece very helpful to creative posing and expressive scenes. In a more interesting and probably even more expensive world, we could see the chair and the platform both as interchangable pieces for a display stand to maximize the possibilities.
Rubber Ducky, You're The One
Despite not appearing until the early second season, Megatron's rubber duck certainly became a small sensation with fans of the English version of Beast Wars. I don't know if it was so notable to Japanese viewers, but it's hardly a secret that this is at the top of the wishlist for many people looking forward to this Megatron outside of TakaraTomy's home market. Though without Megatron's hot tub it would have to be relegated to just being clutched in either a hand or a dinosaur jaw, but as far as I'm concerned there's nothing not to love about this accessory idea.
4 Out of 5 Dentists Agree...
One time Megatron was seen in robot mode brushing his T-rex head's teeth. A toothbrush would be a pretty small thing to include, which gives it a good chance despite how single-occasion it is in terms of the source media, and it would contribute a great deal of value to display and posing in general.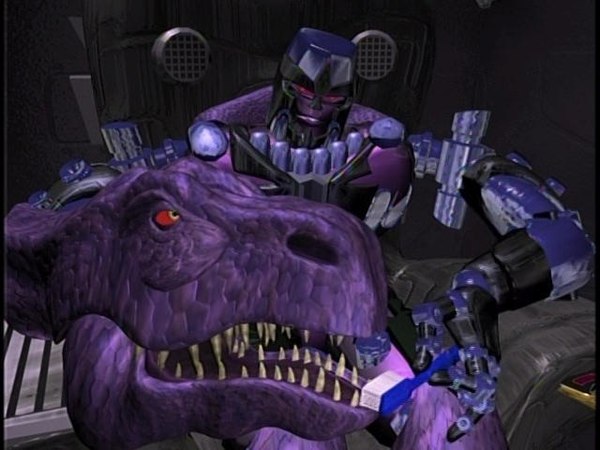 His Album's Gone Gold
Dinobot comes with the Voyager Golden Disk, and it wouldn't be unreasonable to expect Megatron might include the Alien Disk introduced near the end of the first season. Megatron wouldn't do anything of note with it directly until about halfway through the second season, but since Dinobot's brief possession of both Golden Disks was a notable event, this could also be seen as a bit of an extra for Dinobot as well.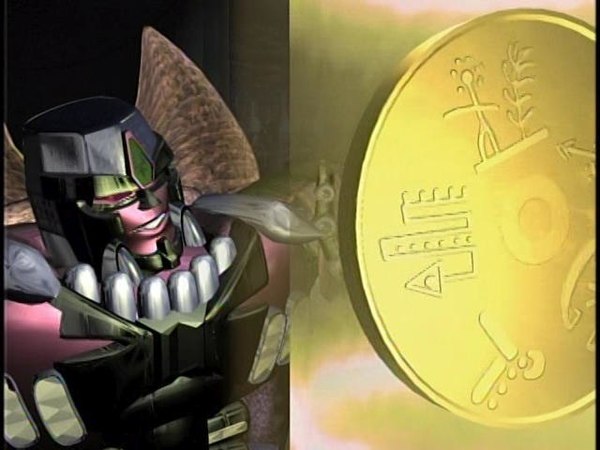 Just For Effect
Finally, we come to some easy space fillers. First, effect parts. A beam attachment for the dinosaur head is an obvious expectation since the dino head blast was Megatron's main weapon throughout the first season. Other things along that line could include blast effect from the hip-mounted guns, or even a missile appearing to launch from the tail as happened once or twice. Anything like this would be very easily executed and would be good to take up some space in an overpriced package to increase the apparent value.
Face To Face
And of course what would a Masterpiece release be anymore without some extra face options? Arguably Megatron was at his most expressive in the second season, but there's still good options for Megatron faces for this design. Yeeeessss...

Most of what we're talking about here amount to pretty small items, so it wouldn't be too surprising to see many of these come true. I regret that things such as the platform and chair are very likely just pipedreams, but even if they can't happen, getting the second Golden Disk, toothbrush, rubber duck and some well chosen faces would still make this Megatron seem a very appealing offering above and beyond the inherent interest in an "ultimate" realization of the character.