Just in by way of the official Seven - Eleven (7-11) Japan page, we have a look at the Transformers Masterpiece MP-711 Character Card For Cybertron Commander-in-Chief Convoy! The exclusive repaint of the MP-10 Optimus Prime will be offered at 7-11 stores in Japan in limited quantities. Read on to get a look at the full card image after the jump.
"In the popular reservation # Transformers is enclosed in a Masterpiece MP-711 Cybertron / commander-in-chief convoy," "character card" is published! Because it is limited quantity, reservation is early! !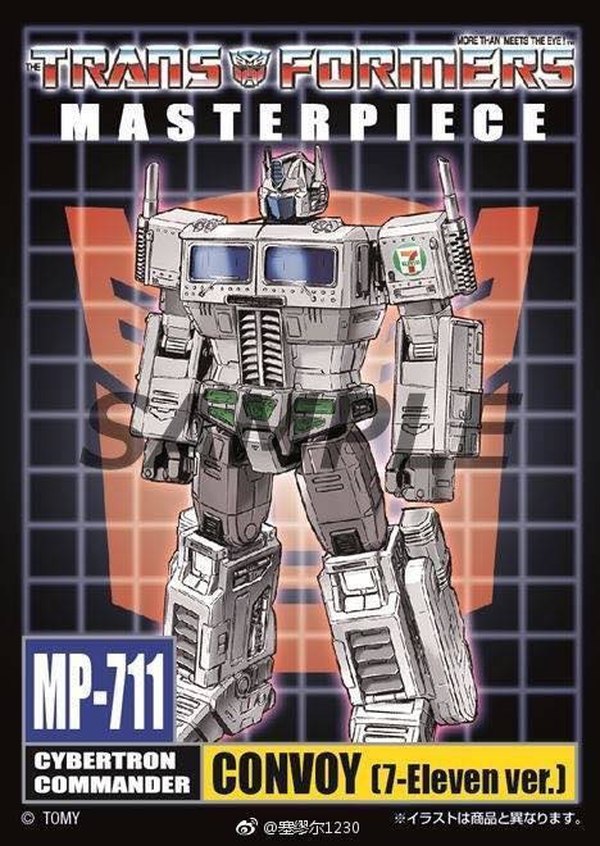 Google translated details from the official 7-11 Japan site:
Seven - Eleven Limited Edition - Transformers Masterpiece MP - 711 Cybertron / General Commander Convoy
Selling price: 25,000 yen (tax included: 27,000 yen)

The Seven - Eleven limited figure only available here "Transformer Masterpiece MP - 711 Cybertron / General Commander Convoy" will be released!

Seven Net Limited release as movie latest work "Transformers / Last Knight King" as a public anniversary item! This product is based on the modified figure "MP-10 Convoy" of General Convoy of Cybertron who was released from the highest peak brand "Master Piece Series" in Transformers that combines high-quality deformation mechanism and design, based on Seven - Eleven · Collaboration We gave a special version of the version.

It completely deforms to the robot from the trailer truck which imaged the track of the 7-Eleven.
On the shoulder of robot mode, you can select and affix one you like from the sticker of the Seven-Eleven logo and Cybertron emblem.

Also, when in robot mode, "Matrix" which is put in the chest is also special color only for this product.

We adopted a design conscious of Seven Eleven uniforms for the attached human character "Spike" figure, COMS (Seven Eleven COMS) for "Roller" which can also trail the trailer. 

Size:

Robot mode: W150 mm × H 250 mm × D 80 mm
Vehicle mode: W 95 mm × H 130 mm × D 410 mm

Notes on "MP-711 Cybertron General Commander Convoy"

Warning
· This item is over 15 years old. Please do not give to small children absolutely.
Since there are small parts, there is a danger of accident such as accidentally swallowing, so please do not give it to small children absolutely.

Attention
· There are pointed parts. Please handle with care.
· Do not play violent play such as pushing and hitting people with the weapon etc included.
· Please be careful not to pinch your fingers in the robot's joints. · Please do not abusive play such as hitting or swinging.
· Please do not put fingers etc. in the moving part's skimmer. There is a fear of being injured and being injured.
· Do not cover plastic bags etc from the head or cover your face. There is a danger of suffocation.
· Since there is fear of accident, please keep it after reaching out of reach of children under 3 years old.

Usage Notes
· Please read the instruction manual carefully before using. Also, be sure to keep it after reading it.
· Do not bend or pull each part forcefully.
• The Do not press from the upper body
has. The body may collapse or parts may come off. · When displaying the main body, please be sure to display it in an unstable place or display with posting poor stability as the main body may collapse.
· When carrying the main body, do not hold the parts that you have attached, carry it firmly and carry it.
· Please understand beforehand that due to the specifications of the product, when deforming action is carried out color may change or the colored part may peel off. · When placing this product on plastic furniture etc for a long time, color may shift or stick. · Please discard packaging materials immediately after opening.