First and foremost, I have to say this is the Generation 1 animated series we have been waiting for since G1. The Rooster Teeth producers have done their homework and tied together an enormous number of references and characters into something that really works. This is an all-new take on the Transformers with a familiar but fresh approach to the story behind the struggle for control of Cybertron. Those who are worried about the lackluster production carrying over from the Machinima days have little to worry about, in my opinion.
Polygon Pictures did a great job animating Cybertron in a highly immersive manner that easily surpasses even the fantastic vision many have reserved praise for the War For Cybertron game developed by High Moon Studios. Here, the overall look and feel is way more refined and super detailed without looking overly CGI and robotic, no pun. The animation is fluid and gritty at the same time giving the viewers a marvelous look at each character in an environment that for better or worse explains the grungy look of the toys in the SIEGE line. The landscapes and architecture are stunning to look at. Filled with smoke, decay, and rubble, yet still highly detailed and convincing in the massive breath and intricate detail that the exotic science-fiction planet Cybertron evokes. There is a lot of it too, as we are constantly moving around to many different places with very little repetition of scenes and settings. 
This is not a pedestrian introduction to the Transformers. Chapter one, SIEGE, is a very dark story in the tone and look. I felt the writers spent a lot of time realizing the main characters in a convincing way that leaves the goofy aspects of the 1980s cartoon behind entirely. It has practically no humor in it. Furthermore, almost every scene is nearly void of resident light yet still clear and very well contrasted throughout. I won't spoil the character dynamics between the Autobots and the Decepticons, as well as within each faction. But some of them were as I expected while others diverged wildly from my expectations, a good thing. I also appreciate that some characters fans may have been unhappy with in previous Transformers incarnations have been smartly resolved here and in at least one case greatly improved. There is maybe one exception with a somewhat unexplained character appearance in episode 5.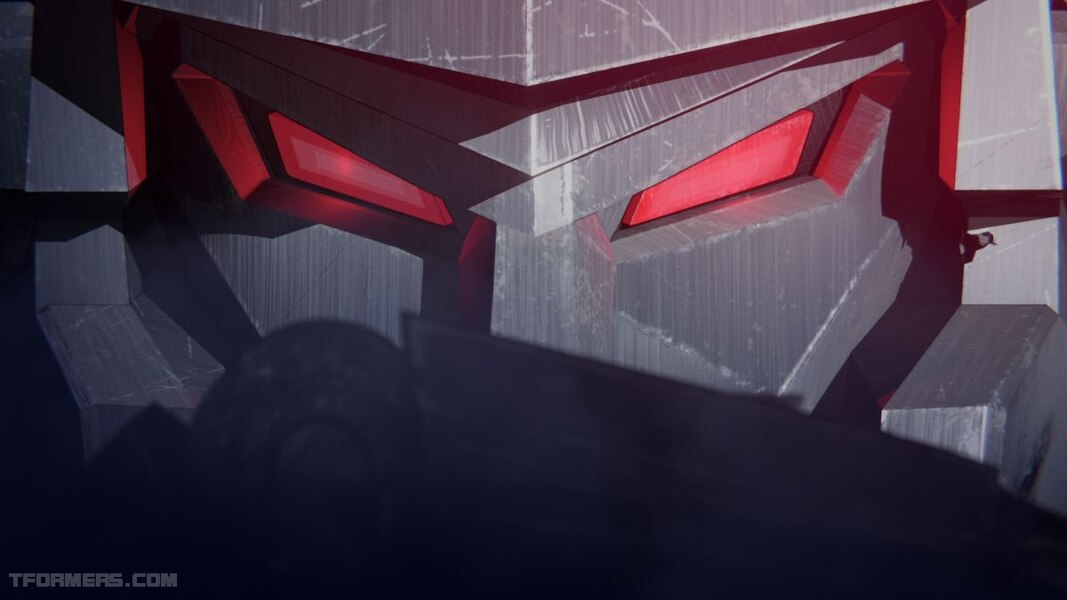 Something worth noting is the show is very tightly connected to the toys that have been produced to date for the SEIGE series. The same models used for the toys are present in the animation. It is uncanny really. Overall it works exceedingly well but in a few cases, the designs do feel a bit too heafty and cumbersome. Moreover, they have thoughtfully incorporated just about every toy we have seen released, even the many repaints and variants that were released as exclusives are given screen time without feeling out of place. Though I should note there are a lot of seekers, many of which are little more than clones. Additionally, some of the robots are a bit Earth-mode looking but didn't feel too out of place to me.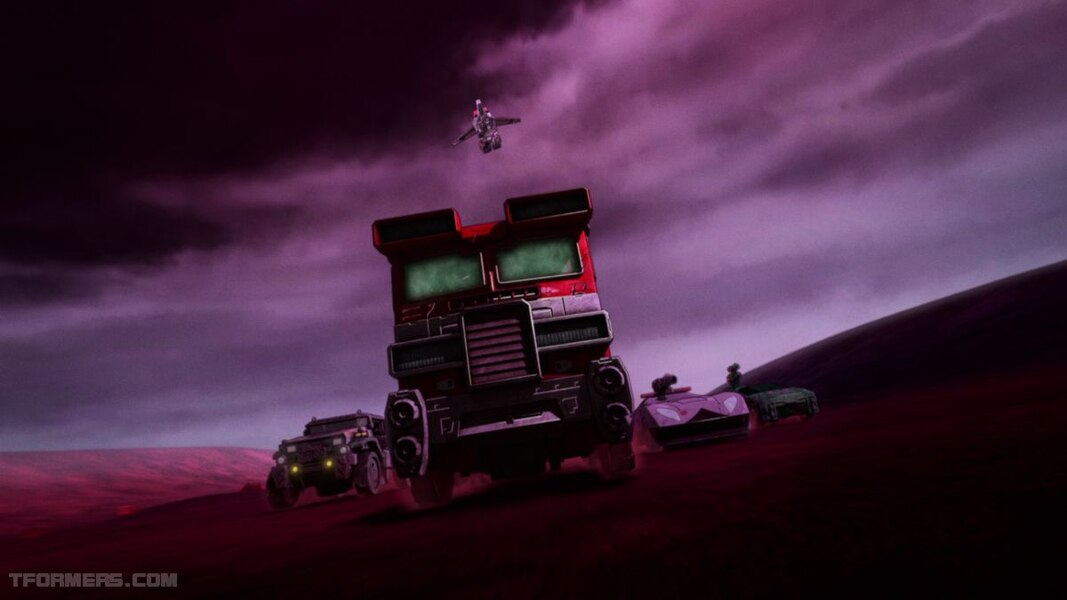 As for the story, the plot is intricate and complicated. It moves a bit slowly in the first couple episodes but develops quickly with regard to how the factions are working against each other and within each of factions themselves. Things do pick up by the 2nd half of chapter one of the trilogy as the plot grows with more twists and greater risks are taken. I was on the edge of my seat by the 4th episode with hardly a dull moment through to the finale. The race to capture the Allspark accelerates extremely fast towards a climax hinging on nearly impossible odds. Everything converged simultaneously for the two factions to meet their goals of winning the War. There are quite a few naysayers, unwilling team members, traitors, rogues, and casualties. However, they are presented in a quantified manner that is clearly explained, yet can be quite surprising.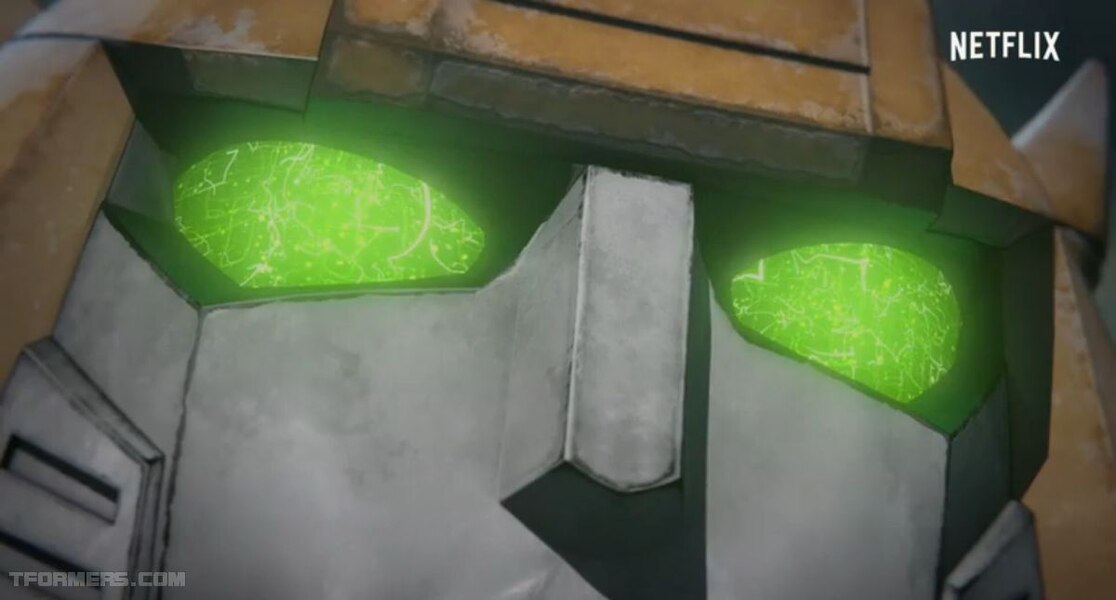 The relationships between the leaders and commanders are also very well portrayed. It may feel a bit unbalanced from what we are used to, but shows some new sides of these leading characters that evolve over the course of chapter one. Likewise, there are important references to ancient lore, historical characters, events, places, and iconic elements from that past that play a pivotal role in the story as it unfolds. Additionally, many familiar elements are incorporated into the story that fans know and love. From various types of technology to the abilities of certain characters. Some of which will explain the toys we got that occur within the factions as well as in rogue elements.
If I have to point out any flaws. I felt the voice acting was a bit dry and generic sounding with a somewhat understated tone. What I can only describe as a dusty horseness that just about every voice has, was not as booming and fierce as I would have liked to hear from giant warrior robots. Especially with respect to certain characters who are best known for making the kinds of passionate remarks they are so well known for. I also felt the music and sound effects were not as cinematic as they should have been. Things are pretty quiet in the first few episodes, perhaps that is on purpose to illustrate how much Cybertron has fallen into a dystopian state. Most of the scenes are nearly void of visible life outside the confines of the various groups themselves. 
Overall, I don't want to give up ANY more spoilers than are covered by the official show synopsis and character voice actors listed below. This is because I thought the show is really that good for the quality of animation, great writing, and surprises presented. I think it is important that everyone approaches SIEGE with a clean slate that will likely result in many different interpretations fans will have on their own. Sorry, if you came to this review looking for secrets and spoilers, but I believe most will understand this once they see the show for the 1st, 2nd, and more times. I thought it was easily good enough to watch over and over, seeing new details on each pass. All that said, I give chapter one of the "Transformers War For Cybertron Trilogy: SIEGE" a 4 out of 5 stars rating for being so well written, compelling, and visually stunning. However, I have to discount it a bit for needing improvements on the voice acting and the less than cinematic soundtrack that I would have liked to hear.
Official Show Description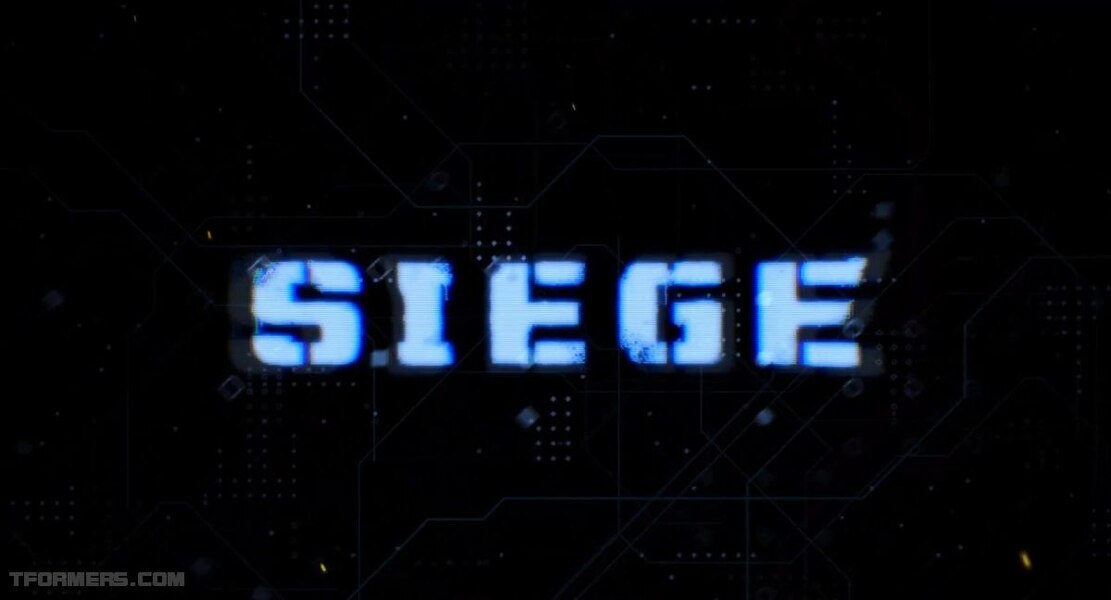 It is the final hours of the devastating civil war between the Autobots and Decepticons. The war that has torn apart their home planet of Cybertron is at a tipping point. Two leaders, Optimus Prime and Megatron, both want to save their world and unify their people, but only on their own terms. In an attempt to end the conflict, Megatron is forced to consider using the Allspark, the source of all life and power on Cybertron, to "reformat" the Autobots, thus "unifying" Cybertron. Outnumbered, outgunned, and under SIEGE, the battle-weary Autobots orchestrate a desperate series of counterstrikes on a mission that, if everything somehow goes right, will end with an unthinkable choice: kill their planet in order to save it.
Voice Cast and Characters
Jake Foushee (Optimus Prime)
Jason Marnocha (Megatron)
Linsay Rousseau (Elita-1)
Joe Zieja (Bumblebee)
Frank Todaro (Starscream)
Rafael Goldstein (Ratchet)
Keith Silverstein (Jetfire)
Todd Haberkorn (Shockwave, Red Alert)
Edward Bosco (Ultra Magnus, Soundwave)
Bill Rogers (Wheeljack)
Sophia Isabella (Arcee)
Brook Chalmers (Impactor)
Shawn Hawkins (Mirage)
Kaiser Johnson (Ironhide)
Miles Luna (Teletraan I, Cliffjumper)
Mark Whitten (Sideswipe, Skywarp)
Offical SIEGE Trailer