The Amazon.com page for
Power of the Primes
Punch-Counterpunch has been updated! Which is why we now know it's
Punch
-Counterpunch. We also know it will come with
Prima,
one of the three missing Prime Masters, and a piece of Prime Armor. Will Punch-Counterpunch have five modes, those being Arm, Leg, Car, Robot, and
Robot
? We'll find out soon - probably at SDCC - but for now, keep reading for the new details!
Special Edition Transformers Generations Power of the Primes Figures
Deluxe Class Punch-Counterpunch figure converts between Autobot, Decepticon, and sports car modes
Punch-Counterpunch figure is designed to reflect the G1 release with 2 distinct robot modes and features premium details
Includes a special edition Prima Prime Master and comes in special edition packaging
Includes Deluxe Class Punch-Counterpunch figure, special edition Prima Prime Master figure, 2 accessories, and instructions. Ages 8 and up.
Celebrate the Prime Wars Trilogy with this special edition Power of the Primes Punch-Counterpunch figure. Featuring 2 robot modes (both Autobot and Decepticon) and a vehicle mode, the Autobot double agent was a huge hit when he was originally released in 1987. This version has been faithfully designed to reflect the original G1 figure. Plus, it comes with the special edition clear ice blue Prima Prime Master figure. The 5.5-inch scale Deluxe Class figure comes with a 1.5-scale Prima Prime Master figure and a Prime Armor accessory. Insert the Prime Master figure into the accessory, attach it to the figure's chest, and imagine Punch wields the power of a Prime. The Punch-Counterpunch figure converts from Decepticon to Autobot in 9 steps and from robot to sports car in 13 or 18 steps. The Prime Master figure converts between robot and spark modes in 1 step. Transformers all related characters are trademarks of Hasbro.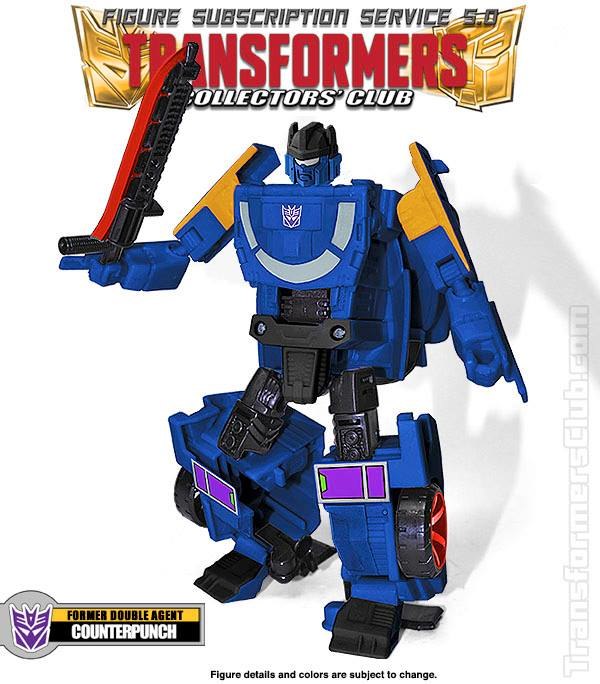 Pictured: the last Counterpunch figure released, a TFCC exclusive.