These are text-only listings we're inclined to take with a grain of salt, but Loopaza Mega Store has a healthy track record with breaking news like this. MPM-6, listed here as "NEW CHARACTER," has already been revealed as Ironhide. But we've also got some interesting Studio Series listings such as Movie 6 Bumblebee, and Optimus Prime! While we'd all been assuming Prime would appear in Bumblebee: The Movie, we think this is the first confirmation of that fact. Keep reading to see the listings!
We've received new details of the coming up Takaratomy Transformers line-up. The most interesting is the coming of MPM-6 & MPM-7, both still named "unknown character" on the listing but fans should noticed that MPM-6 is Ironhide. So what is actually MPM-7? Rumor from the US that will possible be Jazz but Nothing in this point just yet.
There are also new code MV6 on the list will two characters, one is Optimus Prime and one is Bumblebee. looks like they will be the toys figures from the New Bumblebee Movie! and both will scheduled to release in October is Japanese side.
There are also some others Transformers characters in number 13 - 18, they should be the Studio Series, 13 & 17 are unknown characters, 14 is Ratchet ( DOTM ver.?), 15 is Ironhide, 16 is Bumblebee (2007 ver.?), 18 is Starscream (ROTF ver. ?)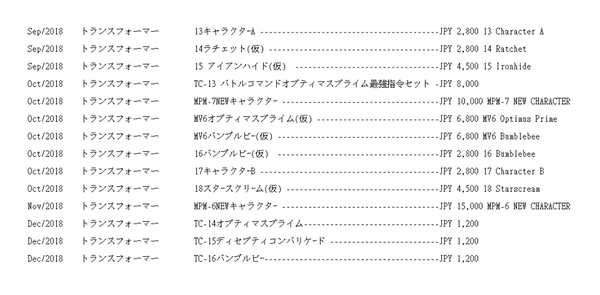 13 - "Character A" - September, 2800 Yen (A Deluxe by price - RAC)
14 Ratchet - September, 2800 Yen (Deluxe)
15 Ironhide - September, 4500 Yen (Voyager)
TC-13 Battle Command Optimus Prime Set - October, 8000 Yen
MPM-7 New Character - October (Before MPM-6?), 10,000 Yen
MV6 Optimus Prime - October, 6800 Yen (Not a numbered Studio Series release but consistent with Studio Leader pricing)
MV6 Bumblebee - October, 6800 Yen (Also a Leader?)
16 Bumblebee - October, 2800 Yen (Deluxe)
17 Character B - October, 2800 Yen
18 Starscream - October, 4500 Yen (Voyager)
MPM-6 New Character (Ironhide), November, 15,000 Yen
TC-14 Turbo Change Optimus Prime (Movie 6?) 1200 Yen
TC-15 Decepticon Barricade, 1200 Yen
TC-16 Bumblebee, 1200 Yen
A lot of these listings fit in with what we know about the Bumblebee movie. Hopefully we'll learn more next week at SDCC!