This is another story to take with a grain of salt today. The Hasbro Pre-Toy Fair Investors' Presentation has shown off a chart depicting Hasbro's Transformers media strategy for the next three years. Robots In Disguise is indicated as coming to a close this year as the cartoon intended for the "Core Kids" demographic. But... is that G1 coming in to replace it in 2018? ...maybe, maybe not. We're leaning towards not, and you can click through to read our logic on the subject!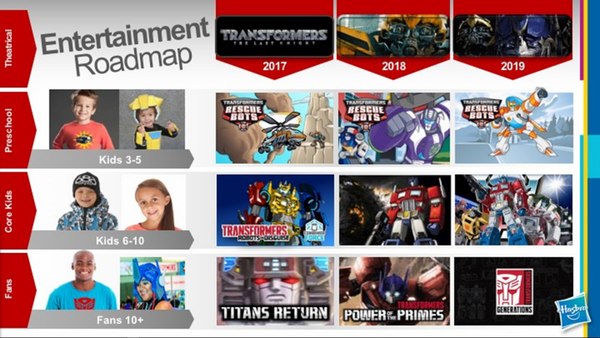 The images shown for the 2018-19 show do indeed show G1 characters, but it's extremely likely that these are intended as a placeholder for a new Transformers series that is not yet ready to be shown to the public. Most likely we'll find out more about the successor to RiD at SDCC 2017, or possibly even HasCon. Still, what a tantalizing image!
At the moment, all the chart seems to put in concrete terms is that RID ends this year, and that we can expect Machinima's Titans Return in 2017 and Power of the Primes in 2018.