Hasbro's "Twas The Night Before" media event has given us a lot to chew on this year, much more than we ever expected. Chiefly the first look at Titans return - formerly known to us as Titan Wars, showing what we'll be seeing as Combiner Wars wraps up next year. We've seen a lot of great photos and learned a fair few things about it tonight, and we've even gotten a look at new RID product heading our way. To catch up on everything, keep reading!

Update 1:17am, October 8
Presskit images have gone out for many of today's reveals plus a few items not seen on display. Notable are some extra Titan Masters, one clearly based on Siren, called "Loudmouth", plus a look at Nightbeat's head mode, and our first look at Galvatron's third mode. See the full gallery at the bottom of the article!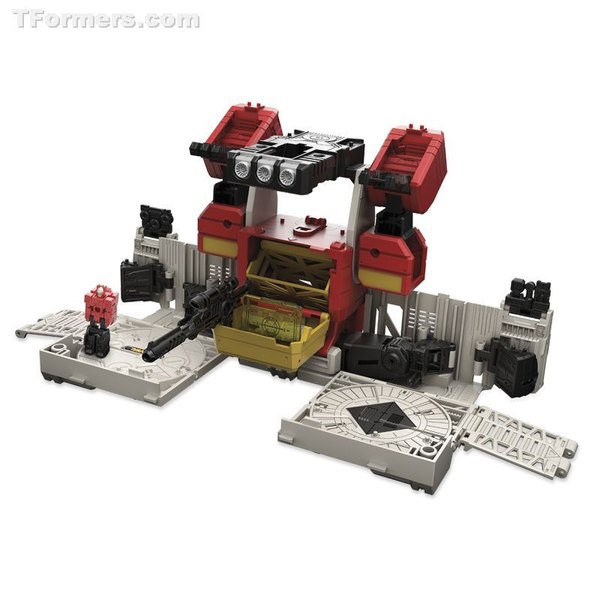 Update 12:44am, October 8
Radio Free Cybertron has posted video recorded at the event to their Youtube channel, where diecast gets to quickly speak to John Warden about the items on display.
In the video, John Warden explains some things about the new reveals:
-Stat cards are coming back for at least some of the toys. The cards now go past 10 up to 20 to account for the added power of the Titan Masters.
-Titan Masters is the current name for the $5 price point of Titan Master + transforming vehicle.
-The name Titan Masters was chosen by examining the history of Head, Target, and Powermasters, and rolling all those potentials in to one class of Transformer. Making it possible some Titan Masters won't act as heads?
-In explaining the Voyagers being triple changers, Warden notes that Galvatron's third mode will be seen at Thursday night's panel, and he seems to refer to it as a "space plane".
-Mention of the panel suggests there is still more to see on the toy side of things tomorrow.
-Legends Class figures designed as data devices will be compatible with the Leader Class toys, and feature compatibility with Titan Masters, such as Rewind having foot pegs.
-Data Device Legends will feature foil labels for things like screen details, Rewind's having tape spool designs.
Beyond this, we do get some extra looks at the figures, and a few quick demos, like Galvatron's helmet springing out of the torso over the Titan Master head.
----
First off, Titan Wars is not Titan Wars, it's Titans Return. We found out today that this will be part of a trilogy of stories called Prime Wars, following on from Combiner Wars and wrapping with an as-yet unnamed third storyline for the 2017-2018 toy year. This will see the return of Sentinel Prime (the shuttle "Optimus"-style character in the Botcon posters. The main intent being expressed with this is the bring the IDW comics, toyline, and upcoming Machinima animation in to close step with each other. Titans Return will succeed Combiner Wars next year, though currently we don't know when the transition is intended to begin.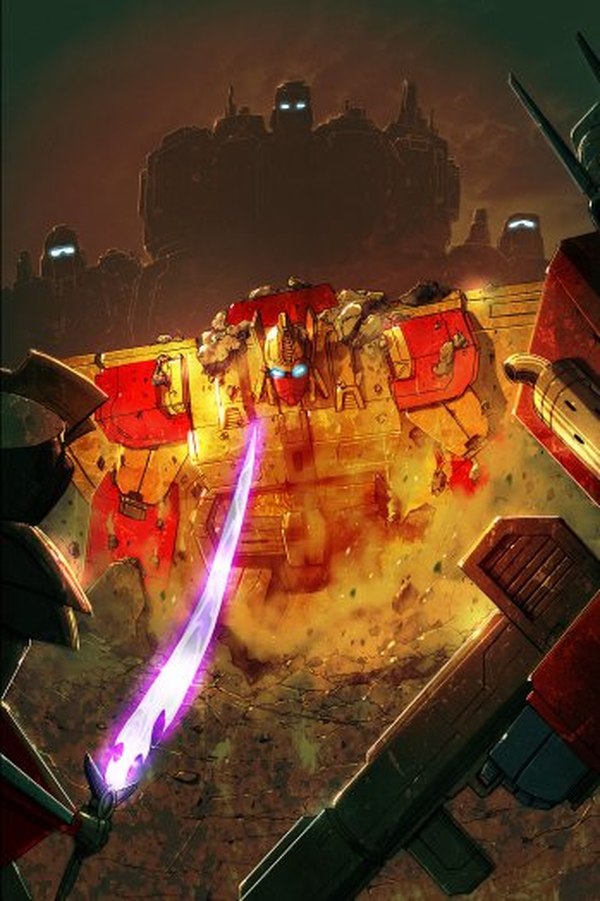 -
NYCC 2015 - Hasbro To Reveal Prime Wars Trilogy With Titans Return, Successor To Combiner Wars
Titans Return use headmaster figures as a play pattern focal point. The Hasbro reps on site were careful to make it clear that these minifigures are officially "Titan Masters" rather than "Headmasters" - a name that conveniently doesn't preclude their use in other body components than the head, incidentally. Most or all of the Titans Return toyline will feature Titan Master components. In a clever turn, a new $5 pricepoint is being introduced featuring independent Titan Masters with converting attack vehicles that lack robot modes themselves. These will expand the play pattern, and serve as handy, inexpensive replacement parts should a Titan Master from the large figures be misplaced in the course of play. Two such characters were shown, Nightbeat for the Autobots, and "Terri-Bull" based on Horri-Bull for the Decepticons. Anthony from TFU.info also reports that the Titan Master heads are smaller than that seen on Generations Brainstorm, and cross compatibility is unlikely.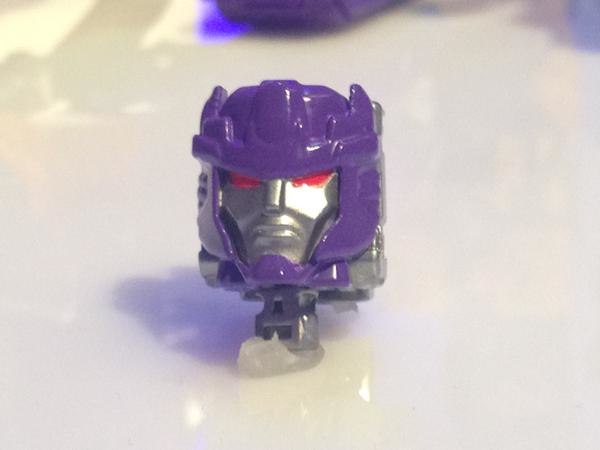 -
NYCC 2015 - First Photo Of Titans Return Skullcruncher! Blaster & Cassettes, Galvatron & Hardhead Sighted!
-
NYCC 2015 - Transformers Combiner Wars Galvatron, Skullcruncher, Blaster, Hardhead, More Details!
Moving up, Deluxes shown included Hardhead and "Skullsmasher"/Skullcruncher. Both were shown to have accommodation for their Titan Masters in their alternate modes, much like the G1 toy counterparts. Both are visually very good representations of the characters in updated style. An SDCC Windblade was on hand with the other figures, but only for display purposes - no new release of that figure or deco are planned.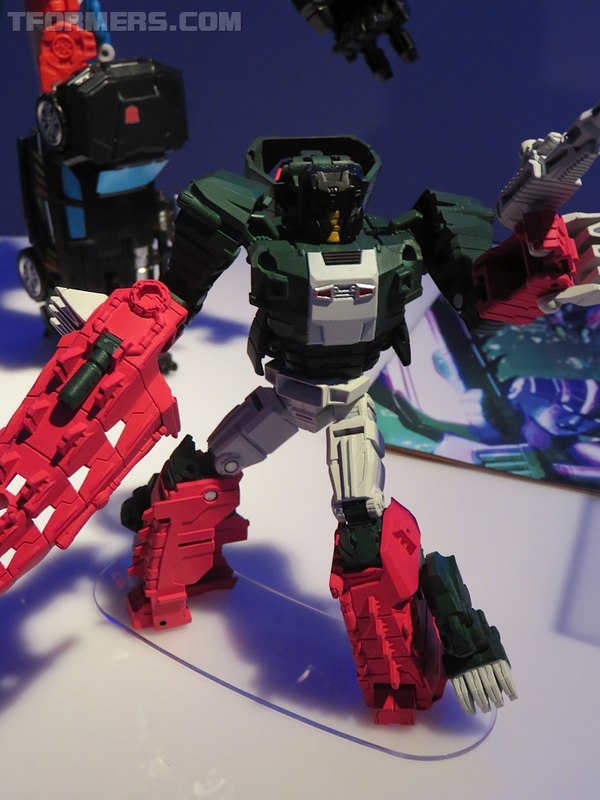 Voyagers were represented by Galvatron. Also featuring a Titan Master component called "Nucleon" who is styled to resemble G1 Megatron in its own humanoid form. Galvatron takes after the G1 design very well, and in my opinion adds in some almost War For Cybertron kind of stylization in a way that really works to its benefit. Galvatron shows the first indications of a helmet feature for the larger toys. In Galvatron's case, the chunkier helmet details like the cheek guards and pronounced crest are on the helmet unit rather than the Titan Master, who only has hints of those features. The Voyagers were explained to all be designed as triple changers, though Galvatron's third mode is currently unrevealed.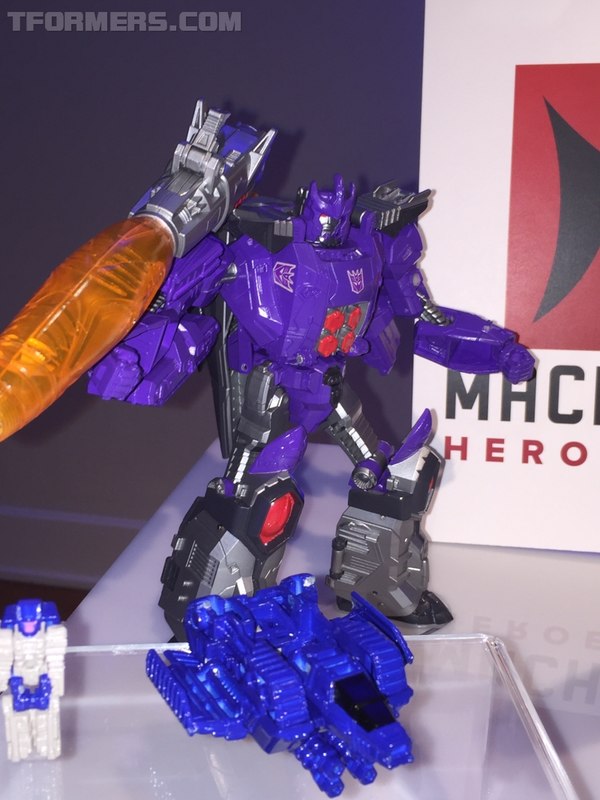 In Leader Class, no one was surprised to find Blaster waiting. Blaster again features the helmet design, which also gives the "visor" look of the original toy and Marvel comics art. Blaster's play pattern does include the Legends Class figures, who in their device modes slot in to Blaster similar to the way an iPod dock works, based on the first hand accounts. Shown in particular was Rewind, who is very IDW-styled in robot mode, and has a tank for the vehicular third mode. Autobot tiger Stripes was in display, with design features that look to lend themselves to reuse as either Steeljaw or Ravage, given the right alternate parts. Stripes has a (very square) jet for its third mode. The existence of Buzzsaw strongly implies a Soundwave, but nothing was said of it at the event.

Combiner Wars was represented through Bruticus, Sky-Reign, and G2 Menasor. Reportedly there are still Combiner Wars items to come, which we take to mean in addition to those things that have already been revealed, so there may be a brief transitional or crossover period between Combiner Wars and Titans Return, but that's speculative at this point.
-NYCC 2015 - More Photos From Hasbro Press Event - Terri-Bull, Galvatron's Headmaster Nucleon, More Photos!
Robots in Disguise was represented with new Warrior Class Decepticons, including Fracture (whose testshot we've seen already), Thunderhoof, and Quillfire. There's also arctic themed redecos of Optimus and Drift at the Warrior scale. Legion recolors were on display, including a Strongarm recolor as Ratchet. The reps also explained that while Megatronus is a Toys R Us exclusive currently, it will also go to general retail using the alternate head without the battle mask. While the RID presence was still lesser than Generations, we're pleased to see it getting more attention and new molds and product still cycling in.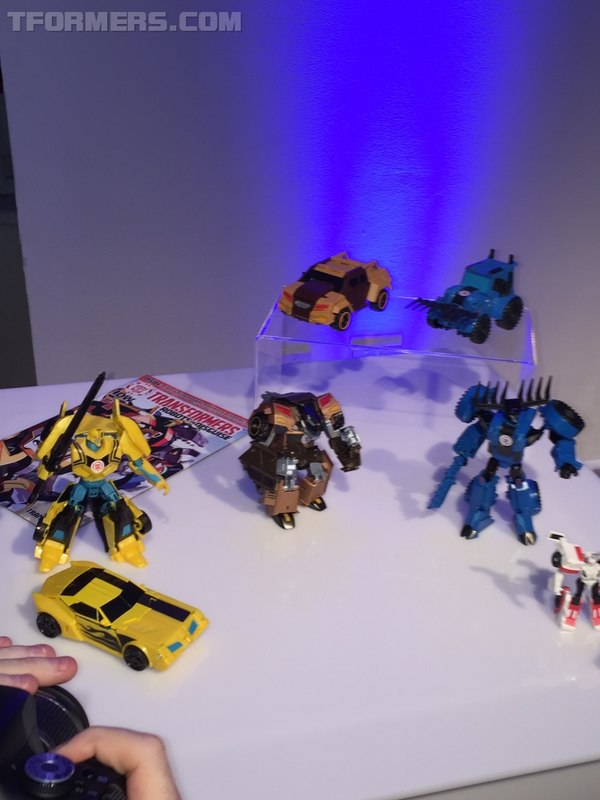 This has been a lot to take in all at once, and there is still a proper Generations panel to be had on Thursday night, so we may find out even more very soon. As usual, stay here with us for all the latest news!