Hasbro's "Twas The Night Before" NYCC event certainly did not disappoint this year. While it can be hard to compare with the debut of an entirely new product line, Hasbro brought their best to wow the invited guests as well as the much larger audience watching from home. There was a lot of material to take in, though, so we're going to run through what we saw and try to fill in some details where possible. Keep reading to find out more!
Robots in Disguise featured the most new and unexpected. The showcase was the Combiner Force product lines, which exist in two forms. One is a set of a slightly larger than average figure with simple articulation that interacts with a Mini-Con that can "enhance" the character, in a way described as being similar to how Transformers Armada worked. The second component of the branding was as a series of two packs. These follow the pattern of Transformers Energon, combining two figures top to bottom. Every top works with every bottom, so there's custom combinations possible from swapping robots around. But every set of legs will only be a set of legs, likewise for upper bodies. From established characters, Optimus and Strongarm are one set, and Bumblebee and Sideswipe are a second. A third features two new characters, Stormhammer and Skysledge, which combine to become Skyhammer.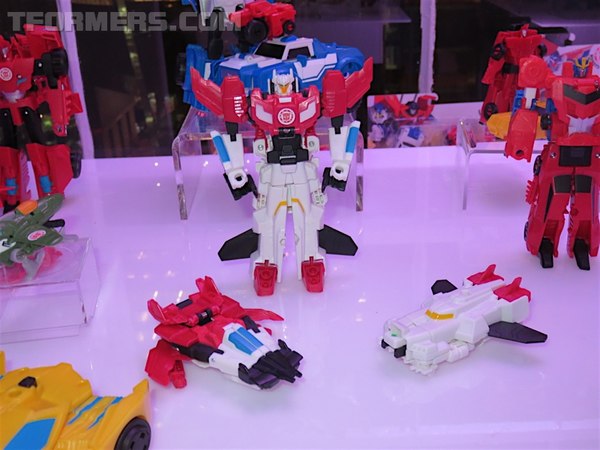 Additionally, a couple new Warrior Class figures were shown. Autobot Blastwave is... well, an obvious pretool for a Bludgeon probably to follow later. It has clear elements of the general idea of Bludgeon, like the skull-themed face and samurai stylings, plus some aspects that specifically seem to call back to Cyberverse Bludgeon from the tail end of Transformers Prime Beast Hunters. The other is a completely new design and character, Stormshot, who transforms in to a white jet with red and blue detailing. It kind of hits the notes of being an "Autobot Seeker", but just generally has a very strong visual appeal all around. Finally, a new recolor of Drift is on the way, one designed after the original IDW character. Though where TakaraTomy's Transformers Adventure equivalent featured a new head sculpt, this one was shown with the normal RID Drift head.
Moving to Generations, Titans Return had little in the way of complete surprises. Alas, no showing of Overlord (as such), nor even hints of Trypticon, which at this point will simply have to wait until Toy Fair. But the presentation was anything but a disappointment.
Starting at the Titan Master level, we had revealed Shuffler, who has an elephant/tank vehicle. This is the third Titan Master based on the Japanese exclusive Headmaster Warriors. Shuffler had previously been indicated, like many things, from searching store inventory information. Repugnus joined Shuffler, with a vehicle that strongly captures the original's bug monster alternate mode. Finally, Fangry and Ptero were displayed again, following their debut at Cybertron Con.

Legends did have a surprise, in the form of Brawn. Having been previously rumored, it was generally dismissed given the existence of Titan Master Brawn, but this is very much real. Like all Legends, it can accommodate a Titan Master, meaning Brawn can drive Brawn. There was also some question over whether the shield consistently seen displayed on Brawn's arm is removable. And the conclusion is that it must be, given the shield is the back half of the roof, and the arm goes nowhere near there in vehicle mode. Kickback was the other Legend shown in the display, which had previously been seen at Cybertron Con.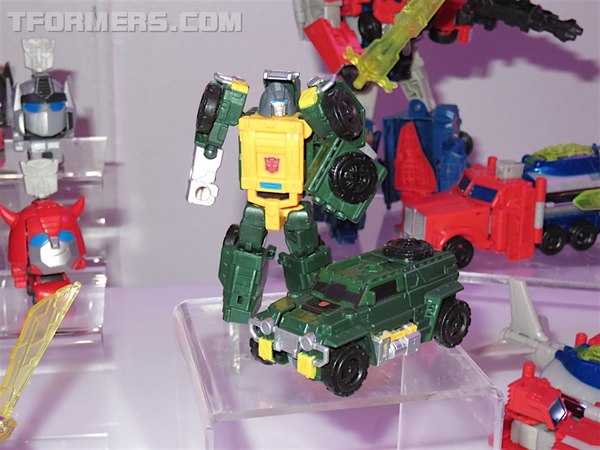 Deluxes were consistent with expectations, mainly featuring wave 3 - Hot Rod, Breakaway, Twinferno, and Triggerhappy. But one early preview for wave 4 was on hand: Perceptor! Coming with Titan Master Convex, Perceptor is a neat little piece of work. It transforms in to a little microscope, and is said to have functioning lenses so it can magnify objects under its scope! The design is inspired pretty heavily by IDW's comics, though that can be hard to discern initially. One clue is in the larger gun, which has a bipod under the barrel to represent the sniper rifle Perceptor has used since
All Hail Megatron
. The microscope mode is itself sort of "disguised" by having a Titan Master lay on the specimen tray, making it able to act more as an examination/repair bay for Titan Masters, rather than just having to exist as a scientific instrument. Though we do not have photos of it, the Titan Master was described as being styled to resemble the original Perceptor toy.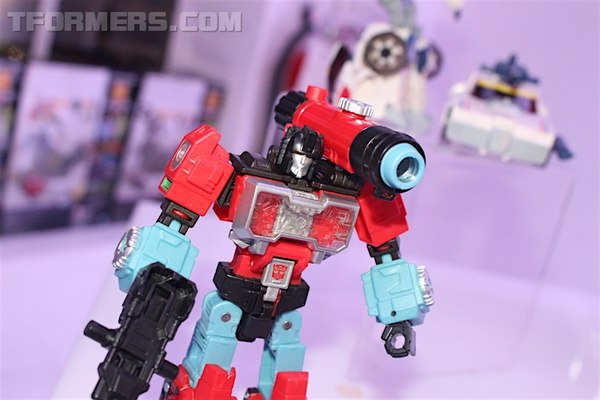 Voyagers featured Optimus Prime, and a packaged sample of Megatron. But a full deco Broadside was the main attraction for this scale. Unfortunately it was only shown as a robot and aircraft carrier, no jet mode. But the carrier looks like where most of the design attention went to. The carrier deck features stickers (hopefully factory applied) for runway details and identification markers to up-detail the flat surfaces. The deck in general tries hard to be consistent with the real kind of elements that might be found on an aircraft carrier. Capping that off is a sprue of tiny lets that peg on various places around the flight deck - tiny jets styled after the Combiner Wars Aerialbots! Minus Alpha Bravo, we're sorry to say, but it's more than a little amazing to get such a thing here as a feature for this toy just as it is. And there's always hope for Shapeways to provide for Alpha Bravo - and Powerglide for that matter! - and truly complete the Aerialbots.
Now, let's talk about the Leader Class. Recently a store inventory leak revealed a Leader Class toy under the name Skyshadow. Nobody was sure what to make of that. But as it turns out, it was both more straightforward, and more interesting than we could have guessed. Skyshadow is in fact a new iteration of
Transformers Victory
character Black Shadow, previously in Generations as a Thunderwing retool. Well, now it's leader, and is a
pre
tool of Overlord. Hasbro was reportedly cagey when asked about Overlord, but it's very plain what's at work here. Skyshadow breaks down in to a jet and tank, and has a base mode whose outline will be recognizable to anyone familiar with Overlord. We expect that when this does subsequently become Overlord that there will be a decent degree of retooling to make the body details line up better, as Skyshadow is very Black Shadow styled. But all the fundamentals are right here and give a good preview. The toy was displayed in various states, and the base mode in particular was shown with two Titan Masters standing in front, but we've had it clarified that the toy does only include one. It was suspected two might be possible because there would be a thematic reason for Overlord to perhaps have two.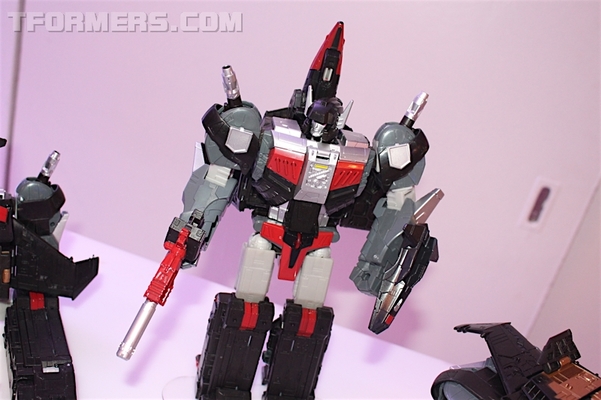 Reportedly, Skyshadow is being considered a six-changer, though only three discrete modes were shown. Four, if you were to count each vehicle as its own "mode". Though not shown, it's possible the two vehicles are made to combine as some kind of super vehicle, which could then make for a fifth mode and leave only one configuration as the question mark in this. There is a shield on the arm that looks like it could possibly detach and qualify as something on the order of a Titan Master vehicle. Could this be the missing "sixth mode"? Speaking of sixes...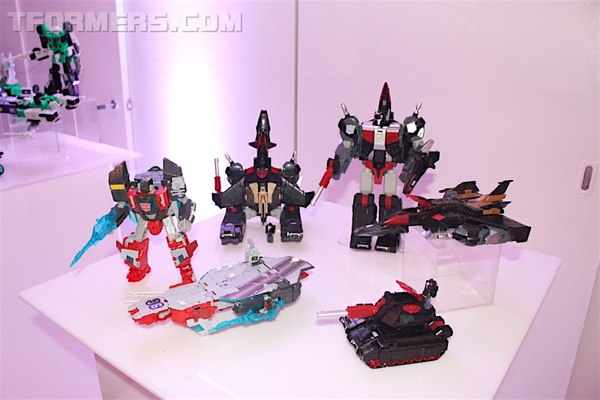 Sixshot was also on display, and still looks quite nice! Enough samples were on hand to show each of the toy's modes - car, wolf, tank, ship, robot, and of course the iconic submarine mode. John Warden was at one point asked if he could demonstrate what the submarine mode looked like if turned upside down, but he was unfortunately not able to do so at the time. We have a suggestion of a release order as well. Skyshadow was reportedly intended was "wave 2" for 2017, probably pointing to Sixshot being the sole new feature in the next Leader assortment. This would also drop Overlord out probably closer to late spring or summer of 2017. This is naturally going to be a little disappointing, but with Skyshadow giving solid proof of both concept and intent, I feel like that wait has become quite a bit easier!
Click here
to check out our gallery, featuring both our own photos from the event as well as those from Diecast of Radio Free Cybertron. And stay tuned for more news from NYCC as it happens this weekend!