You don't see these every day, every decade, and maybe ever again. What looks like jumbo-sized negatives of various black and white photos are said to be the actual film negatives and color separations used in the printing of original Transformers Generation 1 box artwork.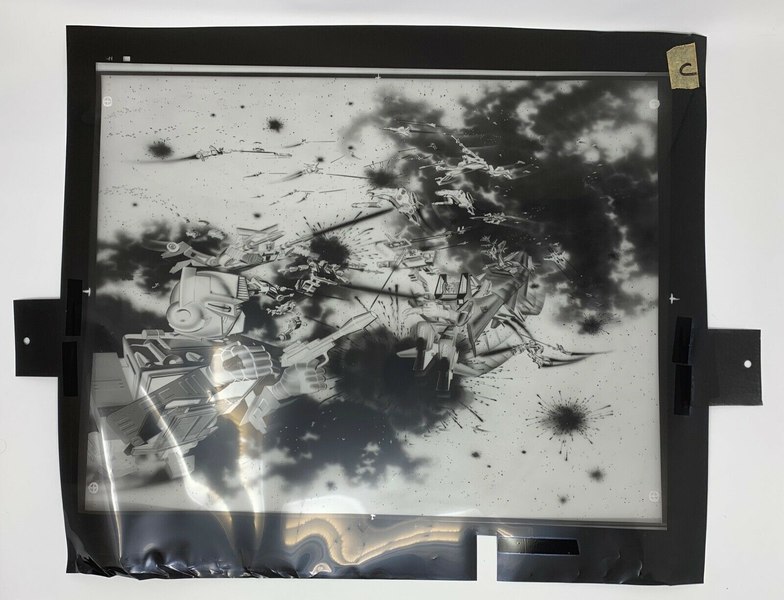 One everyone recognizes is the painting created by artist David Schleinkofer. Shown on the back of boxes, the scene dramatizing an encounter between Optimus Prime, Starscream, Ravage and a storm of Deceptions is one of the most iconic images known by fans around the World.
The images from the currently running Ebay auction offer a rare behind the scenes look at how toy packaging was designed and produced before digital took over. Back then the printing was very much analog with a process of separating the original artwork colors in into four different channels that are recombined in the package printing process. We can even see what looks like a bit of touch-up done by hand on the black acetate.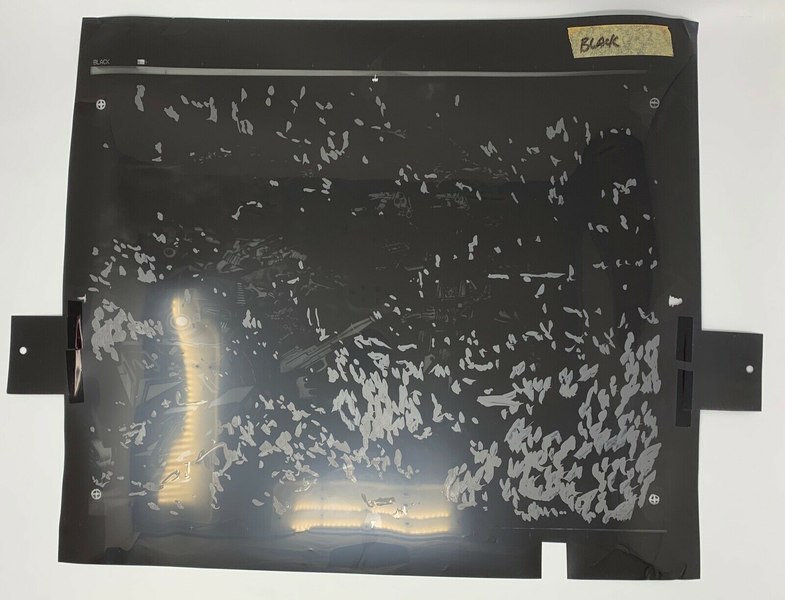 Additionally, we can see the film used to block out the ubiquitous "TRANS-FORMERS More Than Meets The Eye!" logo and tagline following the same color separation process as well as other blocking treatments. Read the notes below for more on the story behind these Transformers relics as well as details on the printing process. If you are feeling a need to own this piece of history, you can bid on the auction that ends May 26, 2019 on Ebay.com
1984 Hasbro Printing screens for Generation 1 Transformers box art
Back in the early days of eBay, many years ago, I purchased this from someone in Ohio.
It is the original printing acetates (clear plastic films) used to print the back art for the Generation 1 Transformers boxed figures in 1984.
The iconic image is by David Schleinkofer.
For each clear acetate (plastic film) there are 4 different CMYK versions.
The "C" art, or Cyan art (blue)
The "M" art, or Magenta art (Red)
The "Y" art, or Yellow art
and the "K" art, or Black art
These were used in the process to print the full color image on the boxes.
There are 8 artwork acetates measure 20 inches wide x 17 inches tall
There are 12 acetates with various versions of the Transformers logo (all at different physical size.)
There is 1 acetate with cut out of Rubylith film (red film)
There are 2 acetates with legal information.
I believe this to be a pretty rare item and a great piece of Transformers history.
These were obviously used by Hasbro. This may very be a true 1of a kind item.