In the process of finishing his
review of SDCC 2017's best exclusive, Primitive Skateboarding Optimus Prime,
RAC snapped a photo of his collection of
Titans Return
Optimus Primes... and realized in the process that he now had
all
the
Titans Return
Optimus Primes! So keep reading for a quick family photo!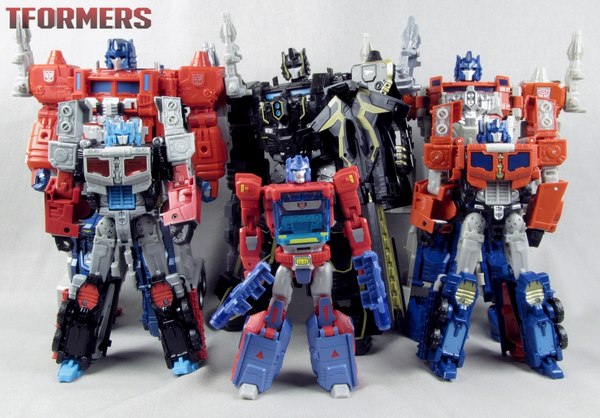 In order of release:
Leader Class Powermaster Optimus Prime
(top, right)
was the first, modifying the
Combiner Wars
Ultra Magnus mold into an homage to the second G1 Optimus Prime action figure. His Titan Master is
Apex.
Voyager Class Optimus Prime
(bottom, right)
is based on
Transformers: Generation 2
's Laser Optimus Prime, but in giving him a more traditional deco they created something more akin to
Transformers Universe
Spychanger Optimus Prime!
RAC's review of the figure can be found here,
but as a preview: the stickers aren't great but it's otherwise a decent enough toy. His Titan Master partner is
Diac
, an homage to Transformers progenitor toyline
Diaclone,
which is also the source of Diac's shiny silver head. This figure is essentially a "premold" of Voyager Class Octane.
Voyager Class Laser Optimus Prime
(bottom, left)
was released a few months later in the
Chaos on Velocitron
boxset, and completed the Laser Prime homage that the retail Voyager was dancing around. The trailer stickers... could be better, but they are in turn better than the stickers used on the retail figure. The Titan Masters in the boxset, save for Rodimus Prime, were not named anywhere on the packaging, but it's presumed that the name of
Diac
was retained.
Deluxe Class Orion Pax
(bottom, center)
, Optimus Prime's identity before assuming leadership of the Autobots, was released as half of an Amazon exclusive boxset which also featured a reuse of the
War for Cybertron Optimus Prime
mold. This isn't the first time an Orion Pax has been made from a Kup mold, as eHobby released a set of Orion Pax and Dion from the G1 Kup and Wheelie molds. His Titan Master Figure is named, per the instructions,
Titan Master Figure.
Click here to see ExVee's review of the Kup mold!
Primitive Skateboarding Optimus Prime
(top, center)
is a recolor of Powermaster Prime with new accesories, and
as we mentioned above there is a freshly-posted review for the figure!
His Titan Master partner is
Shreddicus Maximus
Isn't that just the best?
Lastly,
Leader Class Magnus Prime
(top, left)
is... weird, conceptually speaking. His bio from the
Siege on Cybertron
boxset indicates he's a new version of Ultra Magnus, but he's pretty clearly based on G1 Powermaster Optimus Prime. That's because what this really is, is a reuse of TakaraTomy's take on Powermaster Optimus Prime, AKA
Legends
Series LG-35 Super Ginrai. His Titan Master partner doesn't seem to be named on the packaging, but has been identified via other means as
Ginrai.
Which just makes the "Magnus" part even weirder.
Click here to see ExVee's gallery!
Unless there's another exclusive of some kind in the works, this is likely to be all the Optimus Primes we're going to see for
Titans Return.
And honestly, that's plenty! There were only two throughout
Combiner Wars,
both variations on the same Voyager mold. And at the moment, there's only one Optimus Prime and one
Optimus Primal
, both Leader Class figures, known to be planned for
Power of the Primes.
Perhaps they'll multiply... but at the moment it seems like of all the
Prime Wars
Trilogy,
Titans Return
will retain the highest Prime number, at six.