It's that time again! The first Power of the Primes Deluxes are hitting now at certain Target stores, and so it's time to take a look at what exactly we're getting. Short version: Dinobots, Jazz, half of a G1 Powermaster power couple, and Combiners are back. Keep reading for what's in the wave!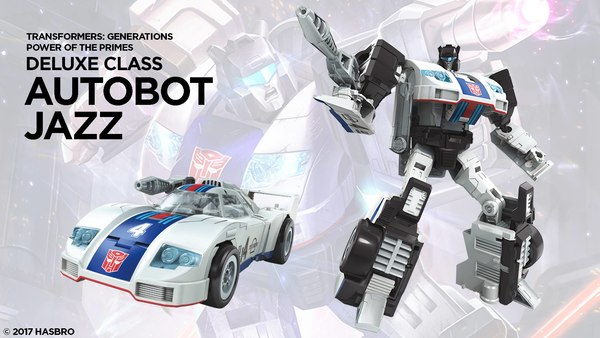 Autobot Jazz
is a new combining car mold with big shoes to fill. The previous take on G1 Jazz was largely considered one of the best
Generations
Deluxe figures... though current economic conditions have rendered it difficult to reissue now. This Jazz may also appeal to you if you wanted a more animation-inspired version with no door-wings. It definitely shows visual improvements over
Combiner Wars
equivalents, hiding his Combiner peg almost completely in robot and vehicle modes. He includes a gun as well as Prime Master-mounting chest armor which doubles as a hand and
only
a hand.
Dreadwind
is a remold of
Combiner Wars
Skydive. The only remold in the wave, Dreadwind sports a new weapon and a new chest armor/hand piece along with a variety of other revised parts. A G1 Powermaster character, Dreadwind combined with Darkwing to become
Dreadwing.
Since Hasbro opted not to say "Let's Get Dangerous" and challenge business partner Disney over the trademark for a certain crime-fighting duck, Dreadwind's counterpart will arrive in Wave 2 as
Blackwing,
possibly the first time "Black" has been swapped for "Dark" in a modern figure instead of the other way around.
Dinobot Slug
is the G1 Triceratops you remember as Slag. As has been the process since
Animated,
he's been given a new name since "slag" is an extremely demeaning term used against women in the UK. (In his
Animated
incarnation he borrowed Snarl's name, but Slug has been the default ever since - and has likely been cemented as his name given its use in the movie line.) As with the rest of the line's Deluxes he becomes a limb for a Combiner, and hence comes with an armor/hand piece the same as the rest. He also comes with a more impressive version of his G1 gun, but no sword.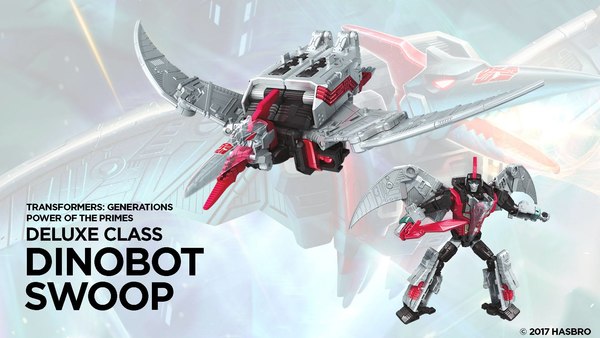 Dinobot Swoop
isn't shipping in quite the same colors as you see here: he's more in line with his G1 cartoon appearance, blue torso and all. While some recent Swoop toys inherited the movie character name of Strafe, this one is actually Swoop! Swoop's pterosaur mode is a bit more prounouncedly backpacky than the G1 equivalent because, yes, he turns into a Combiner limb. Coupled with Wave 1 Voyager
Grimlock
and Wave 2 Deluxes
Dinobot Snarl
and
Dinobot Sludge
, the Dinobots form
Volcanicus,
which we've got to admit is a really cool name. To facilitate this Swoop of course comes with an armor/hand piece, as well as a sword, but no gun.