So as of about 10 days ago at HasCon, it's official: Power of the Primes, the third and final leg in the Prime Wars Trilogy, will return to combiners! And we're fine with that - or so say the row of Combiner Wars boxsets RAC has in his room. Combiner Wars was fun, and produced some good toys... but it wasn't perfect. There's room for improvement, and he thought of some areas that it'd be nice to see Power of the Primes address. Keep reading!
1. Limb strength and stability
The linchpin of
Combiner Wars,
the combiner peg itself, was a marvel of engineering that had few problems keeping shoulders and knees where they should be - as long as the latch part was functioning properly. The super-strong ratchets worked very well for what they were required to do. But a shoulder joint does not necessarily mean a strong limb. For a stable combiner, legs and arms have to lock together firmly with little chance of leverage pushing them apart. For combiner elbows to work for the weight of their weapons, the individual Deluxe robots' hip joints have to be extra tight and stable. These are places where
Combiner Wars
were known to fall down... and thus so would the combiners, sometimes.
Joint tension is a very difficult balance-beam to walk, particularly with ball-joints like the Deluxe hips where the slightest variation in molding can cause looseness and floppiness - and where, conversely, too much tension can be catastrophic. Slug's hip joints look very much like any other Combiner Wars style Deluxe's, so we know the same approach is being taken in terms of basic structure. But the devil's in the details, and we just won't know until we have finished figures in our hands.

2. Torso stability
The other thing that sometimes brought down combiners was torso issues. If the torso pops apart, you've got a heap of robots on the ground. The Hot Spot/Pyra Magna/Onslaught mold, good as it was, had tendencies to have the shoulders disengage from time to time. Also under-molded tabs would sometimes cause Defensor/Victorion/Bruticus' thighs to be floppy and have difficulty holding poses.
The solution? Tough to say, but a guess is more redundancies in terms of pegs and tabs. And less tabs that require super-precise tolerances in order to work properly. Volcanicus, the Power of the Primes Dinobot combiner, also integrates extra combiner hands into the torso to add mass, so hopefully it'll also improve stability as well.

3. Articulation
We've gotten some good early signs on this one, but there's still more that could be done. A lot of the
Combiner Wars
figures looked very, very good... when standing perfectly upright. Any deviation from that could be tricky at best. One of the large culprits there was the multi-function weapon every Deluxe was packed with, which had to serve triple duty. In general they made mostly credible guns, acceptable if fiddly hands, and adequate but largely unarticulated feet.
Power of the Primes is already working on that with ratcheting ankle tilts and dedicated hands which seem to even have jointed wrists! But the other big thing that needs to be worked on is the hip articulation of the torso. The ratchets need to be strong enough in both directions, and have enough positions to not make posing awkward. If those hips can be worked out, we could be looking at more dynamic and stable combiners.

4. Combined Weapons
Most
Combiner Wars
combiner weapons were made as paired accessories for the Voyager which then combined themselves to become a single weapon for the combiner. This was best executed with Silverbolt, whose take on Superion's gun was pretty impressive. The other molds wound up with very long, very thin guns or in Sky Reign's case, a medium-length, unconvincing sword.
The big exception on the US side was Victorion, who combined the entire team's gear into an incredibly impressive sword. More of this, please! TakaraTomy was getting the knack of this at the end of their Unite Warriors run as well, with Computron and Ruination/Baldigus having combined weapons that were able to mount some, if not all, of the rest of the team's weaponry. Yeah, it looked kludgey sometimes, but it's a nice feature to have. The only question is whether you can do that when you have to divide the accessories cost between five figures, and not as part of a boxset. But even if you can't, we need better...

5. Weapons Storage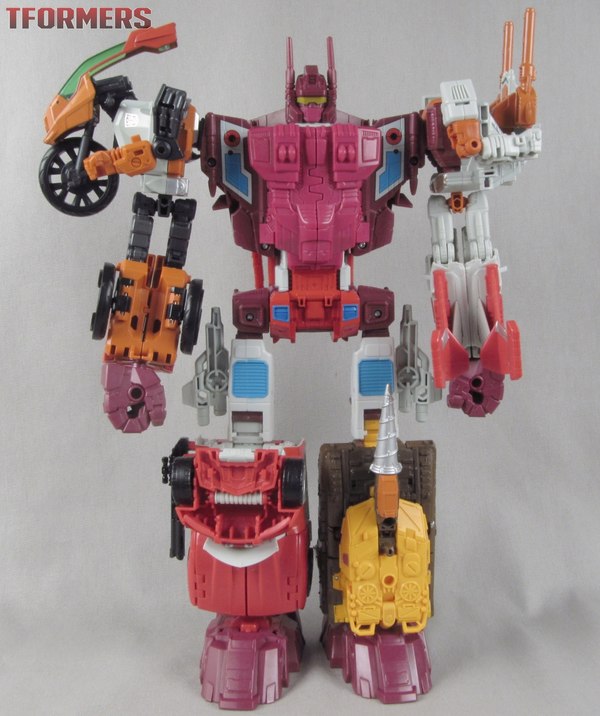 Computron was the best of the lot of these, leaving only Lightsteed's shotgun as a stray piece with no really great storage options in combined mode. You could have it hanging off the side of a leg, or sitting on top of Computron's gun looking for all the world like it didn't belong there. And that's the best of the lot in terms of storage! Most US combiners who weren't named Victorion had no use for the individual figures' weapons, leaving you trying to figure out the most attractive place to put them. Usual answer: back in the drawer.
So, more places to stow stuff discretely would be good. Or possibly, I'd actually be happy with less weapons variety, more duplicate weapons between molds, (and less weapons with one hollow side) if it meant that you got a symmetrical look out of your stored weapons. It's a small thing, but it'd make a big difference.

6. Variety
This is perhaps the big one, and with what we know about the lineup we're cautiously optimistic. Man, did
Combiner Wars
ever get its money's worth out of its tooling, getting multiple characters out of every mold or mold family. And that's understandable on a variety of levels: the similarity of the G1 characters it was usually out to represent, the cost of tooling, the fact that there's only so many ways to make a jet or car turn into a robot, and arm, and a leg. Especially, again, when you are for all intents and purposes tethered to 1985-6.
One of the things that many people wanted added to the line, we know we're getting right off the bat: beast modes! While that has the chance of its own stagnation - and we fully expect base Dinobot bodies to be reused for Terrorcons wherever possible - that still means that in the waves we know about we'll have cars, jets, and dinosaurs and monsters in the mix. Granted, the Jets are modded Combiner Wars molds... but Jazz is new, and represents some progress in even the most basic car combiner limb's body type. We're hopeful!
Taken together, you might think we're not looking forward to having combiners back. But we are! Combiner Wars made for some fun toys and easily the best take on the concept since the 1980s. With a few years to polish the format and think about how they could improve on it, we're expecting Hasbro could work some real wonders this time around. We'll find out in a couple months!