Hasbro Pulse has joined the Masterpiece bandwagon yet again with a new pre-order listing for the Takara Tomy Transformers Masterpiece MP-46 Blackarachnia (Beast Wars) at a nice price of $140 USD avilable only until May 27th, so act fast and get now at the following link:
https://hasbropulse.com/products/takara-tomy-transformers-mp-46-blackwidow-beast-wars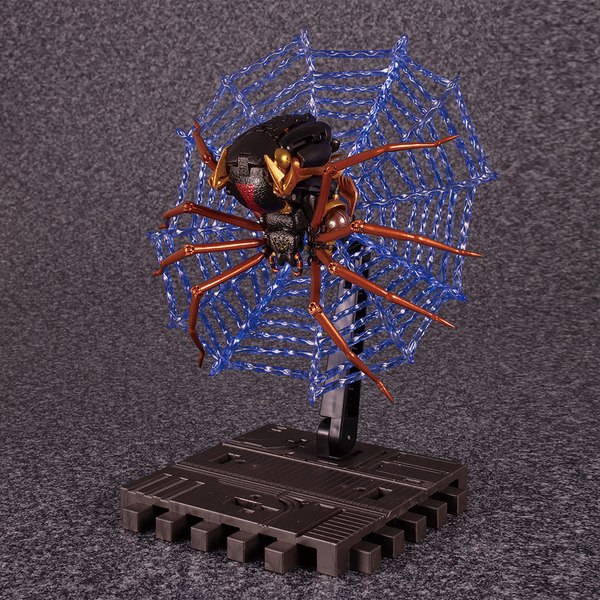 Takara Tomy Transformers Masterpiece MP-46 Blackarachnia (Beast Wars) Product Description

Following the Megatron (Beast Wars) in the Transformers Masterpiece Series, Destron / Secret Intelligence Engineer Blackarachnia (Beast Wars) is appeared !!

A female warrior, Blackarachnia, who belongs to the evil Destron army corps in the CG animation "Beast Wars: Transformation" has been revived with the latest interpretation and technology. The silk spider form in CG animation appeared, and the various poses of the legs and other joints can be enjoyed.

In robot mode, it transforms into a black widow which feature is faithfully same as the anime. The face part is interchangeable with the included replacement face (smiling face) / (screaming face), and the joints of the whole body can reproduce various action poses as per the image in the anime.

The height ratio of robot mode is matched with other MP Beast Wars products (e.g. MP-32 Convoy (sold separately)) that we can put them together and enjoy. Using the included display stand and spiderweb parts, you can display poses and spider webs floating in the air in both Beast mode and Robot mode.

Includes: Blackwidow Body, Face (Smiling), Face (Screaming), Poison Anchor, Anchor Missile, Visor, Visor Cable, Code, Spiderweb Parts(4), TF Power Base, Arm, Adapter A, Adapter B, Character Card, Instruction Sheet

More about Transformers Masterpiece

These Transformers Masterpiece figures are authentic Takara Tomy products imported directly from Japan in their original packaging with Japanese-language instructions, featuring authentic Takara Tomy design and deco. Perfect for collectors seeking the ultimate Transformers experience, these figures feature premium deco and detail.