"B-127, I pray this message finds you. Our war rages on. Planet Earth… Survival…"
Prime 1 Studio is proud to present MMTFM-26: Optimus Prime Cybertron Edition from Transformers film, Bumblebee (2018 Film). The concept for the film was developed during the writers' room assembled in the lead up to Transformers: The Last Knight and will be written by Christina Hodson and directed by Travis Knight. The old-fashioned storyline comes along with the brand newly discovery of our well-known Autobots member. Leader of the Autobot rebels during the war for Cybertron, Optimus Prime took part in the final battle for Cybertron against the Decepticons. He comes with two alternative right-arm holding the Ion Blaster and LED Light function on eyes. The Exclusive version comes with some Decepticon Seeker parts to be displayed on the base of Optimus Prime. This is a must have for all Transformers fans.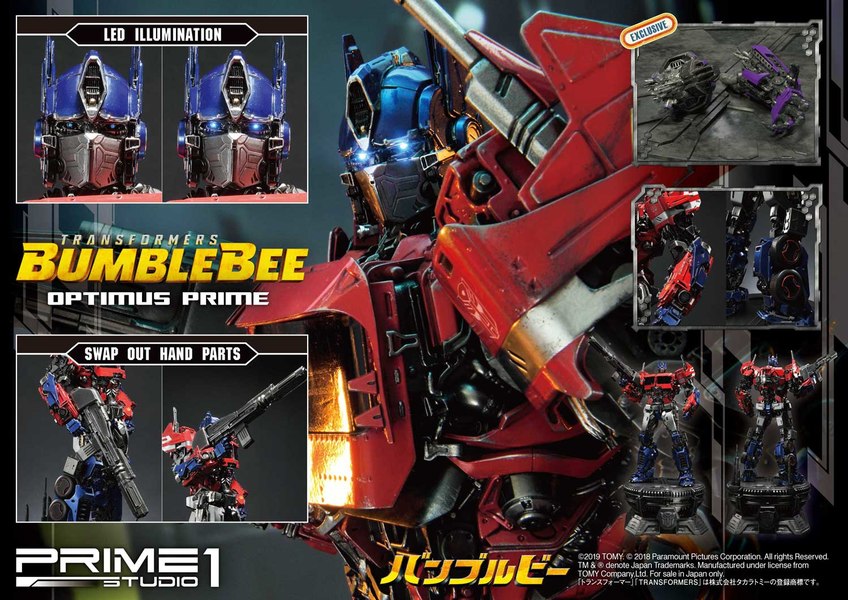 Product Specifications
・Size approximately 32 inches tall [(H):81.9cm (W):50.6cm (D):44.9cm]
・Size approximately 32 inches tall with Blaster raised [(H):82.1cm (W):61.2cm (D):44.9cm]
・LED functions on Eyes
・One (1) designed base inspired from Cybertron planet
・Two (2) interchangeable Right-arm holding the Ion Blaster
・Decepticon Seeker parts (In the exclusive version only)
Notice
3D renders for reference only.
Prototype samples shown.
Product details could be subjected to change without further notice.