Thanks to Flame Toys and Bluefin Brands for providing this sample for review!
I've been watching Flame Toys' Transformers Furai Model line for a while now. I'm not a particularly skilled model builder but as a Gundam fan I have bought and built a kit every now and then, so to have a line of Transformers model kits available is pretty nice. Doubly nice is that they've provided us with a sample of their Thundercracker kit to review, so I get to check it out up close!
The packaging is just a little bit glossier than your average Gundam kit. The contents are very similar, though a bit more complex than the similarly sized Mobile Suits I've built. Thundercracker is molded in blue, black, two shades of gray, and has a small transparent orange runner for his cockpit hatch. Best to be careful with that one, as clear parts sometimes come off the frame very easily and one of the cockpit parts is loose in the bag for me. Foil decals are included for his red wing stripes, Decepticon emblems, and other details.
The building process is pretty similar to a Gundam model, being a snap-together kit with soft polyethylene parts ("polycaps") used at the major points of articulation to keep the hard plastic parts from wearing down. The instructions are accurate for the most part though you may need to take a very careful look at the darker-color parts to figure out their exact orientation. There was one part in the foot that took pure guesswork. (Orient the hooked part of part D2-2 downwards, FYI.) A few real points of difficulty: the top of the cockpit canopy is two clear yellow parts that peg onto the blue framing part, and getting them attached is a hassle because of how easily the smooth clear plastic slides around. The hip joint assembly needs a lot of pressure applied for it to seat the parts properly. The instructions recommend pliers, and after doing it without them, I'd agree! And lastly, there is a tiny, tiny, tiny 1mm in diameter round polycap that goes into the head.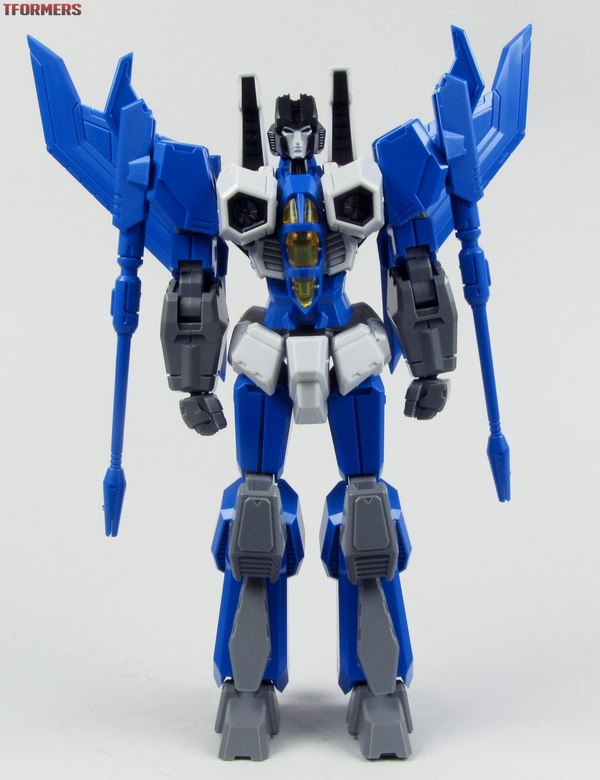 Final assembly time probably ran between 3-4 hours. ExVee found that there were gaps on some of Bumblebee's seams that he couldn't close no matter what, and I've had the same experience with Thundercracker. An experienced modeler with a full set of high-end files and putty can probably adjust the fit better than I can, though. The face is painted - interestingly you get two copies of the face because it's a part on the runners with the wing assembly (which would've been naturally gray on the Starscream release of the kit.) The stickers are thin foiled paper, a bit more durable than the stickers Hasbro used during em Titans Return, but I'm a little bit scared to try applying them. So, we'll look at the assembled kit before stickers. Luckily all the detail is molded, including his Decepticon symbols, so you'll be able to paint the figure fully and not miss anything if you don't want to use them.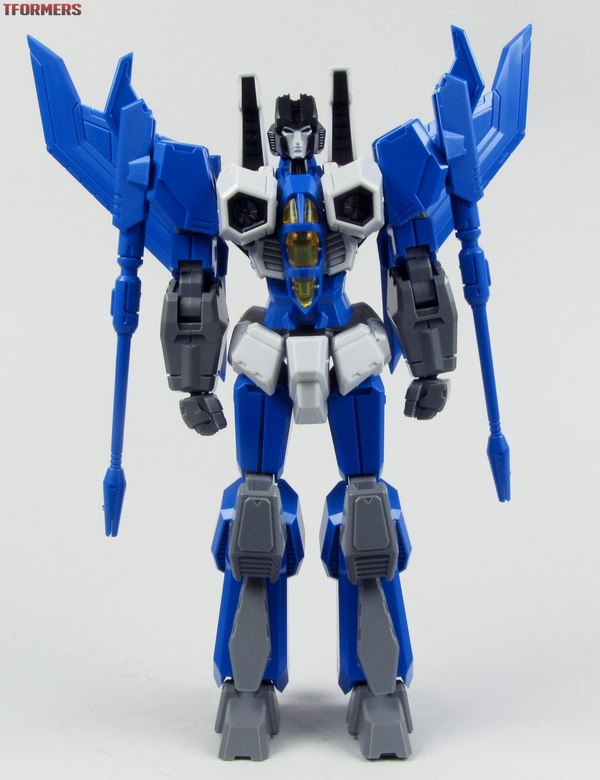 Size-wise, it's about the size of a Voyager if not the mass, but well above the size of a High Grade Gundam model. The aesthetic is extremely stylized and in a vein similar to Masami Obari's style. In photos I'm not big on it, but in person it's growing on me - particularly because you can take it out of the Jojo's Bizarre Adventure crotch-thrust pose it's usually seen in. (It really is sculpted and articulated to favor that, though.)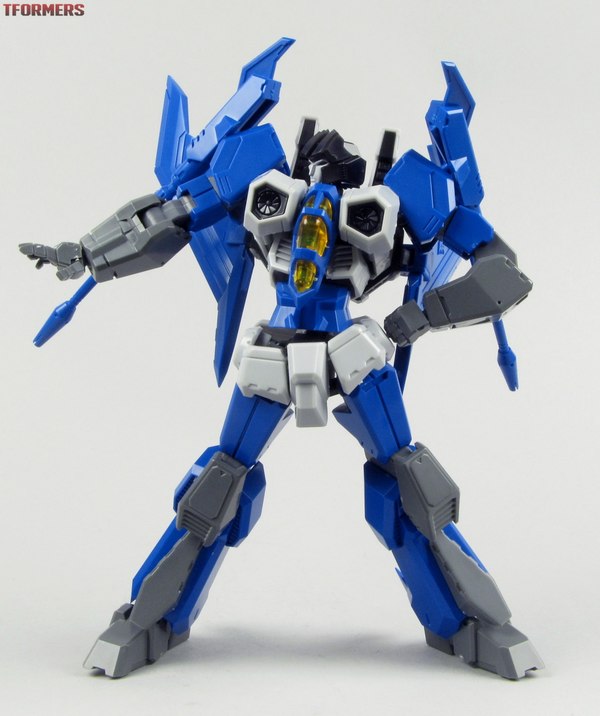 It's got great levels of articulation, sporting no less than four ball-jointed torso segments with range in all four directions. It's one of those levels of articulation where getting the figure into a symmetrical neutral pose is actually difficult. Other points of interest among the points of articulation are the hinges that allow you to raise and lower the hip joint, and the hinged toes.
Working with it under studio lights does remind me though that it's a model kit, and not an action figure. Expect parts to occasionally work themselves loose and need pushed back together. The ball joints in the torso could stand to be stiffer for the weight they have to support. Which is probably something an experienced modeler or customizer could modify, but out of the box it could be better.
Thundercracker's Incendiary Guns (the equivalent of Starscream's Null Rays) can be mounted on his arm or hand-held with a very simple but clever hinged grip that swings out. And he comes with hands to hold those in addition to the fists and open hands included.
Thundercracker runs about $38 USD - maybe about double the price of the High Grade Galbaldy Beta model seen above, but it is larger and with a higher parts count. Also far more articulation than similarly-sized Gundam kits or Transformers figures. I don't know that I'd recommend him to zero-experience model builders, as a few things like compressing the crotch block with pliers and installing the incredibly tiny polycap in the head can be on the difficult side. (Especially with big, shaky ham hands like mine.) But if you're prepared for the build, the results are really nice, and stickers and/or a full painted finish can only improve the look from here. I suspect the issue of slight seam gaps could be solved by advanced model builders. I'm really impressed with this kit and very grateful to Flame Toys and Bluefin for the opportunity to build it. If anything, this makes me more likely to get the IDW Megatron kit I've been eyeballing...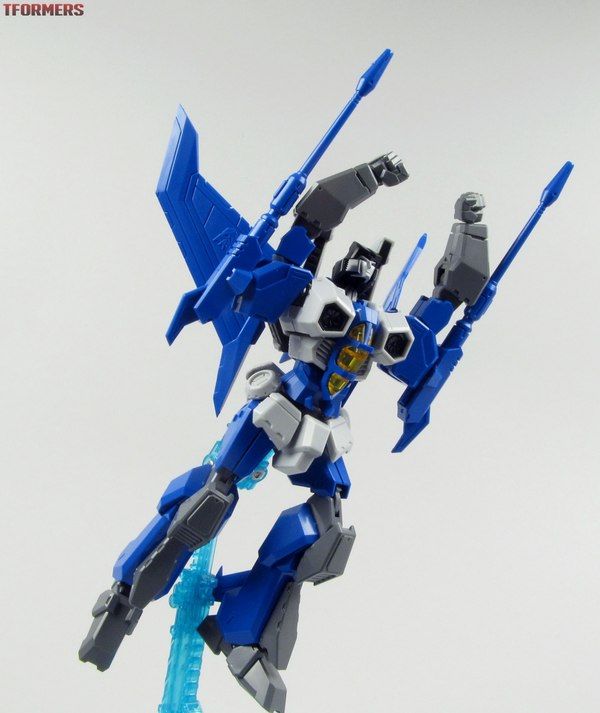 Keep reading for a full photo gallery of the kit!