The World In Your Eyes, Part Three is written by Brian Ruckley with art by Angel Hernandez and Cachet Whitman, with colors by Joana Lafuente.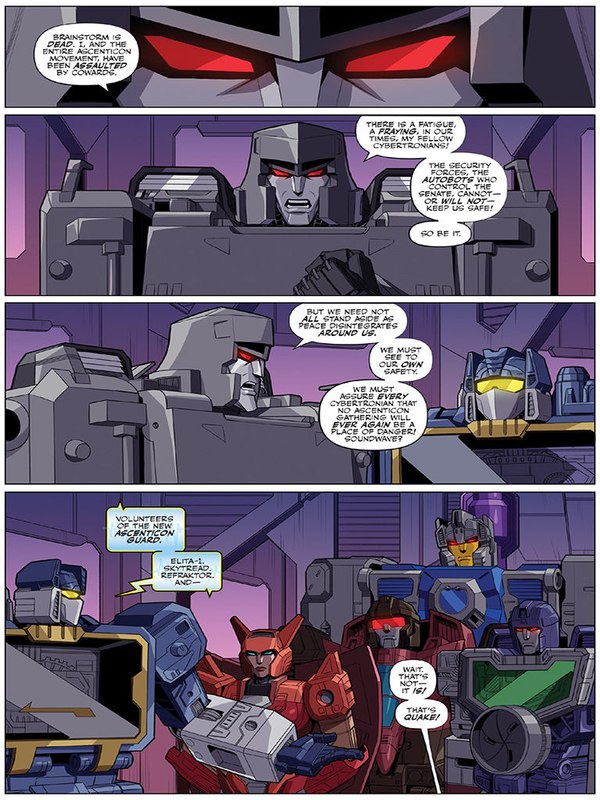 As a Deluxe from a few years ago I suppose Quake probably is that much taller than Refraktor or Skytread, yeah...
This issue is still moving at a pretty slow pace. But as the murder investigation and the fallout from the attack on the Ascenticon rally proceed, you start to feel that there's a lot that Rubble isn't being told. It's hard to say at this point whether that's because Bumblebee and company are trying to paint the best possible picture of Cybertronian society or because there are things they are genuinely not thinking about. In particular there's information about Quake's past - delivered by a character originally native to IDW Version 1! - and it does not jibe with what we've been told about the state of things up to now. Something is wrong and it's not being addressed - which makes sense since that's generally why societies crumble.
We're getting hints about things beneath the surface, and when we do I start to get a sense of what they're going for with this slow burn. There's also a little bit of information as to how Transformers are created in this universe and - assuming it's correct since it's what they're telling Rubble - it's an interesting concept that explores how it could work to create metal people on a metal planet. There's interesting world-building and some curious contradictions in what we're seeing, and it's all happening off to the sides; meanwhile we're on issue three and I could probably sum up the active story happening in the foreground in less than four sentences if I wanted. I'm sure this is all going to become connected and most of the things we've learned will become important and I'm trying to be patient, but there's the question of whether I should have to try to be patient waiting for the A-story to become worth $4 a sliver to me.
The last noteworthy thing about the story is the introduction of Geomotus, who was discussed in a recent interview. His introduction is pretty much exactly as John Barber laid out there. Almost word for word in fact. If anything, the brief description in the Barber interview contains slightly more information. All I can really say with what we've been given so far is that I like and appreciate the concept of having Geomotus there, I think the kind of representation that Barber spoke of is both good and important, and that I hope he's given the kind of treatment that IDW has been able to give to previous characters who expanded the Transformers universe in these ways. If the past is any indicator I know that they will do their best. But there's not enough here to really judge yet.
Angel Hernandez takes most of the book's pages, with Cachet Whitman providing the start and finish. And it's kind of amazing how much more expressive our IDW v1 export looks than the rest of the cast! And again I feel that's the fault of the amazing fidelity that both artists are bringing to the toy designs. There are definitely some high points, like a brief action sequence Hernandez draws involving Bumblebee, and I just like how Whitman draws Megatron's face in general. And Joana Lafuente is helping them create some great atmosphere, be it in enclosed spaces or watching the wonders of Cybertron from a distance. The best way I can think to put it is that on all levels this is a book that needs to loosen up, and I really don't think that's the fault of the artists from what I can see.