The World In Your Eyes, Part Four is written by Brian Ruckley with art by Sara Pitre-Durocher, Angel Hernandez, and Andrew Griffith with colors by Joana Lafuente and Josh Burcham.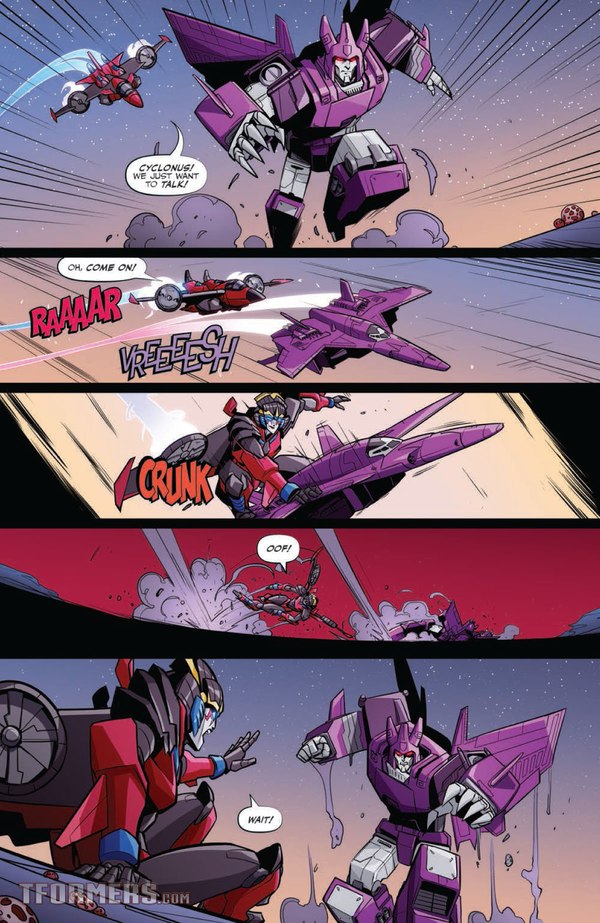 Chromia, Windblade, and Cyclonus: you couldn't have written a more Sara Pitre-Durocher-ready scene if you tried. Okay, maybe if Tailgate was there too.
There are three scenes in this issue. The first one with Chromia, Geomotus, Windblade, and Cyclonus is pretty interesting, with a couple decent lines, a good visual gag, and an interesting twist at the end. The second scene is the longest in the book and the least essential. The only information the scene conveys that isn't covered in dialogue in the scene immediately after is a small action by Bumblebee that I'm not sure was intended to reflect as negatively on him as it does. In fact, the more I look at it the more I'm sure it was just an action that's difficult to render well in just the two panels it has, but looking at how it plays out is a little jarring. The last scene is largely exposition and covers a couple of things from the previous scene with more detail along with a few pieces of new information.
The middle scene features Rubble and Bumblebee. That's not what makes it inessential, but the fact that the least important scene in the book features them is a problem. I think I understand what's being conveyed by everyone's attempts to keep Rubble from getting wrapped up in the politics of the day, but at the same time it's not a great setup to have the entire population of Cybertron conspiring to keep your point-of-view character out of the plot. Rubble is actively denied participation in the story this issue, which means that between that and the redundancies of information being conveyed, 40% of an already slow comic is used mainly to say "Hey, Rubble is here too!"
Art duties are split three ways during this story. Sara Pitre-Durocher handles the first sequence, and brings a lot of life to it. Not surprising given it's largely characters she has a lot of experience with. As always she has a way with facial expressions, but she also manages to keep the toy-based characters - which even include a Combiner Wars Cyclonus! - looking lively. In a comic where it's apparently important to strive for toy-accuracy, that's half the battle. Angel Hernandez handles the middle scene and once again shows off a talent for crowd scenes and Cybertronian geography. Also draws a good Prowl, whose face keeps reminding me of Peter Weller. Hernandez also covers a couple transitional pages into scene 3, where Andrew Griffith takes over. He makes the most of the Siege penchant for surface detail, giving some great renderings of Orion Pax - who Griffith was always good with anyway no matter what you call him. It really is nice to see some of IDW's best back on Transformers interiors.
Joana Lafuente colors the first two-thirds of the issue, with Josh Burcham stepping in with Griffith for the final pages. It's not too terribly jarring to jump from Hernandez/Lafuente to Griffith/Burcham, but you can definitely tell it's happening. It's fascinating to look at the differences in technique to accomplish similar things. Two great and very different colorists at work here.