END: The World In Your Eyes is written by Brian Ruckley with art by Anna Malkova, Sara Pitre-Durocher, and Angel Hernandez, with colors by Joana Lafuente.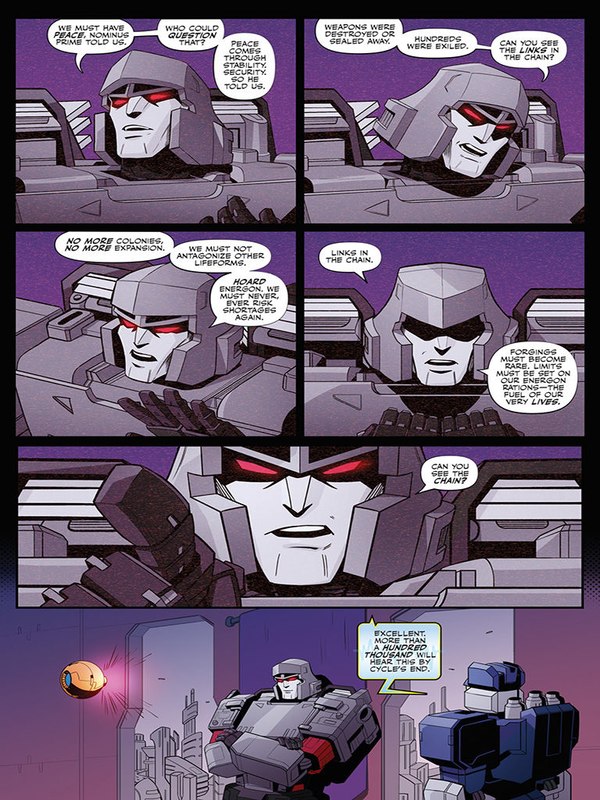 I can fault IDW2 for many things but art is not one. I believe this is Anna Malkova's debut on interiors - looking forward to more from her!
The World In Your Eyes concludes this issue, but there's no real conclusion to any part of the story. It advances the story a wee bit, but it's another cliffhanger. It concludes similarly to the first issue, leaving us with more mysteries without resolving any of the existing ones. This introductory story to the new Transformers comic universe is a prolonged first act, and that's not particularly satisfying.
It's a 100-page first act, if we're being particular. Back in 1984 - the thirty-fifth anniversary of the first issue of Marvel's The Transformers having been a week ago as of this writing - the amount of useful information conveyed to us in this prologue was probably covered in a few pages. Maybe one, as those were extremely wordy comics! But conveying information is not the purpose of fiction - at least, not the sole purpose. There's also character writing to fill in the gaps and make good use of the space you're creating to establish Cybertron. But there's little personality to anyone here; we learn more about the characters when other people talk about them than we do listening to them speak and act themselves. Prowl is established as grumpy and difficult to deal with, but presents as mildly aggressive and an overexplainer. It's the same way with everyone else, and unique speech patterns track more from scene to scene than character to character; if I were to read the dialogue without visual context or names included, I'm not sure I could distinguish one character from the other.
All of this is a shame, because the art is quite good. Anna Malkova leads off the issue - I'm pretty sure this is her first work on interiors for IDW. She opens with a set of three single-page scenes, and I like how she does faces and gestures in particular. She's got a good style and I'm looking forward to seeing more of her work. Angel Hernandez gets a tense action sequence at the end that I enjoyed, and continues to render Cybertronian geography in neat ways. Sara Pitre-Durocher is back once again, and I just really like the composition of her first page in the issue and how it establishes the isolated location Bumblebee travels to. Also just her Bumblebee in general, who has the friendly look I've always associated with the character.
Joana Lafuente is the sole colorist for this issue, and as always is also wonderful. Something about her colors for Hernandez' pages really calls to me; there's a certain glare I associate with cities at night that is captured extremely well in the colors.
I'm worried I'm belaboring the point and stretching things out myself, so I'll sum up: this comic has wasted entirely too much time and needs to start telling whatever story it intends to tell, and at a faster pace. The artwork in this comic is excellent - editors David Mariotte and Tom Waltz have picked some great new and established Transformers artists and done well with giving them pages that largely play to their strengths. (Though I do worry about the apparent requirement to be extremely on-model to Siege, as one of IDW1's strengths was the sheer diversity of design style it built up for characters over the years.) When the current creative team(s) settle in, I expect it will be enjoyable and impressive. And you can probably catch up with everything that happened in this extended prologue in a paragraph or two on the wiki when that time comes - sooner, hopefully, rather than later.