The Cracks Beneath Your Feet, Part One is written by Brian Ruckley with art by Angel Hernandez, Andrew Griffith, and Anna Malkova. Colors by Joana Lafuente and Josh Burcham.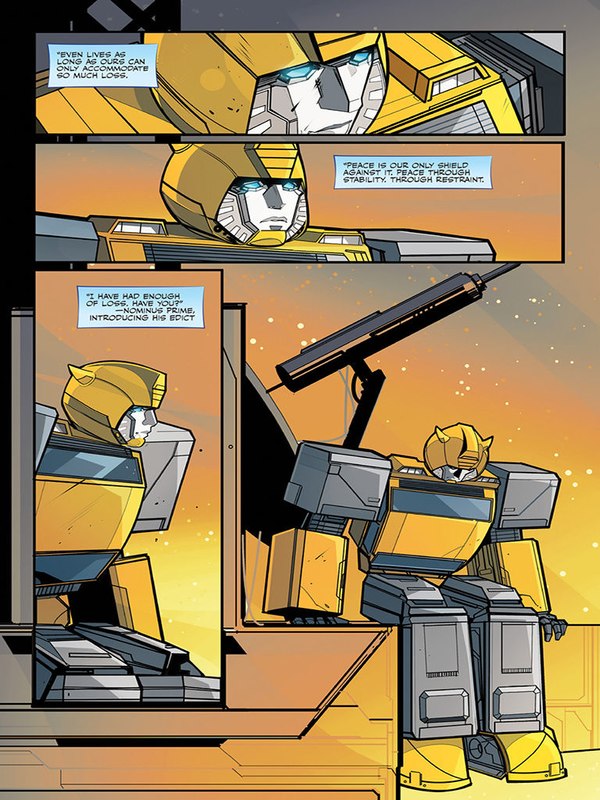 I wonder what Megatron's ultimate response to Nominus Prime's platform will be.
First things first: I apologize for not doing a full and proper review of issue #6. I feel especially bad about that because it's probably my favorite issue to date, and I thought that Beth McGuire-Smith - the first artist to get an entire issue to themselves - did an excellent job. The issue, titled Orion Pax: Free Fall, was a self-contained issue covering the history of Orion Pax and Megatron. It was quite good and I recommend checking it out if you haven't started the series yet.
This issue begins a new storyline, The Cracks Beneath Your Feet, and it at least keeps itself moving well. It's doing less of the awkward tell-don't-show exposition thing, with only one major example in this issue. It's not the only time we learn things via exposition, but it's the only exposition that feels like it was dropped in at a not-entirely-appropriate time to flesh things out. The rest of it is more natural and feels like it belongs. The changes at the end of issue 5 have, if nothing else, helped the story feel less like it's happening at arm's length. Maybe that distance and impersonality was part of the point but even if so, things are more to my taste now. In terms of characterization progress is being made, albeit slowly. The difference in characters is still primarily one of motivation, with individual voices still being slow to develop - though it seems like Bumblebee and Prowl are developing somewhat more distinctly. I'm hopeful this is something that will improve with time.
Angel Hernandez handles all the Bumblebee pages here, which include one of the longer action scenes we've seen in the new series so far. Things get a little stiff here and there, but the staging is solid and it's easy to follow. I just wish I liked how Hernandez drew Bee's face a bit more, like he's a thin robot wearing a very thick helmet. Nothing wrong with it, but my personal image of Bumblebee is more round-faced. Andrew Griffith returns once again to cover an autopsy scene, and while this isn't exactly "his" Prowl from IDW Volume 1, it's still a character he excels at. And everyone just looks good here, as Griffith has no trouble at all incorporating the Siege surface detail into his style. The last scene in the issue belongs to Anna Malkova, and picks up a thread from a few issues ago I was quite enjoying. Malkova has a style I like, and gets to do some fun things with the scene and the people in Cyclonus' head(or are they!? ...yeah, probably so).
Coloring duties are split between Joana Lafuente and Josh Burcham on this issue, and we're not told who handles what. If I had to guess, I'd say that probably Lafuente handles most of the issue (going by the gorgeous ambient light throughout, particularly in the cityscapes) and Burcham handles Malkova's Cyclonus pages (judging from the great use of textures in the terrain). If I'm wrong please let me know, but regardless it all looks good!
Issue 6 hit at exactly the right time to leave me refreshed and ready to see what the next long-form story is like. I still wish it hadn't taken this long to happen, but it does feel like things are in motion now. That can only improve things. Both the writer and the new artists are gradually finding their feet. A twice-monthly schedule has to be hard to keep up but it hopefully means rapid progress as well.