"The World in Your Eyes, Part One" is written by Brian Ruckley, with art by Angel Hernandez and Cachét Whitman, with colors by Joana Lafuente.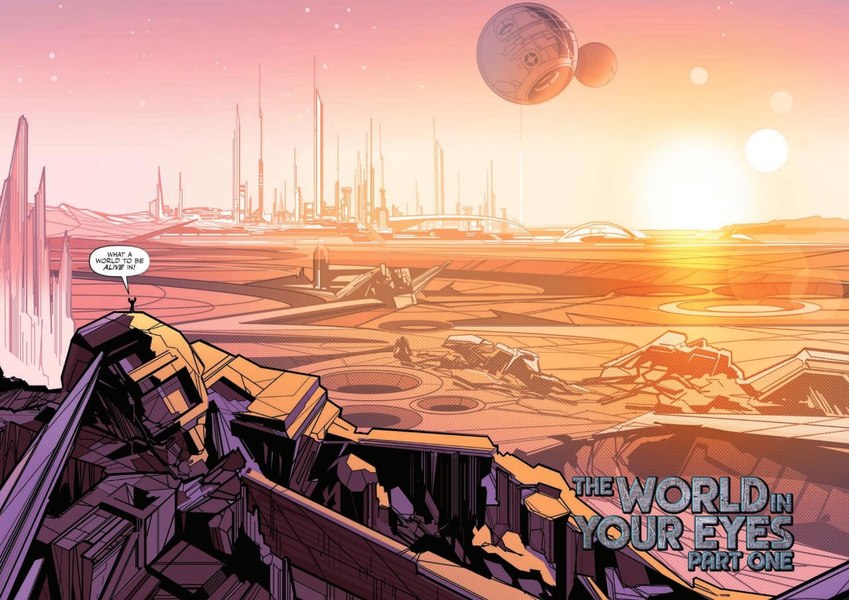 After Unicron ate the last story-telling universe, followed by a few months of break for some palate cleanser content like Star Trek vs Transformers, we're finally about to debut the brand new ongoing Transformers comic continuity. Thanks I'm sure in no small part to a stronger desire for brand unity that has been spread throughout Transformers over the last year and some change, IDW's new Transformers title takes strong inspiration from the conceptual setting of the War For Cybertron trilogy toyline, starting us out right before the outbreak of war between Autobots and the group who have not yet been named Decepticons, at what will prove to be the close of Cybertron's Golden Age. But we probably have a while before we hit any of that. This issue is all about exposition!
I suppose it's only natural that some concepts and setting information needs to be related at the launch of the series. After all, part of the motivation here has been to attract new readers that might have been intimidated by the long ongoing world of the last run - not to mention the downright confusing game of musical chairs it played with its series titles along the way. Needing a literal roadmap to read "The Transformers" correctly probably isn't the best situation to be in. But I digress. In trying to lay out some of the key ideas for new reader accessibility and clarity, I think it went a little far in the other direction. The newly devised character Rubble is our audience surrogate. Effectively a protoform, Rubble does not yet even seem to have an alternate mode. This is of course convenient since it gives a good excuse for a long walk with Bumblebee so he can present Cybertron 101 to our new friend (and us!). That's my problem though; it feels more like a classroom session (or maybe a field trip) than it does a narrative. In some moments, it seemed like all it was missing was establishing shots around the scale model town, and it could have been an instance of Mister Rogers Neighborhood. And I hope you appreciate all the laws of physics I just broke by using Mister Rogers as a point of negative comparison.
Of course my perspective is not entirely objective. I've been here a long time, so of course I already understand fundamental ideas about the nature of the Transformers' world and I don't need as much spelled out for me as an incoming new reader. But there's two problems I see with that. First, the hope should also be to pull back in all of the existing readership from the last series - people who also will understand what they need to without being immediately told. But bigger than that, even if I was coming to this completely new, it probably wouldn't change my view that it's just not executed very well. Bumblebee and Rubble are on the way to meet Brainstorm so that Rubble can try out a job where Brainstorm works, and the whole of the first issue is taken up with that trip solely so there's time for Bumblebee to say "oh, the planet's alive," for instance. Which becomes almost frustrating because there are these brief moments of interesting ideas that are introduced in a way that sits better with me. Like alien visitors roaming around the planet!
The social order is something that survives the infodump process a little better too. Readers of the previous IDW comics will probably find it not entirely unfamiliar, but it feels like a new spin on things. The reason Rubble is going around seeing things and in this case aiming to take a look at a specific job is because in this world, individuals on Cybertron have the opportunity to take an alternate mode that suits the job they choose to take. From what we get to see right now, until that point, they enter existence as a robot and the process of finding one's calling is an important part of the start of one's life. It's a take on the older Functionist concepts that basically fully inverts the idea - an alt mode based on purpose, as opposed to a purpose based on alt mode. And that finally gets us to some of what did sit well with me.
Subtle - or at least semi-subtle worldbuilding can be seen in effect in the background, effectively. Tiny things like the "handshake" between
Optimus
Orion Pax
and Megatron hints at the beginnings of an awareness of the culture of these Cybertronians by displaying at least one basic custom. The same scene also infodumps us about how prowl is once again a frightening monster of one sort or another. As long as it doesn't go too far and stays in a lighter and maybe sometimes comedic realm, I have no particular objection to that. Plus it at least gets to set up a punchline I was amused with. The main intent of this part of the book was setting up the building conflict between the Autobots and Megatron's followers. One credit I'll give to the writing here: it's conveyed well that Megatron's is in the middle of a downward slide where he's become exhausted of peaceful demonstration and while probably not actively violent as yet, he seems to be far enough along that he's fine with it if some of his folks decide they want to start a riot over their grievances. To be honest, I'd have liked a little more time spent with this side of the story since it felt more like it's taking us the readers somewhere. The Rubble and Bumblebee plot - "plot" - meanwhile uses up almost all of its pages achieving very little, and only introduces an actual story hook at the very end.
Most of the art is done by Angel Hernandez, and this is my first time that I recall seeing his work. Very clean linework is a strength here, with an abundant use of bold edges that give weight and definition to the characters. I do feel some of the robots seem to have an almost over-dependence on squared shapes in their designs. I mean, yes, they're robots so some cube-ness in their structures is to be expected. But even someone like Windblade where there should be more rounded surfaces and curved shapes often seems to appear to be made of a lot of flat planes in a way that makes everything look a little stiff and not right. I'd love to see this loosen up as time goes on, because right now I'm not really feeling the style. But I think there's a great foundation here and Hernandez could definitely bring some good stuff our way as the series progresses. A few pages - the meeting between Pax and Megatron - are drawn by Cachét Whitman, and they stand out a bit versus the Hernandez pages. The characters are drawn very toy accurate - maybe a little too much in some cases since even screw holes are represented. But I really am digging the balance between the characters looking faithfully like the toys while still getting to be really expressive with poses and body language. The detail level is well balanced too. The three characters shown don't look overly busy, but they're complex and interesting looking. I'm really hopeful to see more of this work turn up in future issues.
A returning favorite among the talent is color artist Joana Lafuente, and she seems like she's turned her talents up to 11 since I last read a book she's worked on. The Pax and Megatron scene is beautifully colored with subtle tone shifts and making some shapes pop with wonderful application of highlights and shadow. These panels set indoors have very saturated colors to indicate bright lighting, which becomes evident when you compare to the rest of the issue set in the evening outside. The coloring is a little more flat, and colors are more subdued - an effect that builds as you advance through the pages and it goes from sundown towards twilight and night time to where the gentle glow of the planet's surface takes over as the light source. It's fantastic work, and I'm glad to know we have such brilliant coloring to still look forward to here.
The next issue is due in two weeks. Since we are getting two per month rather than having two separate titles per month, I should probably not hold the general absence of story too much against this issue. The followup which I would hope focuses more on advancing the first storyline will be along soon and maybe give a better feeling for what this series will actually be like. That said, for anyone entering this completely fresh, I can't say I think it would be a very compelling introduction. It might have been a better idea to add another 10 or 12 pages to actually get more action in, even if it would mean tacking another couple dollars on. I didn't feel "grabbed" reading this. And while I do think there's potential here, I can't say that I'm in eager anticipation of the next issue. Hopefully that changes after issue 2...