If there's something strange in your neighborhood... obviously the first thing you should suspect is giant robots from space. Ghosts of Cybertron, Part One is written by Erik Burnham with art by Dan Schoening, colors by Luis Antonio Delgado, and lettering by Tom B. Long.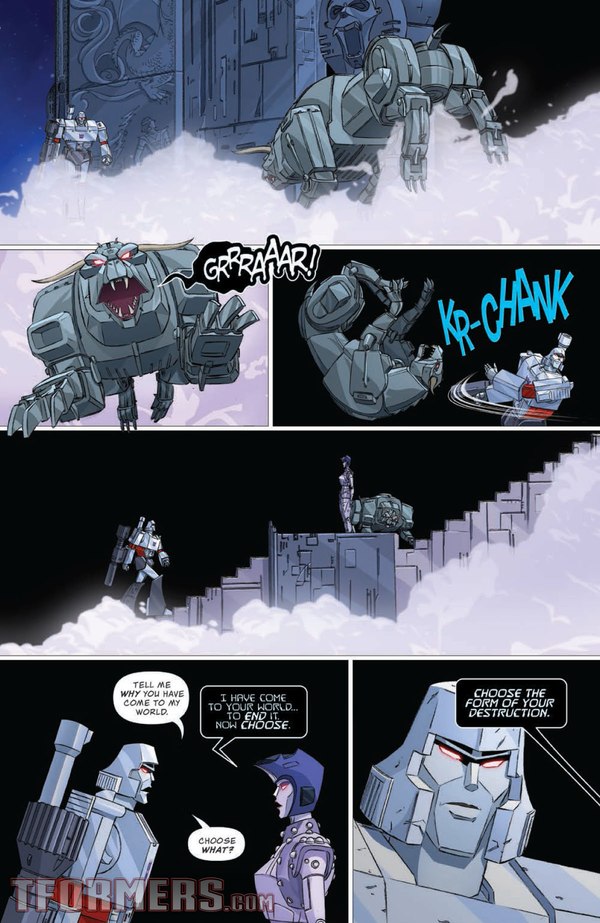 I was kind of hoping Gozer would ask Megatron if he was a god.
This is a setup issue, and while I wish there was more to it than that, I want to phrase that as a compliment: I want more of this. It establishes the characters involved neatly as well as showing just what makes this an alternate universe for the Transformers - one based on the G1 Sunbow continuity. (You know, the one basically everyone who cares about Transformers will recognize on sight whether they've kept up with it over the years or not. Especially if they're of an age to be similarly fond of Ghostbusters. Very logical choice, and on top of which Sunbow fits the tone of the book better than any other continuity I could name off the top of my head.) The character who will come to be known as Ectotron is introduced, and there's already an avenue - at least one! - for things to go horribly, comically wrong for everyone involved. In short, this issue tells you everything you need to know about the story to come, and it looks like it'll be fun.
If you're not familiar with the Ghostbusters comic team of Erik Burnham and Dan Schoening, this is a great display of their strengths. It's not surprising to me that Burnham gets the Ghostbusters so right after writing them for years, but they're the strongest characters in the comic so far. One of the things that makes Ghostbusters great (and is an underappreciated aspect of Ghostbusters II, in my opinion) is that while the characters can go very broad for the action and comedy there's also a certain depth to them. And not every instance of the characters nails that, but Burnham always has in my experience.
And when this was announced, I was not expecting Schoening to do as well with Transformers as he does! His humans are fun and loose caricatures that are very expressive, and keeping the boxy Sunbow Transformers on-model and not stiff-looking is an entirely different skillset. It's always great to see an artist who can do both. In between those two extremes there's a good ghost design that captures the flavor of the movie ghosts, and contrasts well against the "lighter" design of the Ghostbusters themselves. On top of all of which, we also get Robot Gozer and Terror Dogs. What else could you want?
Luis Antonio Delgado does a neat thing with his coloring here. First off, he's good at doing mechanical sheen (as seen in the Sunbow animation shots that the animators had enough time and money to put some extra effort into and dialed up to 11 for Transformers: Devastation. And only Cybertronian things have that sheen to them. Even Ectotron when in his alternate mode doesn't have it so as to blend in. An excellent choice!
When a crossover is handled solely by artists associated with one of the two properties, you tend to wonder if the other one is going to be done justice. And while it looks like most of this does involve importing Transformers characters into the Ghostbusters setting... the Ghostbusters team is just too good to worry about that. I'm already enjoying this, and now that the setup's out of the way we've got four issues to do just about anything with. Should be a fun ride.