The best analogy I have to describe my feelings on this issue of Ongoing is to describe a scenario where you walk into a nice reputable restaurant for a dinner and don't get quite what you bargained for in the end. Once seated you immediately order the Fillet Mignon because that's what you've been craving all day. Now for this scenario to work lets just say you are so ravenous you'll eat anything brought to your table. So you don't think twice when the first course placed before you is a salad.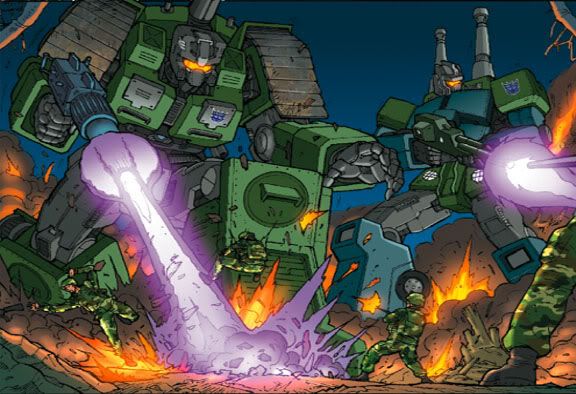 Salad is good for you, it has vitamins and nutrients your body needs to function. Fiber especially. Good ol' fiber to keep the bowels moving right along. And because you're famished you eat it. And it isn't at all bad, it's just part of the meal. Once finished they bring out another salad. Now man (or woman) can live off salad but lets say, to get to the point I'm getting at, you eat your whole meal as salad. When they bring you the check is about the time your going to demand "Where is my Fillet Mignon?" And that is when the waiter replies innocently, "But sir, you ordered the bottomless salad, not the Fillet Mignon."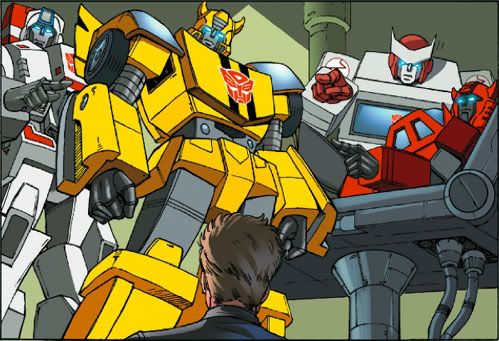 We have six issues of ongoing, it's the course of the meal a fan has sat down at the IDW restaurant to eat. We've already opened the first two issues of the story and so far we've only had salad, and now I'm getting another course of salad in this issue. Certainly this salad is different and it sets up exactly what I would expect to see from Costa, our cook. But in the end I'm still want to get my fillet mignon dinner. I've been here before and I have a sneaky suspicion I'm about to have a full course meal of salad all over again.
The elements of this issue seem to work better than the last two issues of story we have gotten. We have a clear conflict, the Cons seem threatening, another hint they have more up their sleeves, the humans are likable (as opposed to last issue when Spike single handedly brought down a Decepticon on his own and many readers, including myself felt he was more criminal than hero), the Autobots are sought to help level the playing field as the humans go to battle without the support of their government. It just sounds a lot like the same formula we've already been served. But maybe this time it is a little more edible?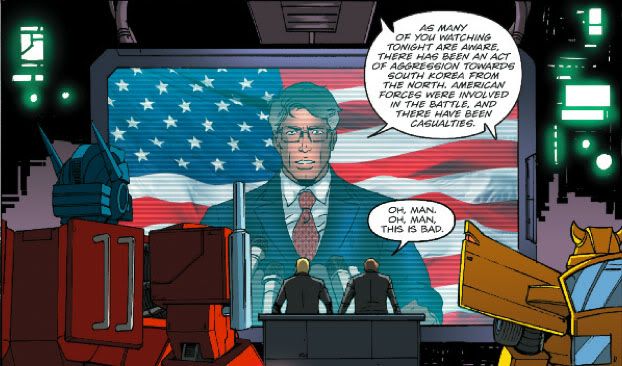 The point is I came and sat down to get a fillet mignon meal and I'm still getting salad. I like salad, don't get me wrong. But when I clearly have ordered the fillet mignon I want nothing but the meal I paid for. I don't feel I'm getting it. I'm not completely satisfied. If it looks like salad, tastes like salad, and acts like salad... I'm getting salad. And if I save the $3.99 per issue I'm paying for the six issues of comic books I'm paying for here, I can actually go in to a real restaurant and afford to buy my fillet mignon dinner.
If you would like to hear a more in depth, spoiler review of this comic. Check out
The Underbase comic review podcast posted every Wednesday.
| | |
| --- | --- |
| Reviewer | ladywreck |
| Date | July 14th 2010 |
| Score | (7 out of 10) |
| Reads | 8437 |
Back to Reviews Index