The end of Nefarious is in sight and as we receive issue five this week the pace of issue three which killed my love for it has been rekindled with this installment. Wanting to go back and explore exactly what has happened up till this point, I rediscovered Nefarious is actually a wonderful read as a whole and not as much in small parts. And with only one issue left to go, I am left feeling Nefarious's true strength will shine in it's trade paperback printing. (So if you haven't had an interest in this story, when it comes out in trade, my suggestion is to pick it up.)
I'm not wowed by the art in this issue, although I respect what they attempted to do. Since most of it happens at night, I'm willing to be a bit more forgiving, but there are definite places where I just couldn't ignore the problems and it did not save my dislike. I get the main understanding of the story but I don't think movie-esque designs is Carlos Magno's friend this time round. And Andrew Dalhouse's handling on the color isn't helping.
Nefarious embodies what I like to think a slow burn should entail, definite questions early on in the issues to make the audience and character's thinking wheels start turning, enough action and skirmishes to keep the characters too busy to focus deliberately on the whole picture of what's really going on, pauses where the focal characters have moments to develop, and the revelations and pacing to move it forward.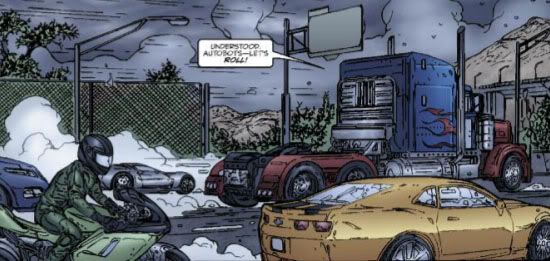 For a transformers story, I like the human characters even more than I should. There are plenty of Transforming characters I wish I liked more. (And can I say this, Galloway is starting to grow on me? *Shutter*) The main anatgonist is a human in a wheel chair, Carter, who's need for revenge is fueling the whole recreation of the AllSpark to turn around and destroy the alien Cybertronians on earth. What's so interesting about him is the fact he is willing to do anything he can despite being limited to a wheelchair. This issue illustrates exactly what bill he is willing to pay to get what he wants. And there are very high costs attached. High enough in fact, to pull all the foreshadowing threads of the last four issues into perspective. I hope Furman adds that dose of consequences for all parties in the last scene.
Soundwave has had wonderful character development. Bumblebee too. But the Transformer character who really pops out at me in this issue is Optimus Prime. Up until now he has suspected the truth and in this issue has realized the magnitude of what is about to happen on the door step of the ending. The biggest failing of this discovery is we haven't been given enough information to really grasp how it's possible Prime knows about the AllSpark or that Carter even has the ability to tap its vast power. I can only hope Simon has an awesome last play in his back pocket to wrap up the questions this issue raises next month. If the payoff fails, it will be just another disappointment to stack on the mounting infractions of Transformers fiction this year alone.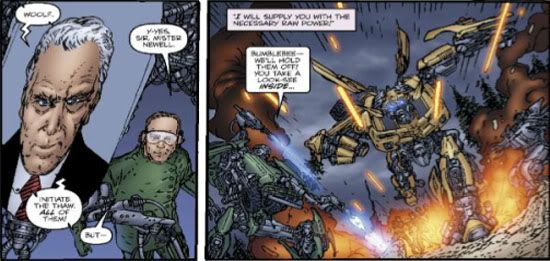 In all, Nefarious is doing well. I think in the long line of Machination/Skywatch/Initiative incarnations we've had thrown at us in the last few years, this one seems the most believably played version. However, it is starting to get old and it's time to do something fresh and new.
If you would like to hear a more in depth, spoiler review of this comic. Check out
The Underbase comic review podcast posted every Wednesday.
| | |
| --- | --- |
| Reviewer | ladywreck |
| Date | July 21st 2010 |
| Score | (8 out of 10) |
| Reads | 8296 |
Back to Reviews Index