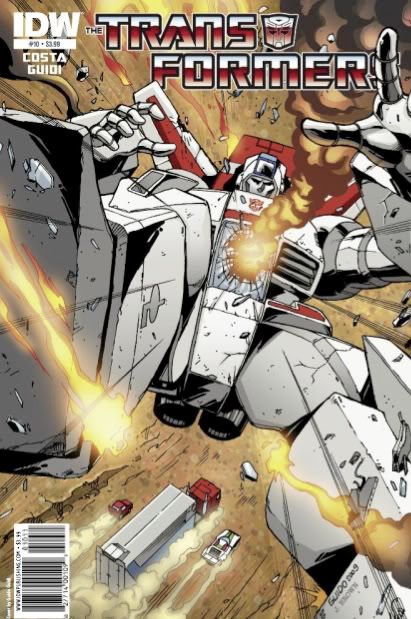 Jetfire is a Scientist, not a warrior.
There are all kinds of conflict that can compel us to read a story. When we start a work of fiction with great conflict it leaves you hanging by every last word or panel, you can't get enough of it. You care about what happens to the characters, and you certainly run to the bookstore or comic shop to get the next installment because you just have to know what will happen next.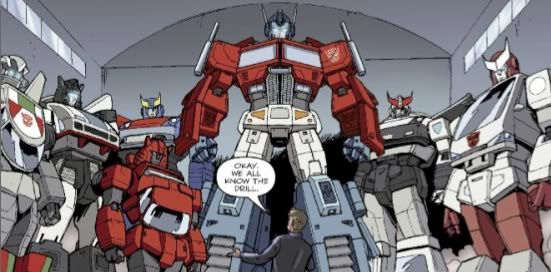 Drill? We haven't even had roll call yet, where's our fearless NEW leader?
Conflict doesn't have to be bullets and fists, it is any struggle causing friction and tension between characters or elements of a story. And there are varying degrees of conflict to drive a story. The goal is to make the conflict high enough to keep readers interested and give just enough emotional payoff to make you want to care about what the story is conveying or describing.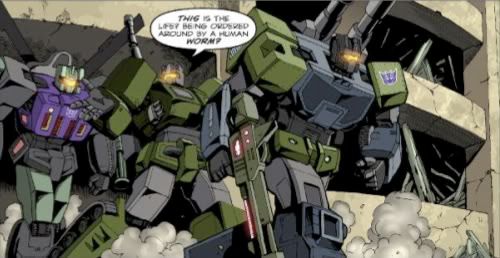 Ah! The joys of making mayhem!
I say this because although Ongoing issue 10 has improved its pace this month, I still continue to ask myself if the conflict is high enough for me to want to read more or is the conflict important enough for me to care about what happens to the characters at all. And I have to admit, somewhere I lost my interest in it altogether.
Certainly, there is conflict here in the issue. A nosy dock worker poking around in Skywatch business, Autobots led by Optimus need to stop the Combaticons from terrorizing the South Korean region, and the Bots need to stay in robot form or some really bad circumstances will come crashing down around their pistons. But I'm really not concerned. I haven't really begun to see a conflict scenario compelling me to really be afraid for my favorite characters.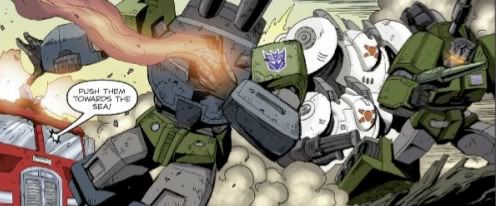 Skywatch and Autobots... love at first fight!
Its as if the surface conflict is there but has no real underlying direction, no compass as it were to drive it toward the overall point of the current story plot. I don't feel emotionally invested in the story or the characters. The feeling I have for the characters stems from what I have read about them in other stories and other plots and other comics. It feels like wasted pages and story, even if the pace has changed. A year from now I'm not going to be coming back to these issues to read them because they don't feel really connected to a greater vision. And we need the kind of comic that statsifies yesterday.
If you would like to hear a more in depth, spoiler review of this comic. Check out
The Underbase comic review podcast posted every Wednesday.
| | |
| --- | --- |
| Reviewer | ladywreck |
| Date | September 7th 2010 |
| Score | (7 out of 10) |
| Reads | 5397 |
Back to Reviews Index