Height:
Colors: Purple, green, painted gold, painted silver
Release Data: Known at the time of writing to have been available via Walgreens Easter baskets at the $15.99 price level in the United States.
Author: ExVee

You may notice this isn't going to take the same form as a standard review, but this is far from a standard item. Bootlegs of third party transforming robot toys are not a new concept. Indeed, they've been happening to some degree for almost as long as "third party" has been in the fandom consciousness. But typically those took the form of attempts to closely imitate the original product to actively capitalize on it. The quality may not have matched the original, but it was relatively high and sometimes hard to distinguish from the original. But this is a different field. It's taken a long time - longer than I expected, but bootlegs based on third party figures have finally hit the level of cheap no-brand merchandise, and it's kind of amazing.
The Easter baskets these figures first appeared in contain two out of three possible figures. One is an oversized bootleg of an Energon combiner limb - the A-10-style plane, specifically. But that's not what we're interested in talking about. No, we're here for the other two possible toys. The Car Model and Airplane Model just happen to be based on the Fansproject Crossfire series Munitioner and Explorer figures, possibly better known as not-Swindle and not-Blast Off. I'll be talking about Car Model here, while RAC will be conducting a write up of Airplane Model. Not to be confused with Airplane Model the airplane, of course.
This isn't a direct rip off of Munitioner, exactly. For one it's probably twice the size, as the best knockoffs tend to be. It's also in absurd colors, and as is the season, they happen to be Easter themed in purple and green. It's actually a good size in vehicle mode. In Transformers terms it would be like a small Voyager or unusually large Deluxe, kind of how RID Strongarm inflates somewhat in transformation and makes a big truck. But Car Model doesn't do any tricks to get there. As you might expect, the parts fit is kind of poor. There's gaps and mismatches between panels, some things resist securing together because they simply don't fit. But generally the vehicle mode stays together as much as it needs to, and I think that's a victory worth recognizing. The wheels are pegged in, and following along the theme of poor fit, aren't able to turn freely because the peg is too big. It wouldn't really work out anyway though, since some of the plastic is deformed and the wheelbase is hoplessly skewed. Now, surface detailing here is limited, though I find that what is present is actually carried out in some decent clarity. There's solid edges, good definition. It can be a little simplistic, but honestly anything else would just seem out of place here. Now, I'll talk about the deco on its own shortly, but there is one specific aspect I want to address since it's not an element really for the robot mode. On the rear roof, there's a big, white sticker with some text printed on it, where a company called "Megatoys" claims responsibility for the distribution of this thing, and the sticker claims they can be reached at 6443 E. Slauson Ave., Commerce, CA 90040. I think it's very courageous of them to actually let everyone know where to find them and so clearly claim their role in bringing this product to market!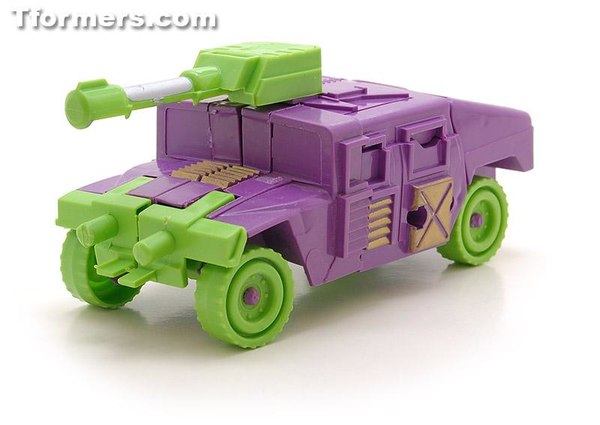 Transformation is very interesting indeed. I've had my share of knockoff figures over the years, but I think this is the very first one made entirely of crayon. It makes the notion of changing forms a bit intimidating because you're kind of reluctant to risk damage. Mind, that would all fall in the realm of small things like tabs or pegs and probably not arms and legs in their entirety. Probably.
The process is rather simple, ultimately. I haven't handled a Munitioner before, but I very much suspect this removed some number of steps and just focused on the core necessities of moving between forms. Car Model's robot mode honestly doesn't look as good as the vehicle mode. The robot parts have less defined looking sculpting, and the proportions are a little comical - likely the outcome of upscaling the design without making any substantive changes to it. The head in particular is troubling, as there are basically no familiar details to pick out. As it's made and painted, it looks like a forehead crest has slid down over the eyes and his mouth has been stolen.
The head can't move. The well-defined neck is a static connection despite looking like it ought to move. Car Model keeps the basic points of articulation you'd expect from a functional figure, with shoulders, elbows, hips, and knees. But one of them has taken a bad turn in being remade here. I looked in to this, and Munitioner has a vaguely complex structure for the elbow, which allows it to bend forward. Here, that is reduced to a single ball joint, and so the only direction the elbow can bend is inward. Though, since it's a ball joint, it's also able to swivel decently while Car Model punches himself in the kidney.
The deco is actually a little bit worse than what I'd consider average for a bootleg. There's gold and silver paint at varying points, haphazardly splotched on. The silver was already peeling and flaking away before I ever opened the package. The gold may have adhered better, but it's so sloppily applied it's truly difficult to tell if any has gone missing or just wasn't there in the first place. What's perhaps more entertaining than the paint it got is where paint was left off. The entire front surface, notionally the windshield, is unpainted. Thus the windshield is a solid block of purple, albeit ever so slightly recessed to imply a frame around it. I'm certainly not trying to hold a knockoff to normal standards, but I am amused by the idea that this vehicle is driving around with an opaque front window out of cost concerns or simple negligence.
A moment ago I described the figure as being made of crayon. While I expressed concern for small projections like pegs, in general I don't feel very worried about the toy. The plastic has a hideous feel to it, but not a brittle one. It's very flexible which will likely prevent careless breakage for the most part. I find it a benefit as well because it makes the entire object seem just that little bit more ridiculous somehow. It is a bootleg through and through, but unlike some I've seen, at least it doesn't feel especially like it's going to shatter on the first movement.
Of course, this isn't the only element of the package you'd be paying for. While I'm setting aside the Airplane Model, we should consider the other items here. It's an Easter special, so of course everything comes together in a basket. A very tall basket, since it has to hold and prominently display two large action figure packages in it. The basket is made of wood, and seems to be reasonably durable. It could likely survive most of the time to next Easter if you decided to store it for reuse. At the base of the basket, a small sheet of green tissue paper is wrapped around a stuffing of simple brown paper, which I think has good value as padding for boxes, but otherwise doesn't offer much to the package as a whole. But, it wouldn't be an Easter Basket if there wasn't some candy inside! Offered in this range of baskets are a small packet of M&M's, a Fundip, and some Lemonheads. I'm not much of a fan of what gets called "chocolate" in America, so the M&M's aren't doing much for me. But the fruitier flavors of the others, while not in any way genuinely reflecting the taste of fruit, are certainly less bothersome to me. Of course with each being less than an ounce of candy, this isn't much more than a sample of what you might find in a retail package. Of course, this may be colored some by my childhood experiences where my Easter baskets routinely contained the amazing two pound bags of Skittles alongside a toy. In any case, these contribute almost nothing to the value proposition, but are nice to have around if you need a quick sugar fix.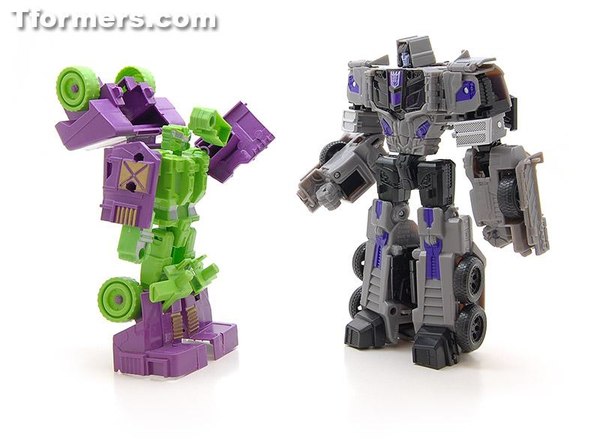 "Reporting for limb-duty, sir!"
"........."
Ultimately this is more remarkable for what it represents rather than what it delivers. I think the appearance of items taken from unofficial transforming figures at bargain retail level has been years overdue, and I'm incredibly amused to see that it's finally gotten here. And with these two existing already, there's a very good chance that exposure will continue beyond seasonal novelties. Big Lots in the United States had long been a supplier of bootleg Transformers, until they went a little too far and got noticed by Hasbro. But since these aren't clones of toy designs Hasbro owns, they may just be fair game. And there's any number of other possible venues. No, this isn't a substitute for having an actual Munitioner, but that was never the point of this. The point is more that the outfits copying toys to manufacture and sell for next to nothing have caught up to third party. The landscape could get mighty interesting from here. At least, I certainly hope it does!
| | |
| --- | --- |
| Reviewer | ExVee |
| Date | April 1st 2015 |
| Score | (6 out of 10) |
| Reads | 5416 |
Back to Reviews Index