Confronted with the reality of Megatron's defection and call for dissolution of the Decepticons, Tarn and the Decepticon Justice Division must decide where they fit in the new order, and if their directive still carries meaning. "The Permanent Revolution" written by James Roberts, Art by Hayato Sakamoto, with coordination by Phase6, and colors by Joana Lafuente.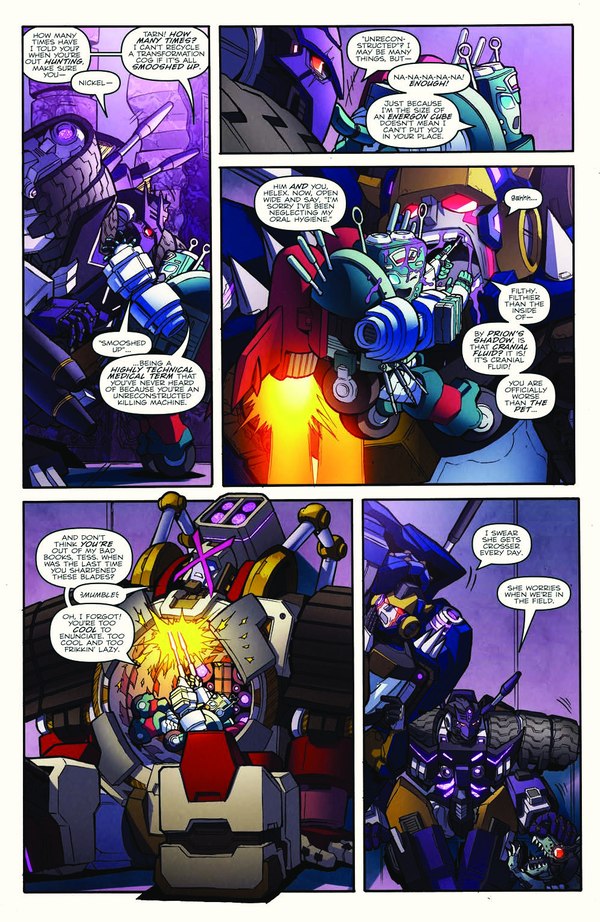 ...Legends Nickel when...? It can be the first and only official DJD toy.
Following the elimination of another name from The List, Decepticon Justice Division members Tarn, Helex and Tesarus return to their ship. Having been separated from Vos and Kaon for some time, the matter weighs on each of them until Tarn gives the order to go back to collect their remains at Ofsted XVII. But discovering their comrades alive brings only a short celebration as they carry with them word of Megatron's defection to the Autobots, a claim proven by the revised edition of Towards Peace taken from Trailcutter's remains.
So far, the DJD have been presented entirely as a looming threat. Something powerful to the absurd that can be held as an insurmountable obstacle. But what they haven't really been are characters. That absence makes them lose some of their capability to stay interesting as story elements. Consider, if you use a force that's openly considered to be too powerful to win against, the narrative options are considerably restricted. Either means that become more and more contrived are needed to resolve a story involving them where the end result isn't the death of some or all of the main characters, or they have to lose their edge until they stop being a threat. This is a problem that's presented itself in writing forever, and one example that a lot of people can probably identify with was Star Trek Voyager's overuse of the Borg to the point where their presence carried no weight at all. That was the edge the DJD were nearing by appearing here and there with no greater capacity than as potential doomsday devices. But they could only show up so much without living up to their frequently-stated potential before you inevitably stop caring. This issue changes that by deepening them, by showing them as characters and not plot devices. And it helps immensely to push away the feeling of boredom the group was approaching. Largely we get inside Tarn's head this issue, but everyone who speaks the common language gets a little bit of new attention and demonstrate personality outside the basic mission statement. They start to come off as characters, as individuals and not forces of nature. It's an odd way to relate the development, but this issue changed what Tarn sounded like in my head. He has a lot of narrative internal monologue that shifts the way he reads. Some of his speech still carries the same feel to previous appearances, but the character's voice has more distinctive nuance now and doesn't seem as much like it would just be "generic deep-voiced villain". Again, this may not be the best way to convey the effect, but this is a major part of how character development processes with me, it makes the voice they register with in my head go from the very vague, generic starting point to something very unique and personally identifiable, and Tarn finally got to that point. Kaon is starting to clear up like that as well. The others didn't make quite the same kind of impression, but hopefully there will be more chances to visit with these characters mostly on their own so the others get this chance.
In terms of the story itself, there's a little bit of a few things. We get some clarification on the timeline that led to what we saw in Slaughterhouse and the issue following that makes the facts related then make more sense. The biggest intent here is in redefining the DJD's mission to adapt to the landscape changed by Megatron's renouncing the Decepticons. That's where the potential opens up, because this changes what they're about enough that they have new story doors open ahead of them so they can break out of the mold that has defined them - and restricted them. While the fruition of that would probably be some ways off, it's something I'm really eager to see paid off down the line. So, the other thing that we get out of this is a little bit of world building that will very likely connect to what's happening in the other ongoing titles after Combiner Wars is over with. We find out about another colony world, and that Cybertron isn't the only power seeking them out right now. Plus, we do get to see the internal activities of the DJD, including Tarn's devotion to the power of internal administration to keep order, which is an interesting personality tick to add to his pile of other obsessive behaviors. Much like the Scavengers story that actually introduced the DJD way way back now, I can't help but regret that it will probably be a while before we get any more good focus on this group that the whole issue spent trying to - and succeeding in - making them compelling.
This issue is notable for interior art by Hayato Sakamoto, a noted Japanese artist who, among other things, drew the Botcon 2014 comic. The hallmarks of his style do present occasionally - particularly some faces are absolutely unmistakable as being drawn by him. But he does extremely well in following Milne's visual style and keeping the character designs correct and consistent, so that everything looks right. There are some odd bits - a couple instances where characters look shorter and wider than they should, almost in a super-deformed kind of way, albeit without some of the other characteristic proportion shifts that go along with that style. It really stands out because it only happens a couple of times, the rest of the issue everything looks normal so I'm left puzzled why these panels are different. But apart from that, I'm really happy with the art. Actions read very well, there's a good balance of details depending on the scale in a scene so the visual complexity stays really consistent and everything looks clean. MTMTE has had an interesting range of substitute artists here and there, but Sakamoto might have taken place as my favorite of them. I don't particularly expect this to be a regular thing at all, but I'd be happy to be proven wrong on that.
Thanks to Joana's usual fantastic coloring job, any potential inconsistencies in style get smoothed out so the art blends visually with what we're usually treated to. The close up panel on Tarn's mask on page 3 really stands out to me as a great job coloring even being what seems like a simple presentation. It just pops through the great use of bright and dark. I will admit, there are a few places where I feel like there should be some kind of tint on things from light sources and there aren't. Still, the colors are beautiful and play so nicely with Sakamoto's lines that I can't truly complain about any small thing like seemingly absent highlights. It just all looks so good together.
Finally there's the range of covers. The main cover is the image we were presented a few months ago of Deathsaurus surrounded by fallen bodies. Not especially representative of the issue's contents, though ultimately it proved to be an effective misdirection from what ended up happening versus the speculation it generated. On the subscription side, we get a nice piece based on Tarn's response to the revised Towards Peace, with really nice dark, moody coloring. It's a good character piece and a nice take on a piece of the story. But the winner is the retailer incentive cover. Another contribution of Sara Pitre-Durocher, it's done in the style of a propaganda or recruitment poster, featuring the DJD. It's a great piece of art - in fact one of the few cover images that I seriously would like to own a print of. I love the concept, and her art and coloring is really fantastic as always. And I love the way the imagery ultimately ties in to where the issue's story goes.
| | |
| --- | --- |
| Reviewer | ExVee |
| Date | April 7th 2015 |
| Score | (8 out of 10) |
| Reads | 7465 |
Back to Reviews Index