Optimus Prime visits T.H.E.P.I.T.! General Flagg visits the people who pull GI Joe's strings! Decepticobra visits the United Nations! Snake Eyes visits Maccadam's! And on Earth and Cybertron, visits are paid to ancient, powerful beings... Visiting hours are open in
Transformers vs. GI Joe #6
, written by Tom Scioli and John Barber, with art, colors and lettering by Scioli.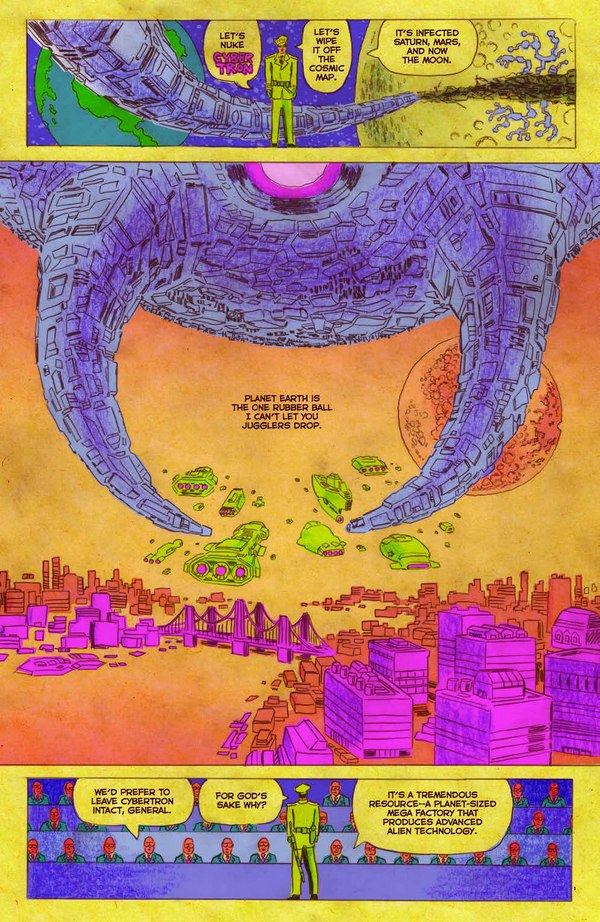 This is only the second craziest thing Flagg thinks of this issue.
In the aftermath of last issue's battle, Tunnel Rat effects his escape from Trypticon while the other Joes are indoctrinated in the ways of Decepticobra. On Earth, General Flagg suggests a simple course of action to the committee that oversees GI Joe: "Let's Nuke Cybertron." But the council disagrees - they want Cybertron's technology. As Snake Eyes starts a fight at Maccadam's, the Autobot and Joe prisoners are loaded aboard the Astrotrain, destined for the gladiatorial games on the Polyhex Killway. On Earth, a shrouded figure that couldn't possibly be Cobra Commander seeks out Koh Buru Lah, the ancient monster worshipped by Cobra. As Decepticobra addresses the United Nations and Optimus Prime seeks out Bumblebee's body, General Flagg elects to kill the council rather than accept their decommissioning, only to be interrupted by third party GI Joe Ninjas.
In this issue it's difficult to really tell who has the upper hand at any given point. Except of course on Cybertron, where despite organized resistance from the Jotobot alliance, Megatron still reigns supreme. On Earth, GI Joe finds itself at odds with both the people it answers to
and
Optimus Prime himself - one of those confrontations goes better than the others, and again, the implications of it would be enough to fill a 6- or 12- issue series in any other book. We also have a pair of parallel visits with beings of great significance, but Cobra's goes much more according to plan. Other noteworthy but not
particularly
spoilerish occurrences include the appearance of Bruticus - and it's a version of Bruticus I think a lot of us wish Hasbro had thought of long ago.
As always, there's more than enough inventive visuals to go around. Bumblebee's current form is noteworthy, as is a landscape I
also
can't really mention by name without spoiling something substantial. And the schoolbus Decepticon! I also like the Astrotrain, who is now more than just an engine. That's a neat touch. After flirting with the idea for a holodisplay last issue, Scioli has begun using a technique where energy beams aren't subject to the same page-yellowing as the rest of the comic. It's an interesting technique and really does make the beams look extra-bright, even if it does break the kayfabe of the faded-comic visual style. But seeing as this was never
just
a nostalgia project, seeing the comic gradually break free of the production styles of that time period as things escalate is perhaps fitting.
The commentary this month doesn't particularly tell us too much that we can't figure out from the art - which again, I consider a plus! - but it does help to confirm and elaborate on certain aspects, and also draw attention to things that may have gone by unnoticed otherwise. The most important notes are for the last page, which explain the ending of the book and how it's here mainly so that people stop telling Barber and Scioli that's how they want the entire story to end. Scioli makes it clear that he can do better than that, and I fully believe him. The other extra this issue is a look at an early version of the book that Scioli created as part of a 24-hour comics challenge. You can see some visuals that make it to the finished book, and some parallel scenes, but there's also some substantial and fascinating divergences.
There's a fair crop of covers this month, with a few real standouts. Scioli's cover is Optimus Prime with his extremely not-aerodynamic trailer-wings and Minecraft Beam Saber. The subscription cover by Dave Crossland is a group scene showing Optimus Prime and the Joes working together against the Insecticons. It's a nice, stylized piece with a gritty finish depicting a scene that has no bearing on the book's interior. The Retailer Incentive cover by Antonio Fuso shows Snake Eyes and a very techy, movie-looking Grimlock. Jaime Tyndall's cover is a shot of Snake Eyes, and his style works better when he's not trying to bend it towards pinups of the women of Joe and Cobra. The real star, though, is Ottawa Comiccon's exclusve cover. The second by Derek Charm, it shows Duke face off against Optimus Prime in a hockey game, with a guest spot by early 90s blue Snake Eyes in the background. Nice! Charm's style is very clear and crisp and pleasantly stylized, and I'd like to see him tackle interiors in a Transformers comic some time.
| | |
| --- | --- |
| Reviewer | RAC |
| Date | April 7th 2015 |
| Score | (7 out of 10) |
| Reads | 4492 |
Back to Reviews Index