Optimus Prime struggles against the Camien perception of him, which threatens to undermine Starscream's political authority. But as he begins to understand more what both sides are expecting of a union between worlds, Optimus begins considering other options. "The Possible Light", Story by Mairghread Scott and John Barber, written by John Barber, and illustrated by Livio Ramondell.
On a shuttle headed toward Cybertron and escorted by the Protectobots, Mirage experiences a vision of a future in flames. Ironhide somehow shares in this experience, but elects not to share what he believes to just be a dream. Starscream addresses the population of Cybertron, revealing first contact and the barest details of Menasor's attack. Optimus and Windblade return to Caminus to help in the relief efforts, confusing the Mistress of Flame, who only finds more to doubt as Optimus upholds Starscream as being in a higher status than himself. And elsewhere, other forces learn of recent events and begin moving against both sides...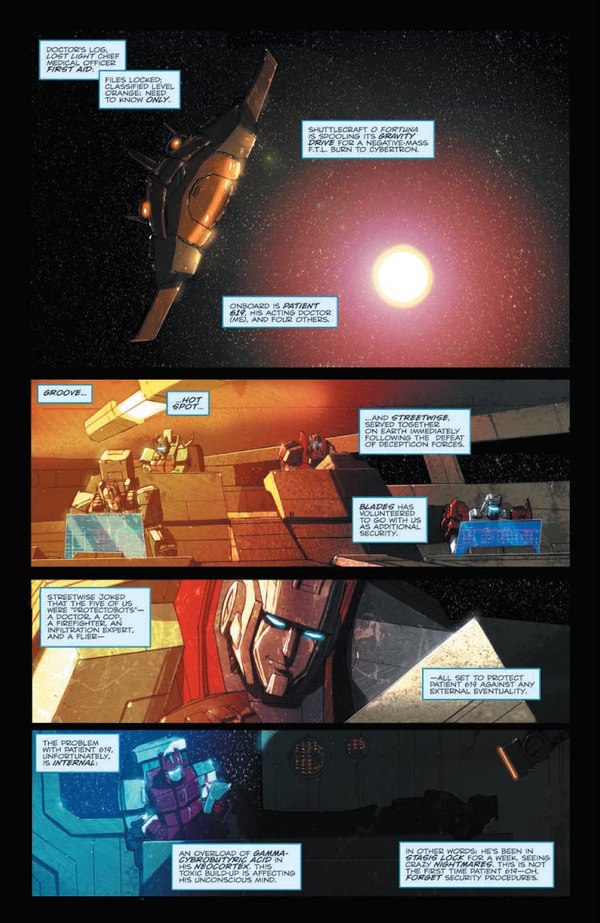 ...hi, Mainframe...
This issue opens with some more continuity patching. The earlier vision First Aid describes refers to the events of Spotlight Mirage, from 2008. It wasn't clear how or if any of it could fit in to IDW continuity at the time, but it seems that this issue is retconning that it was a vision or delusion, similar to how issue 31 of the previous Transformers ongoing was retconned as a vision Ironhide experienced. The Spotlight itself probably well enough left that possibility in place anyway, but this may be the first acknowledgement in main continuity of that issue. That Ironhide was somehow connected to the same experience Mirage was part of probably indicates something bigger is going on and these two are among those receptive. Given Ironhide and Mirage are both part of the fourth wave of Combiner Wars deluxes, I quite suspect that this will be tied up in that some way or another.
A lot of what's really going on is about Optimus Prime, because he knows that left alone, Starscream is going to functionally enslave Caminus and any other world they contact. But he also knows that he can't just come in and assert himself as the high authority because of his title. Even with the best of intentions that's going to do nothing but further damage what loosely forms the shambles that is their society. And it's harder with the Camiens practically handing him that authority over them because of the remaining portion of the Matrix he holds. As it's been the last couple issues, Starscream is happy to take advantage of this inner conflict, and he does his best to push Optimus around at any chance. Part of me wants to feel bad about the position Optimus has fallen in, but I kinda can't. In Dark Cybertron, there was a moment of reasonable awesome where he took his name back, and it seemed like that might have been a turning point. Except that he's back to just acting kind of sulky like when he was running around calling himself Orion again. It's hard to root for someone when they're spending their time talking up a decent game but not actually doing anything at all to follow that up. So it feels like we're hearing the same things over and over with nothing being done to put action to it. And then you get him on the receiving end of Starscream, which Optimus put himself in and continually reinforces that he basically has to... I mean, at some point this process stops being interesting. Maybe Optimus will have another brief breakthrough and find some effectiveness hidden inside him again, but even if so, how long will it last?
I recognize that barring all other considerations, Optimus has to be involved in this story because he has a toy and a toy concept to push, but outside of that... nothing is being accomplished. Ever since Robots in Disguise started up and we got the Orion Pax sidestory, this is how he's been written. If this is the only way Barber can or wants to write Optimus, it's not working for me, and I want to go back to when he was only occasionally featured. There were some good times in Dark Cybertron, but the most interesting this Optimus has been in the last three-plus years is when he's appeared in the past as Orion Pax, Supercop. Today's Optimus is probably understandably - rightfully - tired, but that's not being handled in a way that's interesting in an ongoing basis. Something more needs to happen and be developed out of this premise, or something new needs to be tried if Optimus simply must be around more than he was for the first couple of years. The way the Camiens see him could be an interesting starting point for that, but I'm worried that if anything is followed on that, it'll be shortlived at best.
You know, I worry sometimes that I get too harsh in criticizing interior art, that somehow I'm ending up not being fair. But I feel relieved after this issue because I actually thought the interiors weren't too bad. I still am not much a fan of Livio's style, but there's some pretty decent parts in here. Even relative to the last few issues worth of stuff I've seen from him I feel like there's a perceptible improvement. Now, that's not to say there isn't stull some characteristic problems. Lopsided faces, odd body proportions, some over-filtering, entirely the wrong character being drawn in one panel, but on the whole the work is clearer. There's even effective sense of scale when Superion is on panel. I think this was probably not a great place for Starscream's new body to debut, since it looks kind of a mess here, and a location later in the issue that has a lot of energy fields and such is bordering on being just a mass of glow effects. And cripes, but Rattrap gets scarier every time he's drawn, but that's pretty much true of anyone doing it, so I guess I can't hold that up as a specific knock. Much like it was with the Dead Universe parts of Dark Cybertron, I thought Livio's style actually suited Mirage's visions. But then, that's because it's a situation where bizarre, distorted shapes and nonsensical perspective and ever-changing proportions are expected and thematically appropriate. I guess the more mean way to say it is Livio Ramondelli is good at drawing nightmares. I hope I'm right and we are seeing some distinct advancement from Livio. Even if the style stays the same, if enough technical improvement can happen within that, I can see myself being more or less fine with him. It's the combination of the style and some shortfalls that have been an objectionable problem for me in the past.
The cover roll is a bit uninteresting this time out. The main cover suggests Devastator action which never comes, although it's a nicely framed and drawn piece by Casey Coller and Joana Lafuente and looks really good. I especially dig the subtle reflections in the metal ground that only clearly show themselves in the bright colors. That's good attention to detail that you might live without just fine if it wasn't there, but with it, the picture has a bit more "life" to it. The alternate covers are half of a two-part Livio piece of Defensor versus Menasor which is back to being really overfiltered and colored in to muddiness. The other alternate, the retailer incentive, is listed as "courtesy of Hasbro", but I believe is Marcelo Matere's Menasor art for the Transformers: Legends game. It's a good piece of art, especially if you favor well-done toy accuracy, but I'll admit it's a slight letdown after the interesting range of RI cover artists over the past few months.
And now the waiting game begins to find out if the solicits were wrong, and Livio is not actually also doing interiors on Windblade #2. I think that will be answered next week...
| | |
| --- | --- |
| Reviewer | ExVee |
| Date | April 14th 2015 |
| Score | (6 out of 10) |
| Reads | 4094 |
Back to Reviews Index