Intent on keeping their worlds apart, Prowl leads Devastator to Caminus to force the Cybertronians back home so he can collapse the space bridge and prevent Caminus from being destroyed by Cybertron's negative influences. "Mistakes And Mayhem", story by Mairghread Scott and John Barber, written by Mairghread Scott, illustrated by Livio Ramondelli.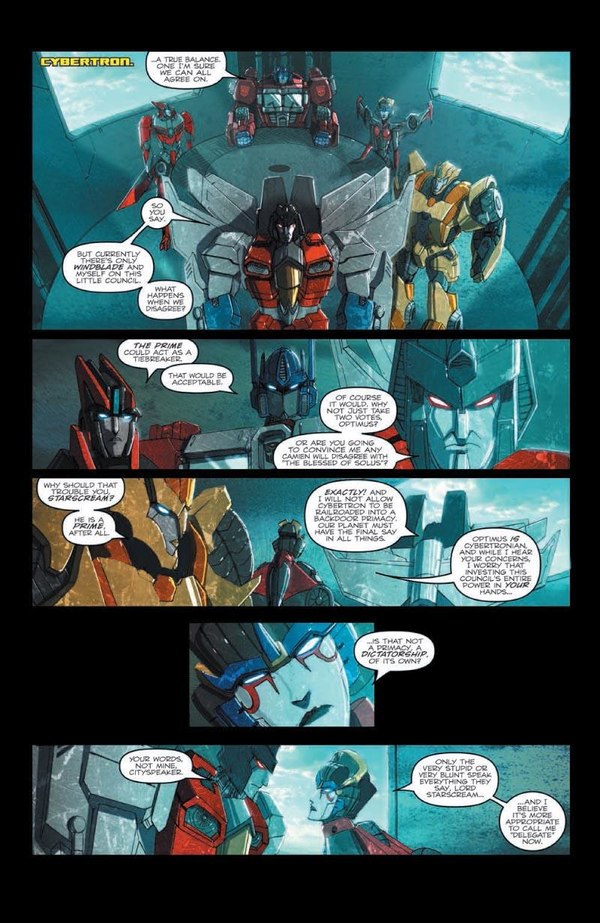 The relief work on Caminus continues, with the ex-Decepticons making no small impact, a fact that doesn't go unnoticed by Ironhide. Chromia thinks his surprise at their being helpful is representative of Cybertron's post-war social problems, and how "weird" it is that there are more Decepticons pitching in to clean up right now than Autobots. Ironhide brings up Chromia's past crimes to prove no one is above making mistakes, but Chromia feels more and more like contacting Cybertron was the real mistake. Their conversation is cut short though, as Devastator emerges through the space bridge and issues an ultimatum: All Cybertronians are to return to Cybertron, or die.
This issue is a lot about Prowl, and it can be kind of hard to get why he's doing what he's doing since it really feels inconsistent with how he's been handled recently. I think that the driving forces could be expressed more clearly on page than they are, because to keep up with what Prowl is doing right now relies on putting together some things that aren't always laid out together. Prowl has always had a problem with Starscream being in charge of Cybertron, and dealing with that has probably been among his long term plans. But that could afford to be on the back burner since the damage Starscream could do was limited. Things changed when Starscream got access to a space bridge, and especially to the combiner tech. That in TF 40 was the tipping point. Whatever Prowl's end game was before, it's all had to rework to deal with the new clear and present danger Prowl sees Starscream as representing. This issue seems to be using Chromia's actions in the first Windblade series to show that the threat Prowl sees probably is legitimate, but that he's become so focused on it that it's blown up out of proportion. Basically, we're at a point where between what he sees on his own and whatever affect the repeated formation of Devastator is having, Prowl has snapped. By the end of the previous story arc, I suspected Prowl may have wanted the Enigma in order to use it to align everyone with his way of thinking because from his perspective, he was the only one who could understand everything enough to make the right decisions. Now that option is off the table, and he may think that if Cybertron can't be fixed, it just needs to die off.
But again, all of this could be presented more clearly together, because it's taken me some time and thought on it to start to bring where Prowl is at in to focus. There's going to be people left in the dark and confused about why this is going to this point, and it's going to hurt the perception of this issue. Given this issue has maybe the most meaningful amount of action for the storyline so far, that's no small shame. It's sadly no clearer where the story overall is going, but with the real confrontation with Devastator now having happened, I feel more like actually getting somewhere is more likely than it was an issue or two ago. It's a lot like when we hit somewhere around halfway on Dark Cybertron and things started coming together and finding a direction. With so few issues left to this story I'm still less confident about it making the same kind of rebound, but I at least feel the hope again.
So, you might have noticed in TF 40 there were some changes to the Protectobot roster. Mainframe and Grotusque appeared in place of Blades and Streetwise, respectively. Unfortunately that error is carried forward to this issue, with those characters appearing consistently with the rest of the Protectobots in any group lineup. The error in the prior issue might be given a pass based on limited time to make corrections, but it seems a lot harder to take that the editor couldn't manage to make sure for two issues in a row that the right characters were being shown before one of these issues had to go to print. That's putting aside whatever actually led to these two characters being replaced by these specific other characters to start with, too. I'm left wondering whether this will even be fixed for the trade or if we will forever have the day and a half that Mainframe and Grotusque were part of Defensor before being inexplicably replaced with Blades and Streetwise like they should have been.
Otherwise, Livio is pretty hit and miss again. There's some decently drawn parts, and the first shot with the Autobot combiners standing together is actually pretty cool looking. The problem largely crops up when you get in to the actual fighting. There's a few fight scenes in this issue, and they all suffer from being difficult to follow. The group on Caminus trying to fend off Devastator is seen the least, giving it the smallest chance of going wrong, which I guess is some kind of benefit. But the real show, with Devastator fighting other combiners is a focal point of the issue, and an event that really needed to stand out. While there was some interesting combat ideas put out there by the script, their final representation typically ended up lacking. Some of the straight up physical combat was basically incomprehensible because the figures melted in to each other with the poor lighting and muddy coloring. Panel composition was also not helping, with a couple of the coolest ideas being made incredibly hard to figure out because they were laid out very poorly. Someone attacked with a rocket punch, and it barely registers in the panel. An equally super-robot-esque finishing move ends up being just as hard to read. Fun ideas that are pretty unconventional in context of Transformers are being lost out on because they're not getting represented well enough. I do think Livio has turned a corner lately with his work, but it's only a starting point and so far it's not overcoming the more fundamental problems that exist.
This month on covers, Casey and Joana give us a nice Defensor shot which some months back was the first real confirmation we had that these characters were going to be involved and have new toys when the solicitations hit. Like with Transformers 40 last week, this main cover is the best of the bunch, so enjoy another issue where you won't feel like you've missed out because you couldn't get an incentive cover. The subscription cover is the second half of another Livio piece, this one focused on an indistinctly blobby Devastator with a bit of Defensor spilling in. Though what I think is supposed to be Streetwise as Defensor's right arm is colored like Dead End. The incentive cover is again "courtesy of Hasbro" but I think it's more Marcelo Matere art like the Menasor piece last week. Nice art for sure, and would make a fine poster. I'm not sure it's super compelling as a cover, though.
| | |
| --- | --- |
| Reviewer | ExVee |
| Date | April 21st 2015 |
| Score | (6 out of 10) |
| Reads | 4731 |
Back to Reviews Index