In the wake of Elegant Chaos, the
Lost Light
has some loose ends to tie up. But not everyone is happy... "Chief Medical Officer Ratchet in: 'Our Steps Will Always Rhyme'" is written by James Roberts with art by Brendan Cahill and art by Joana Lafuente.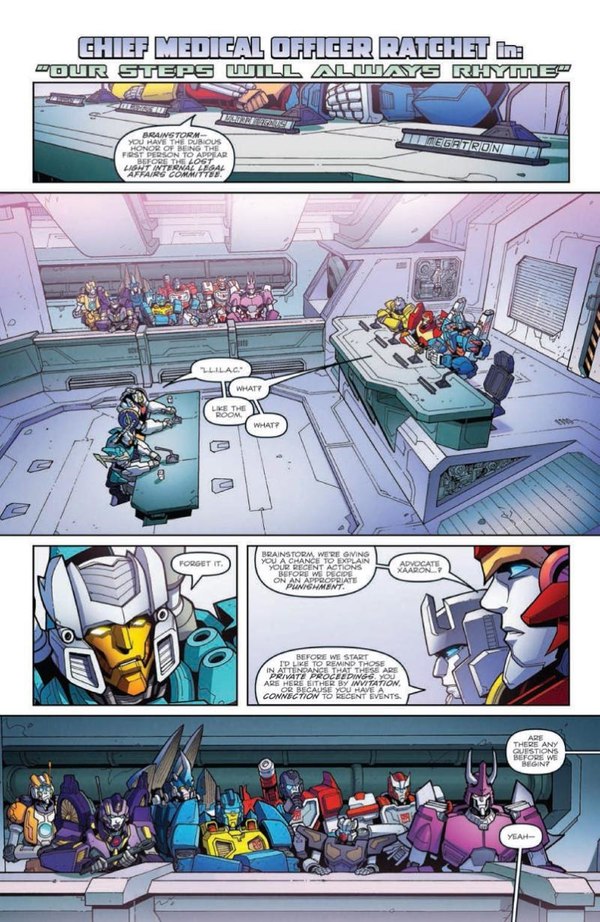 Something about Cahill's interior shots is refreshing.
We begin by visiting three examples from Ratchet's past that show he's always had trouble saying goodbye. In the present day, Tailgate hoverboards into Swerve's bar, finding it empty except for Ratchet, Swerve, and repurposed Legislator "Ten." It turns out that selling people poisoned (by Brainstorm) fuel doesn't sit too well with Swerve's clientele, especially now that Mirage owns a competing bar elsewhere on the ship. But Ratchet has to go - he's late for Brainstorm's hearing. And after the outcome of the hearing, he finds he has something else he needs to do. Quite a few other things, in fact.
This is a nice low-key issue for winding down after Elegant Chaos living up to its name and the establishment of the next major threat that we got last issue. I don't think the outcome of the issue is much of a surprise given the main cover - it doesn't take uncannily on-the-nose fan theories to put that cover together with the first preview page and know what Ratchet is going to do. But of course getting there is always the important part in a character-driven series like MTMTE. Now that the immediacy of Brainstorm's plan is dealt with, there's the issue that set it off in the first place. That's resolved in this issue, and it seems like a sensible response given everything that's happened. Most of the focus afterwards is, of course, on Ratchet. Which is not to say that the rest of the cast is excluded, but for this issue their lives and their lingering issues are all in orbit of Ratchet, or more accurately, filtered
through
him. And how that ends up working is fun and clever.
Guest artist Brendan Cahill fills in for Alex Milne on this issue, and does a fine job. His style falls between Andrew Griffith's very hard, solid style and Milne's more expressive one. All three are excellent technical artists, and Cahill has the range of expressions and emotions that the issue demands. I think his Nautica is a little bit harsher than I think of the character, but Nautica is in a pretty harsh mood this issue, so it works. He also handles the Lost Light interiors in a way that I can only characterize as... different than Alex Milne. Not better or worse, just different angles and perhaps with more wide shots. It feels like we see more of the Lost Light than we usually do, and in a new way. I'd call that a success. Near the end of the issue there's some art pieces that are important to the story that are in a looser, friendlier style than the world itself, and I like the look of that. I would not mind seeing him doing an extended work in that style! Joana Lafuente's colors feel especially vivid this issue as well - and the mood lighting in "Visages", Mirage's bar (quotes included) is every bit as `80s as the decor. It's a great issue to look at, and I'm all for seeing Cahill on whatever TF book he'd like to draw.
Three covers this month, and all pretty nice ones. The main cover by Alex Milne, spotlighting a sentimental Ratchet, ties into the issue both thematically and more literally than you might expect. The subscriber cover is a colorful and clean piece by Nick Roche showing Tailgate with his hoverboard as Ultra Magnus condemns, Getaway applauds, and Cyclonus scowls. Again, perfectly thematically appropriate. Lastly, the Retailer Incentive cover is Cahill's own cover, which depicts Ratchet, Magnus and Nautica all scowling at a tiny Brainstorm under a literal spotlight. In terms of not actually giving away the direction of the issue, I'd have gone with that as my main. It's a pretty nice piece besides. I kind of pity whoever had to decide which cover went where this month...
| | |
| --- | --- |
| Reviewer | RAC |
| Date | April 28th 2015 |
| Score | (9 out of 10) |
| Reads | 6568 |
Back to Reviews Index