Starscream moves to secure his power within the world of combiners, while Sunstreaker, Ironhide and Mirage share a revelation, and Optimus visits the jailed Prowl in hopes of understanding his motivations. "You, Me, And The Universe", story by Mairghread Scott and John Barber, written by John Barber, illustrated by Livio Ramondelli.
Starscream visits his benevolence upon Caminus, with Superion and Defensor helping to bring in relief supplies from Cybertron. But from his prison cell, Prowl understand the true order of things: The Autobot combiners only serve Starscream because Optimus supports him, and Starscream knows this too and now that he has the Constructicons isolated from Prowl, he'll make a move to get a weapon he can count on. Meanwhile, Ironhide and Mirage reminisce and reflect on their visions, for which Sunstreaker suggests an alternate explanation, and with new realization the three set off to consult with Optimus Prime.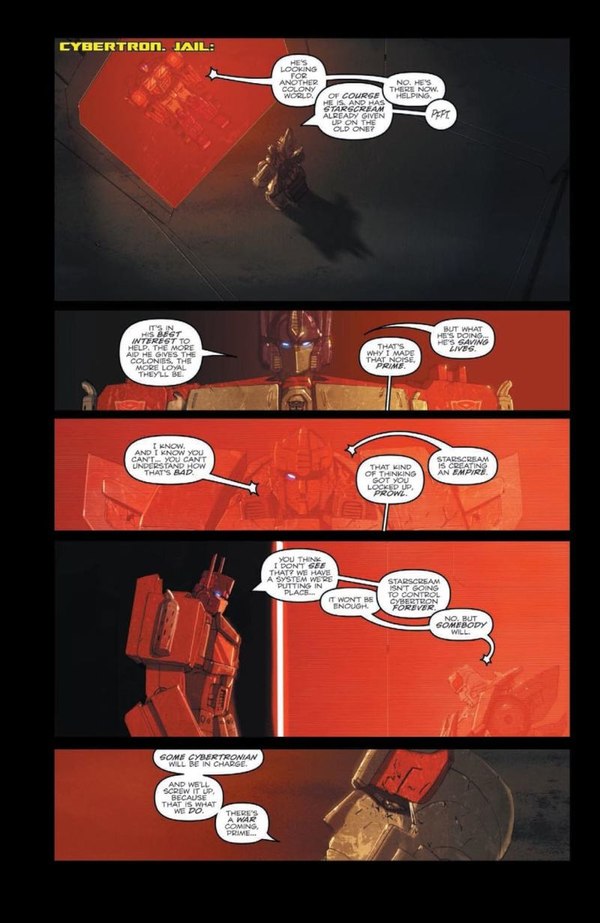 There's gonna be a lot of red like this. Just try to pretend the issue was adapted to a Virtual Boy or something.
This issue would be better addressed as "Combiner Wars Finale: Part 1" since there's a lot of jumping around and not a ton of solid structure under it. So you end up switching from place to place more because it's the time in the story that this thing needs to be explained or occur, rather than being led from point to point with a smoother narrative flow. It's kind of like reading a bulleted list, or sometimes like the characters are reading a bulleted list. Like Sunstreaker would walk up to Mirage and Ironhide saying, "hey guys, it's time for us to have an amazing epiphany so we have a reason to go and meet Optimus right now!" The problem feels like there's a lot of things that need to happen to get the elements of the ending in place, and this one issue is not enough to do it right. Ideally the things happening now should have really begun an issue earlier and been spread out a little more, since there's some parts of this that have a mid-story turning point feel to them, but they're on the wrong side of the overall story so they're just being hurried along. There's been some interesting worldbuilding sprinkled in the prior issues, but seeing where we've gotten to now, I think some of that should have taken a back seat until after the event was over so that the thing this is really supposed to be focusing on could have taken focus and been paced out better. Specifically, almost the entire interaction of Optimus and Prowl this issue should have happened in part 3, with the Devastator attack being the climax of part 2. That would have let some of the other elements of this issue bump up to part 3 as well, letting the stuff in this issue that actually should be happening at this stage of the story get their due space instead of sometimes being functionally reduced to a footnote because so much is trying to happen at once. This isn't even something that's going to read much better in the trade, because you'll still have a big bunch of slow story at the middle making the end get compressed. It's not about a drawn out release making the problem seem worse, it's just structured poorly from the outset.
Optimus continues to show that Optimus probably needs to not be in this book, because he's not being played well. He spends the entire course of this issue visiting Prowl in jail trying to find a reason, or an excuse, or some way for Prowl to walk away from everything that's happened. But Prowl can't walk away from this. Like, in story writing terms even, Prowl can't be allowed to walk away from this without utterly compromising the credibility of the world that's been created. Optimus needs to be more clearly shown as being there to reconcile who Prowl is now versus the Prowl he thought he knew. Look like he's working through a process of accepting this reality rather than like he's trying to find some hook to argue for Prowl to escape having any consequences, because that's what it feels like he's doing. And on the same token, Prowl needs to make more sense. Barber surely has a clear idea of what he's wanting Prowl's motivations to be here, but we need to see more detail of that instead of Prowl giving the same cryptic message again and again. Prowl has a capacity to be hugely interesting if he starts acting independently, but we need a clear drive for him so we can understand his deal, and we just don't have that right now.
On the visual side of the book, I was actually feeling pretty okay about it for the most part. The character models were a little bit more smooth, and even sometimes nearly consistent with each other. And the filtering is still reduced in many places, which is a big plus. I was feeling okay about it. And then I got to the combiner action. And pretty much everything turned sour. There was a couple pages of things happening that I had to read over several times and really study to work out the intent. I lost Defensor at one point. I should never lose a combiner. I should never lose a big, bright colored robot on a page. Something has gone very wrong for that to happen. Then there's the fact that without two or three readings, I couldn't even detect a complete change of story setting. And finally when [spoiler redacted] at the end, it's... I can't even comprehend how. I'm incredibly tempted to break my own spoiler policy here to just lay it out, but when you get to that part of the issue, trust me that you cannot possibly miss what I'm talking about.
More and more, I would love to see as an experiment Livio doing the linework for an issue, and having another colorist add the finish. I think Livio could benefit from having some more time to work on the lines, and the lines would be helped by going through less photo filtering as a function of the process. I think we could get some really solid results out of that. I just wish they'd actually try doing it some time.
So, next time, Combiner Wars more or less wraps up in the pages of Windblade #3. ...and then a little more in Transformers #42, I guess. But ultimately I'll be happy to see the event behind us, so the new Windblade book can stand on its own and The Transformers can get back to what it was trying to do before, because things were actually turning a little interesting right before this whole mess came up. I hope we can slide back over to that without suffering from a major loss of momentum.
| | |
| --- | --- |
| Reviewer | ExVee |
| Date | May 19th 2015 |
| Score | (5 out of 10) |
| Reads | 4007 |
Back to Reviews Index