A perfectly enjoyable funeral draws the crew to the Vis Vitalis, bringing about uncomfortable reunions, awkward socialization, and the greatest medical mystery in the history of Cybertron. "The Sensuous Frame", written by James Roberts, with art by Alex Milne, colored by Joana Lafuente.
It is a tragic day indeed, as Cybertron's greatest natural wonder, Thunderclash, lies near death. Countdown, one of his many students, visits the Vis Vitalis to pay his respects to the bot who meant so much to... well, everyone! But his moment with the unresponsive form of Thunderclash is cut short, as an errant knock comes from somewhere inside the just-barely-living legend's chassis. Over on the Lost Light, as word reaches them about Thunderclash's impending demise, Rodimus can't contain his enthusiasm ...to allow his crew to also mourn the about-to-be fallen hero with all appropriate solemn dignity.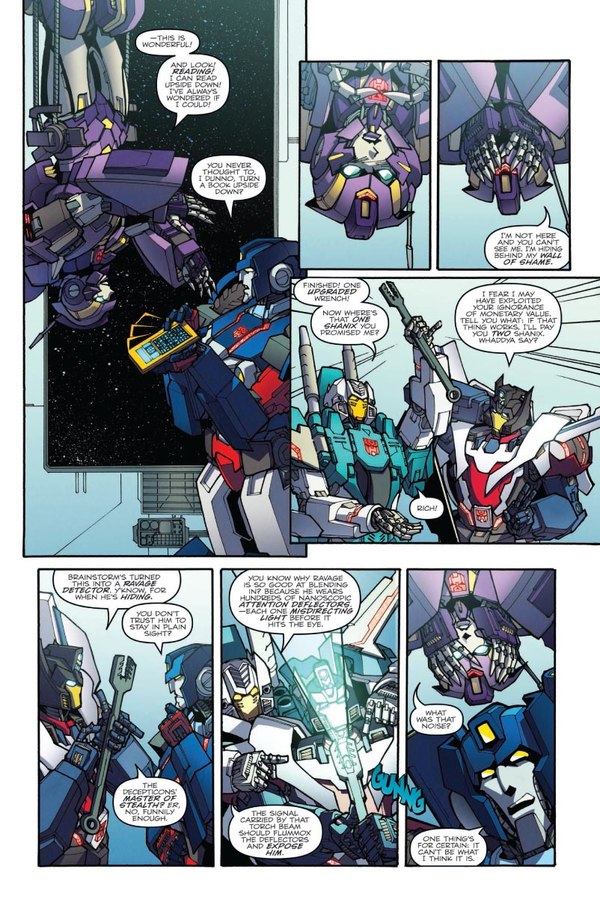 Oh yes it can, Skids: The Gong Show is back!
The opening pages hint at a bit of mystery, with an unresolved knocking from Thunderclash's trailer door, but after that as we transition to the Lost Light, it's all business as usual. We get a nice extended visit with Nautica, Skids, Brainstorm and Getaway. Getaway is acting just a bit conspicuously odd in this scene - after he's done with being wrapped from the neck-down in chains, I mean. With issue 40 having put a finer point on Getaway's behavior, this instance feels like a small piece in the side-puzzle that is his character and may show relevance later. And I feel a little more confident in that given the same scene tries to distract from it by introducing the new upgrade to Nautica's wrench, which can now defeat attention deflectors. I fully admit I may be searching too deeply for something that's not even there, but on the other hand it's this book.
I like that this issue gives a healthy amount of time to what the crew is doing while nothing is going on. Ratchet's been gone on his Drift Quest for about a month, and Swerve has used that time to do some in depth cultural study, and it seems that in the same time, Ravage has actually started integrating with the crew. It's a nice move to see, being that since he was discovered to have followed Megatron aboard, he's only shown up in Megatron's quarters. Skipping over the transitional period of the crew adjusting to his presence walking apparently freely around the ship is a good choice since all of that can be easily assumed, and now it's starting to just be normal. Rodimus gets some absolutely fantastic dialogue when it comes time to deliver the news about Thunderclash, and his and Megatron's interactions this issue are great. Plus as we get a little deeper in, we get some appropriate typecasting of the socially awkward to the outright antisocial when gathered with a lot of strangers. There's a lot of fun character stuff happening bridging things until the actual story can get started naturally. In a way, it gives us some bonus pages of the downtime story from last issue, and that was a lot of fun.
Art side, Alex brings us a set of new environments as we get an extended visit inside the Vis Vitalis, and the detail of the interiors is staggering, as it often is with him. And one big crowd shot across two pages gives another opportunity for showing off with a large chunk of the crew represented and everyone doing a little something different within the assembly. Hosehead, Whirl, and an Action Master trio particularly stand out here, but if you like taking time and just studying the detail in the art, this spread will keep you engaged for quite a while. Much nearer the end of the issue, there's also some high-detail character designs getting involved, so no question how much work Alex put in this issue. As has been revealed previously, a set of new female characters turns up. No one so prominently as Firestar, and in fact most of the designed characters don't appear super visibly. Perhaps they'll get a little more attention next issue, since there's some really interesting concepts in there beyond Firestar and Velocity. There's also a TON of great facial expressions this issue, like what feels like an unusual number of them. There's a lot of expressiveness overall, actually. It's standing out for whatever reason how "animated" everyone seems, and I like it a lot!
I'm not sure how many ways I can say Joana Lafuente is a star, but she totally is. With a lot of on-ship action there's not necessarily chances for doing special coloring things. So when those odd chances present, they come out fantastic. The very last panel of the book is amazingly colored in a way that adds such fantastic depth to the lineart. It can't be understated what Joana has brought to the book with her talents, but it's pages like that which really show it big and clear.
On covers, we have the main cover by Alex Milne which has made the rounds quite a bit featuring the female Camiens, the subscription cover which was originally sent out with the solicitations. It's the Nick Roche piece with Thunderclash looking at his own memorial. What really stands out is the incentive cover. This is another piece by Kotteri, featuring Drift and Ratchet. And while neither of those character is in this issue (spoilers?), the art itself is great and this would have been so nice to see attached to Drift: Empire Of Stone. Drift's facial expression is a bit off, but otherwise I love this cover.
| | |
| --- | --- |
| Reviewer | ExVee |
| Date | May 26th 2015 |
| Score | (9 out of 10) |
| Reads | 5620 |
Back to Reviews Index