Blades is an aerial fighter who favors short-range and melee combat - if you want to call melee combat using your rotors to shred your opponent. Armed with Rescue Missiles and a photon rifle that clearly sports bullets down one side, Blades' long bio reads like he'd be entirely at home in a robot Jackie Chan movie, which is only reinforced by the short bio referring to his fighting style as "Copter Kung-Fu."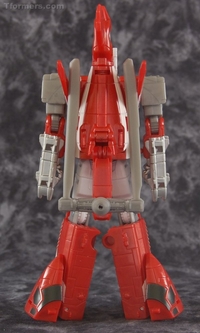 Blades can take his alternate form - a chopper - a little too literally. Sure, he carries plenty of firepower. But he'd much rather shred enemies with his rotors, bringing them down with a whirling flurry of copter kung fu.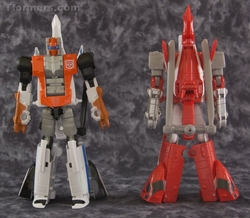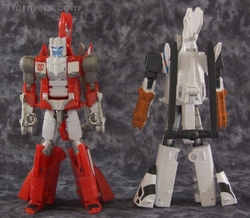 Also, he's mostly Alpha Bravo. A new head and color scheme, but otherwise everything else is the same. The head is quite nice, though, with a metallic blue face that looks maybe a little older than the G1 version. Paint coverage is a little sloppy on mine. Despite using a similar set of colors, Blades succeeds in being both attractive and visually distinct from Alpha Bravo.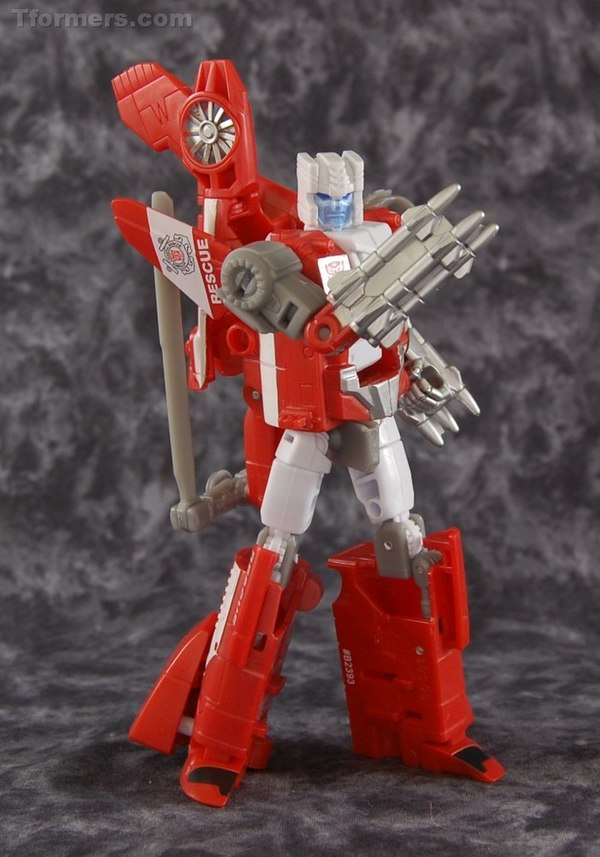 The metallic red plastic is especially nice. The silver plastic and silver paint are distinct enough that you could say they're supposed to be separate colors...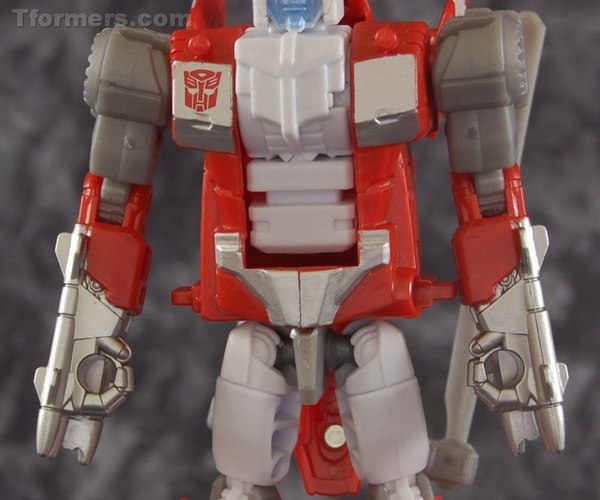 but then there's the crotch, and there's no getting around that mismatch.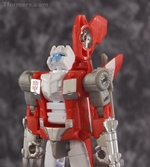 Like Alpha Bravo, Blades can tilt his head back pretty far, and swivel it in a full circle. His shoulders have a great range on both axes. The elbows and forearm swivels are strong and have excellent range too. The waist has a clear locking point, which I like. The hips have great range both front to back and side-to-side. The thigh swivels work well, and the knees get as much flex as they possibly can from the bulky lower legs. The chopper-nose bell bottoms are stiffer than Alpha Bravo's, and help with balance a bit.In fact, quite a few of the joints are stiffer than Alpha Bravo's.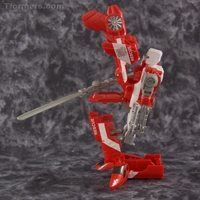 Transformation is super-easy, and shouldn't prove too much of a problem for anyone, with the folding of the legs being the most taxing step. Sometimes the nose doesn't want to fit together on the first try, but it shouldn't take too much convincing.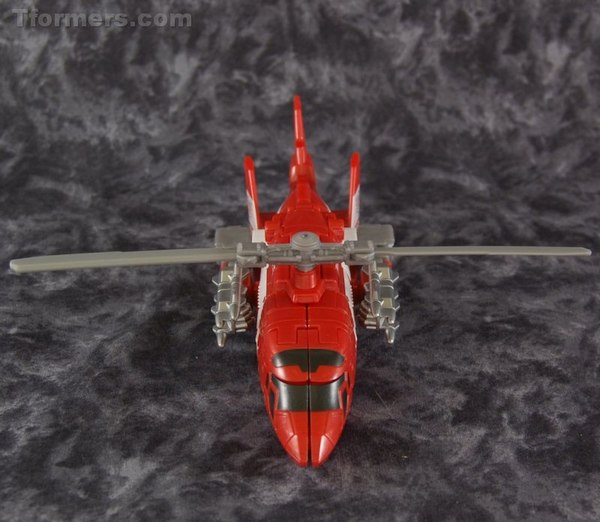 Blades turns into a legally distinct model of rescue helicopter- call it a Third Party Eurocopter Dauphin II. The shapes and proportions are pretty similar to this, but there's some differences. The Dauphin doesn't have those robot arms hanging out on the sides for one. The Rescue Missiles help disguise them a little. But just a little. Also, if you look at it from underneath, the illusion of copterhood is officially over.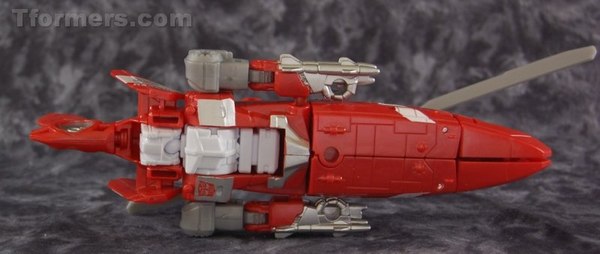 Anyway!
A few 5mm sockets are available for accessories in this mode, but you can't store both weapons symmetrically. That's true of all Combiner Wars Deluxes so far... but it bugs me.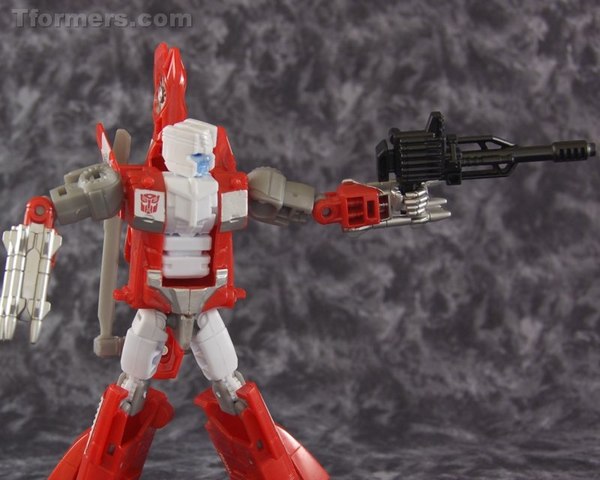 Blades' weapon is supposedly a photon blaster, but it's also whatever Alpha Bravo has- so there are bullets hanging off of one side of it. It's nice and lightweight and looks like something you'd see on a helicopter...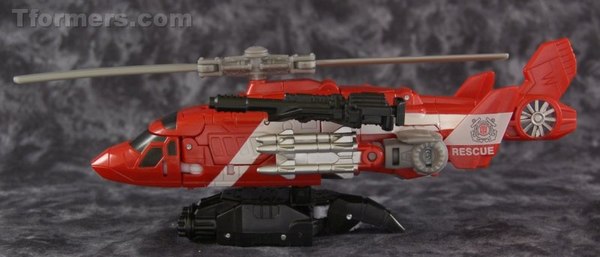 ...but if you want to be able to set Blades down anywhere, you'll probably use the double-gatling HandFootGun on the underside of the chopper instead. Like the rest of Blades, the joints on that are super-stiff, which is great.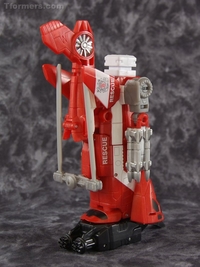 Making Blades into a leg is as simple as peeling the chopper nose apart, pulling down the tail, and swinging the peg and foot into place. It's a solid and visually interesting leg.
Achieving armhood is easiest from Robot mode, where you pinch the legs together and lock the arms down. Swing out a peg and add a hand; done. The Rescue Missiles are a bother in this mode, obstructing the elbow pretty badly. The helicopter engine hump compounds that flaw.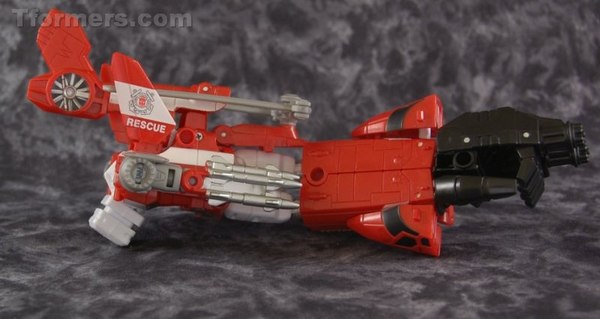 Alpha Bravo rated Very Good on the Figurereviews.com non-numeric rating scale, and Blades does the same. Both have their strengths in terms of deco, but Blades has a slight edge in tightness of joints overall. Kind of weird to have the second use of a mold have better plastic tolerances, but I'm not complaining.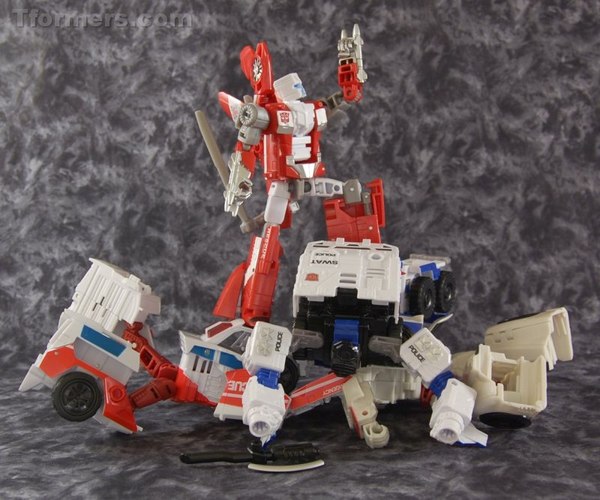 Blades comes with The Transformers #35, part of the Onyx Interface arc in the comic previously known as Robots In Disguise. This issue is the start of the arc, which pits Prowl and the Constructicons against Galvatron and the Decepticons in a search for the Enigma of Combination. This issue is neither part of the Combiner Wars storyline proper, nor does it feature Blades.
| | |
| --- | --- |
| Reviewer | RAC |
| Date | May 30th 2015 |
| Score | (8 out of 10) |
| Reads | 4646 |
Back to Reviews Index