Click any photo to view larger sizes!
The newest member of the Protectobots, Rook is fresh out of Cybertronian Military Academy, and he's a tank. Well, an armored vehicle. But functionally he's a tank, the team's big bruiser. But a bruiser with a head for tactics - if he figures out how to apply them in the field.
If you need a rescue behind enemy lines or deep beneath battlefield rubble, Rook can get it done. His durabyllium super-alloy armor can withstand punishing blasts and hold up under crushing weight, and his vast tactical knowledge can get him out of any jam.
Within reason, Rook is big. There's only so much you can stretch the Combiner Wars Deluxe format and stay compatible with everything. But he's definitely got the air of bulkiness.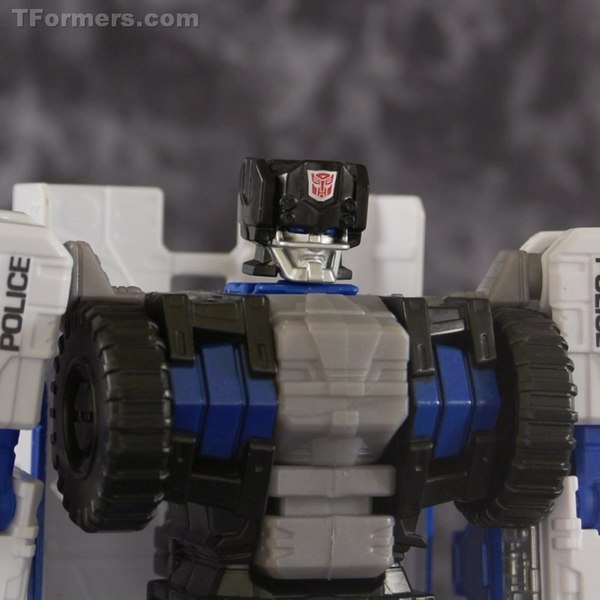 His helmet simultaneously evokes an Ushanka, the Russian fur hat, and the chess piece Rook is named for. Unlike Alpha Bravo, who stayed close to Slingshot's palette, Rook keeps Groove's white base color but mirrors the red and gold accents with blue and silver- which sets him apart from his fellow red-tinged Protectobots.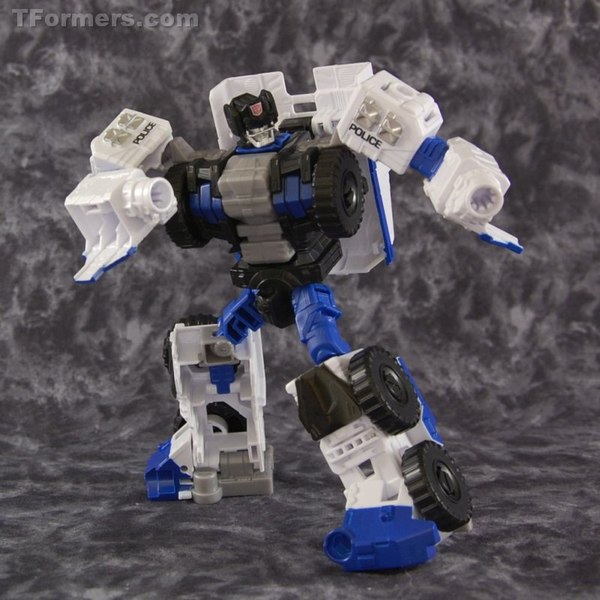 His nonstandard hands have sockets for his accessories which you could also interpret as blasters if you liked. He's also got a big backpack. But it's pretty clean at least.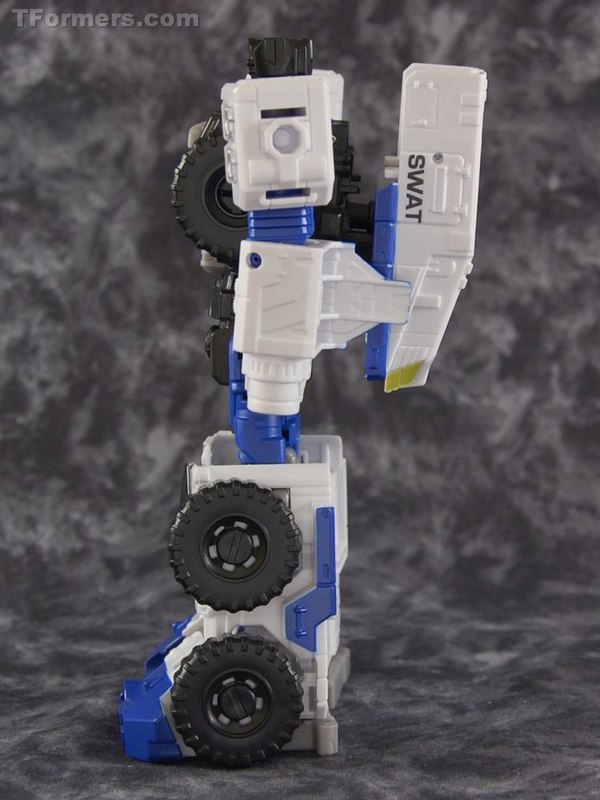 Rook's head swivels fine, but barely tilts. The shoulders swivel well and swing outwards without any trouble, and the massive ball-joints are reasonably strong. You can also use the transformation joints in the shoulder to add a little extra shoulder range. The upper-arm swivels work fine, and the elbows have great range for a single hinge.
The waist doesn't have a locking point like some, but swivels quite well, with no backpack interference. The hips have great range on both axes, but feel a little weak.The swivels are stiff- but that won't matter to Defensor. The knees flex to a full 90 degrees.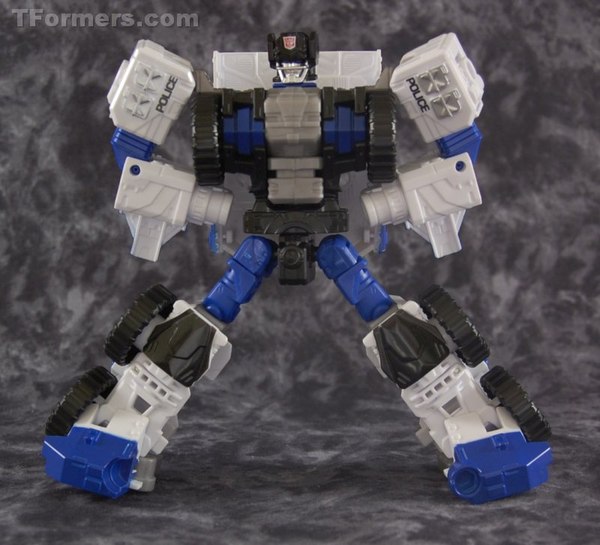 And unlike anything else in the line to date, Rook has foot articulation! The rocker ankles and big feet make Rook extra stable in a variety of poses. The only downside is how incredibly hollow his lower legs are.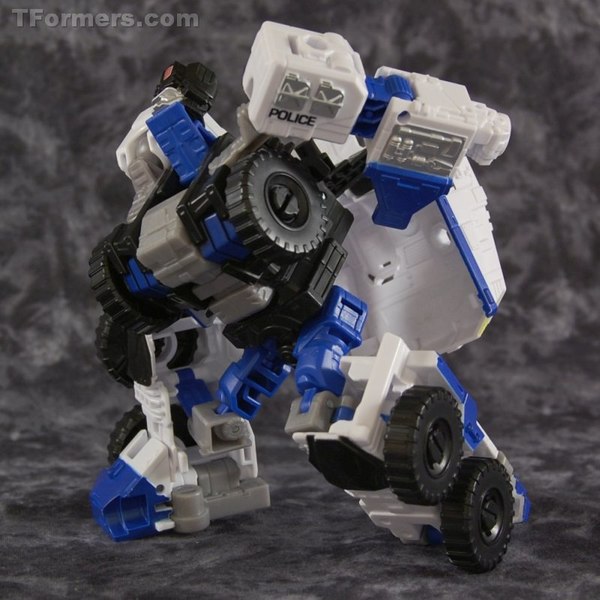 Rook's not all that complex to transform, but having to raise his backpack out halfway and then transform the rest around it can make it feel a little more complex than it is. Everything ultimately tabs together very well and does an excellent job of hiding all the robot parts.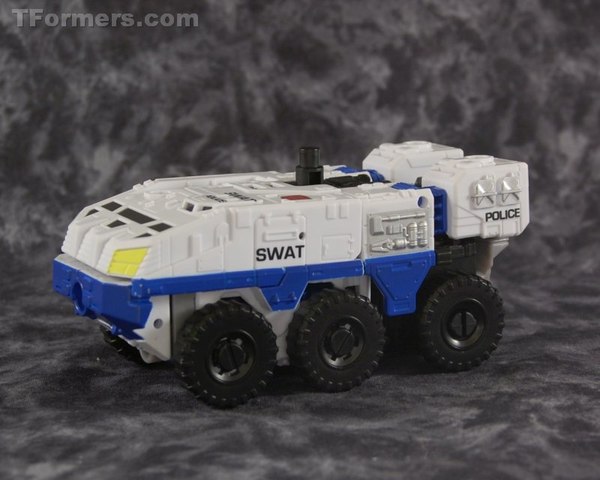 Rook turns into a box.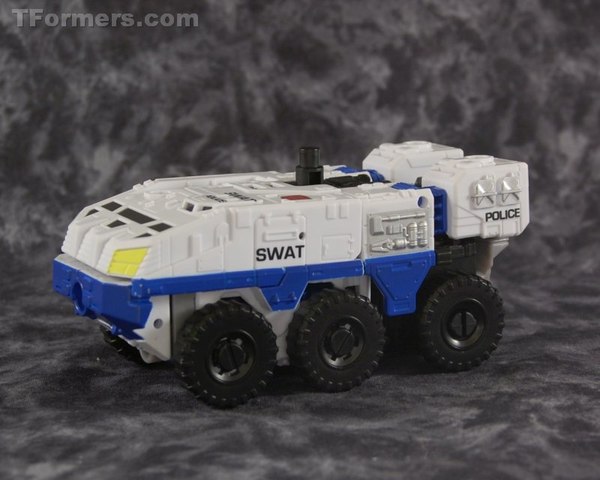 Okay, it's an armored SWAT vehicle.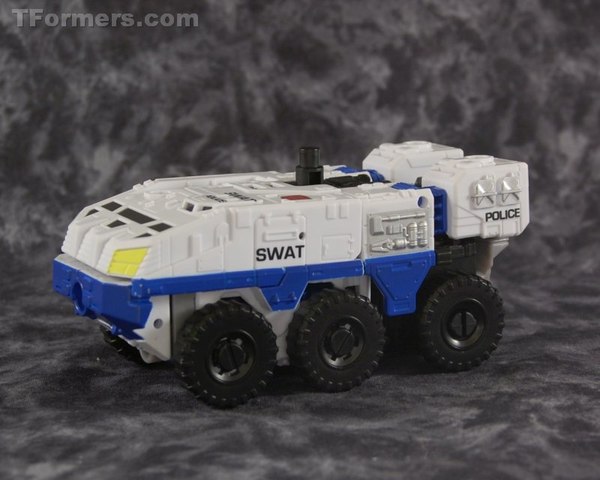 But it's a box.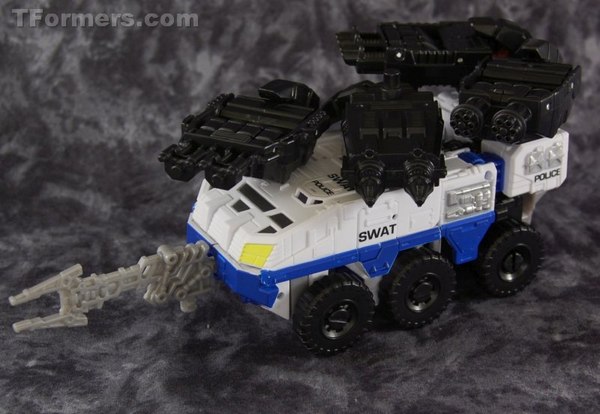 A white and blue box with silver highlights, and one absolutely covered in 5mm ports for the accessories. It's a much more interesting box with a claw on the front and a turret on top, which secures via a unique socket on the HandFootGun.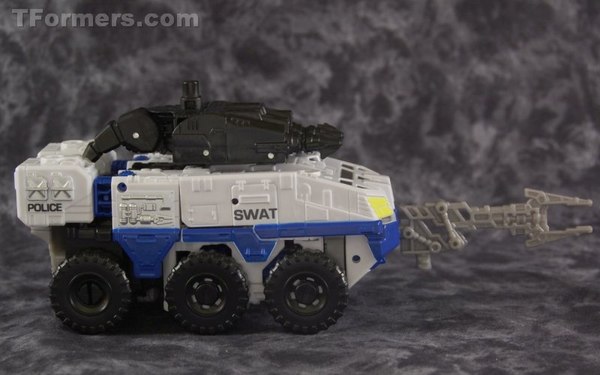 Finally: symmetry!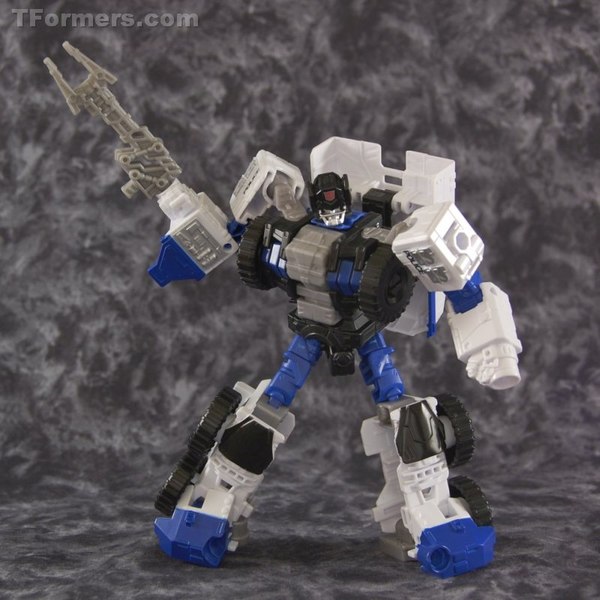 Rook has probably the best and most functional accessories of any Deluxe yet. His hydraulic claw plugs into the end of his fist and makes for a neat look.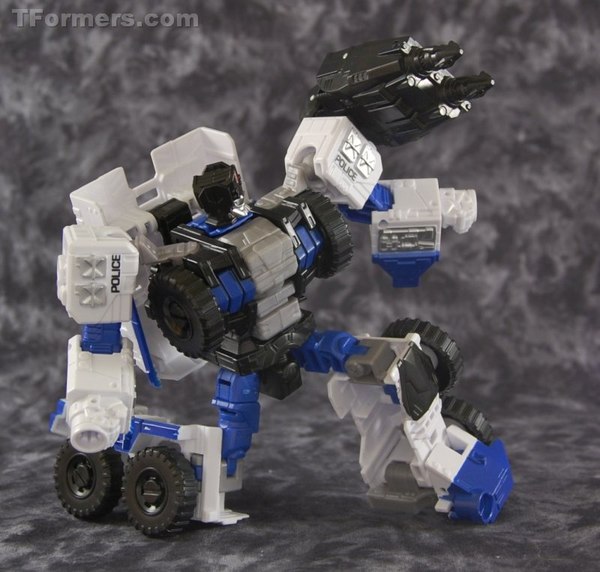 His HandFootGun is a double missile launcher, and can either be shoulder mounted as such, or plugged into Rook's hand...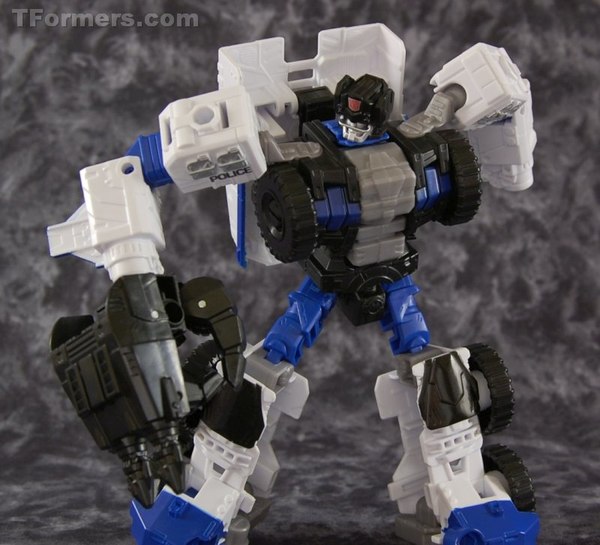 ... as a hand. The design team has said that the idea is for Rook to use Combiner hands as kind of Hulk hands, and this works beautifully to help solidify his status as Team Tank.
This may have you dreaming of Fastball Specials with the team's resident scrappy psycho Blades, but sadly Rook's hips and elbows just aren't up to that challenge.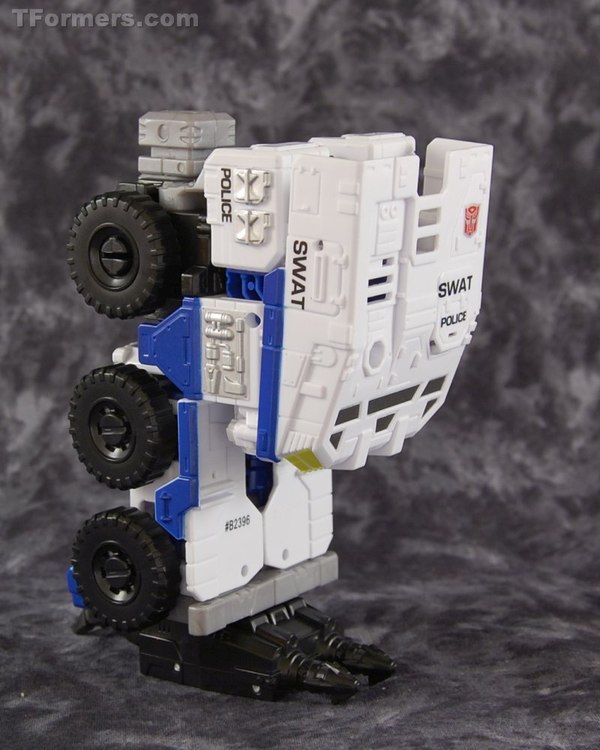 Converting Rook to a Leg from Vehicle Mode is really just a matter of pulling back the top of the vehicle and transforming the feet as if for Robot Mode. And voila! VERY chunky leg. But compact! It pairs with the slim Blades better than you'd expect, considering that.
From Robot Mode, you just transform the upper body as if for Vehicle Mode, lock down the backpack, pinch the legs together and add the hand. It's just as bulky as an arm as it was a leg. Sadly the hollowness of Rook's legs shows through in this mode too.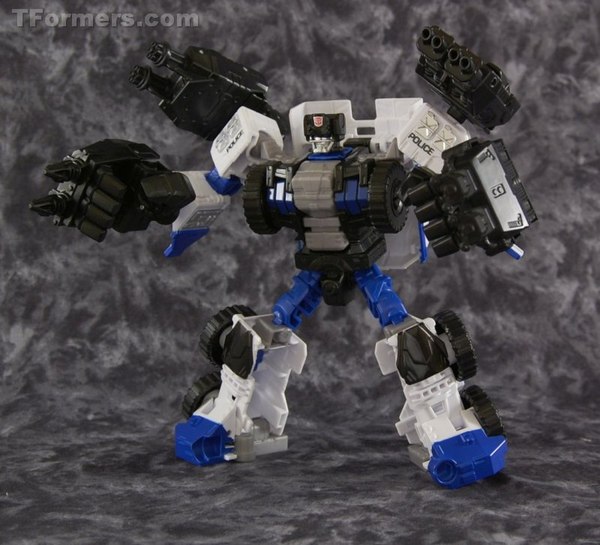 Rook is Excellent on the Figurereviews.com non-numeric ratings scale. He's the most posable Deluxe yet, he has fun accessories, and all his transformations are easy AND fun. Stronger hips and elbows would make things just about perfect. Though less hollow legs would help too.
Rook's comic is The Transformers #34, the issue where Alpha Trion recounts the adventures of Galvatron the Barbarian and his buddy Nova Prime on ancient Cybertron. That could've been its own miniseries, and maybe one day it will be, if we're lucky. With better art, if we're REALLY lucky. It also doesn't feature Rook at all. Not that Rook has been in more than two panels of any comic, yet.
| | |
| --- | --- |
| Reviewer | RAC |
| Date | June 1st 2015 |
| Score | (9 out of 10) |
| Reads | 5535 |
Back to Reviews Index