Shanna O'Hara has a serious mental condition. She believes that she is part of a special military task force whose goal is to repel an invasion of giant, living robots. Can Doctor Mindelbinder help her overcome her delusions and return to her idyllic life in suburban Springfield?
Headmasters
is written by Tom Scioli and John Barber, with art, colors, and lettering by Scioli.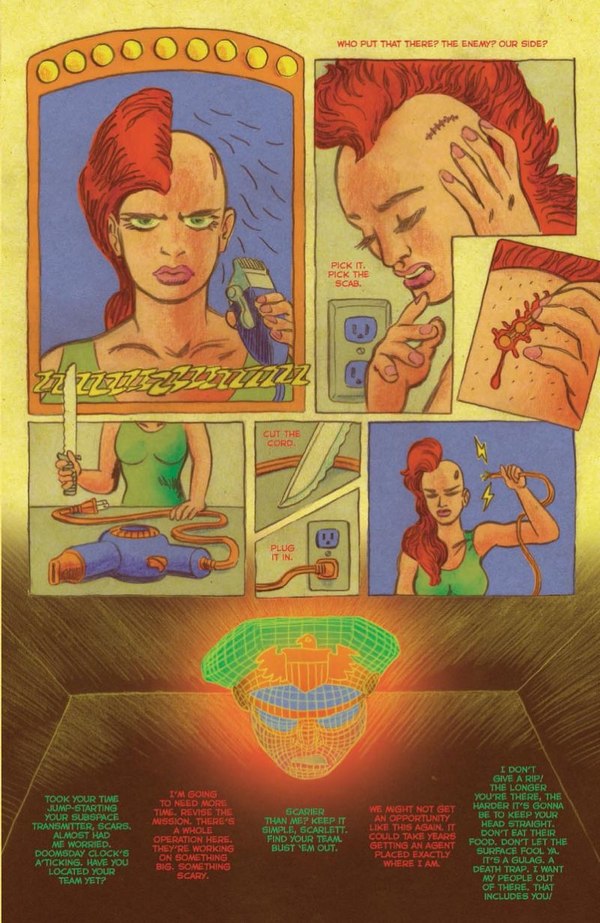 If you hadn't caught the Frank Miller influence yet by this page, just look at that first panel. Big, determined eyes, big lips, nose merely implied by the existence of nostrils...
In between treatments administered by Dr. Mindelbinder, "Shanna" has a vision of Optimus Prime, commanding her to await his return - and not to sleep, so she can be ready. On a tour of the facilities she encounters Bumblebee's head - which its "inventor," Dr. B, insists was merely designed after her favorite cartoon. Then she encounters Billy, who confirms her suspicions about the facility via Ninja Telepathy. After that she says exactly what Mindelbinder wants to hear, and is released into the care of her "family." Scarlett numbly drifts through "her" suburban housewife life, but in the back of her mind she still hears the dead Neb'los civilization and its cries for justice...
The story does
exactly
what I thought it wouldn't do last issue: continue on from the "It Was All A Dream..." ending of the previous issue. With the commentary about how Scioli hated such endings for stories, I expected that to be a fakeout that was never mentioned again. Instead, it's woven into the narrative and gives an opportunity for the story to do something it hasn't done before. In a book dedicated to the unexpected, Tom Scioli and John Barber have done the one thing that six issues had explicitly taught me
not
to expect: a focused, singular narrative set entirely in one geographic location. One that takes its time and, if you believe who the narrative seems to
want
you to believe, explains itself fully. Taking cues from stories that encourage the viewer to doubt their perception such as
The Prisoner
and
Return To Oz
, this issue's images are a much quieter, more personal kind of weird focused on Scarlett and her perceptions. And it works very well!
Scioli says in the commentary section that he was working in a Frank Miller mode for this issue and it shows, in both dialogue and art. (And if you're going to have a comic story about an evil psychiatrist, who else
is
there to emulate but Miller? He
really
hates the mental health professionals in his stories...) The layouts are of course a large part of the Miller-esque approach, but then there's the closeup of Scarlett shaving her head, and the facial features are unmistakeable in their inspiration. It's a style that lends itself to more deliberate pacing and somewhat more grounded art that's easier to follow than Scioli's usual, delightful Kirby-tinged madness. In many ways it's meant to be a low-key issue compared to the rest of the series, and because of this I feel it gives us more room to breathe and appreciate the comic's strengths. And in a story that hasn't had much time for the feelings of its characters in the pursuit of the larger story, there are some excellent emotional moments throughout.
Down to three covers this month, but they're all quite good - and in different ways. For the standard release, Scioli has Ultra Magnus trapped on a tiny rock that GI Joe and Decepticobra are fighting over. Was this a deliberate misdirection over the contents of the issue, or is this something we'll see in the future? I guess we'll find out eventually. Joe Quinones has a nice, bright, clean image of GI Joe and Cobra fighting it out in the skies in the foreground as the Autobots and Decepticons do the same on the ground in the background. I like the faction-themed jetpacks! Lastly, Kody Chamberlain does a nice, moody portrait of Starscream in a more detailed, rough-edged style that works very well. These are guest artists whose work I will be more than happy to see again.
This issue is a great, refreshing change from the usual breakneck pace of
Transformers vs. GI Joe,
and I hope Tom Scioli keeps experimenting with other styles and inspirations from other artists as the series continues. I have no doubt he will, since experimentation seems to be the name of the game for him. Which makes perfect sense; if you knew exactly what you were getting, what reason would you have to get it?
| | |
| --- | --- |
| Reviewer | RAC |
| Date | June 2nd 2015 |
| Score | (10 out of 10) |
| Reads | 3923 |
Back to Reviews Index