Click any photo to view larger sizes!
Streetwise is a patient and skilled tracker who would prefer to incapacitate and arrest his opponents rather than killing them. Fast but prone to overheating as a police car, he's perfectly fine bringing in Decepticons with their lives intact - if not maybe their arms or legs.
Fully capable of wiping out any target, Streetwise would rather track `em down and let justice take its course. Of course, that justice starts with heavy damage to a few of his enemy's key systems. They can't do any harm if they can't function.
Streetwise is an extensive reskinning of Dead End... who I don't have yet, so I can't rightly compare them. He's probably the farthest of the Protectobots from his G1 look, mainly aping the robot color layout- down to the off-white color that sets him apart from the rest of the team in a maybe not good way. But he is similar to First Aid in that he reserves one color - blue - almost exclusively for vehicle mode, otherwise relegating it to his back and shoulders.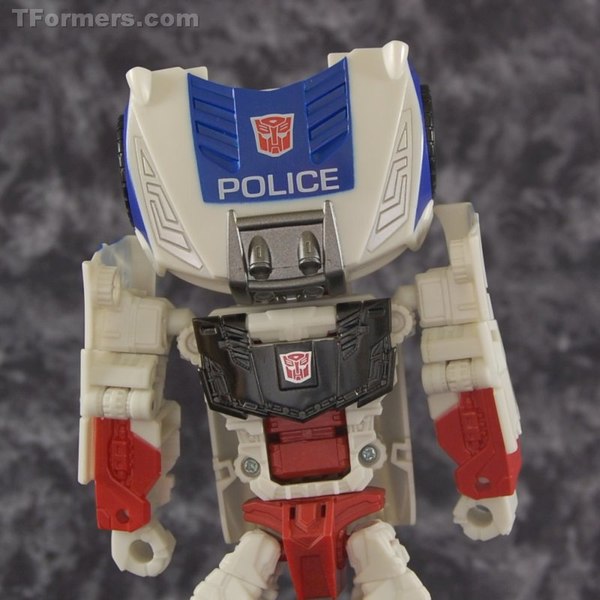 His chestpiece is odd. It's very clearly molded to match the hood on his back. So he's got a mock hood to match the hood-chest that the original toy
never had.
This offends me.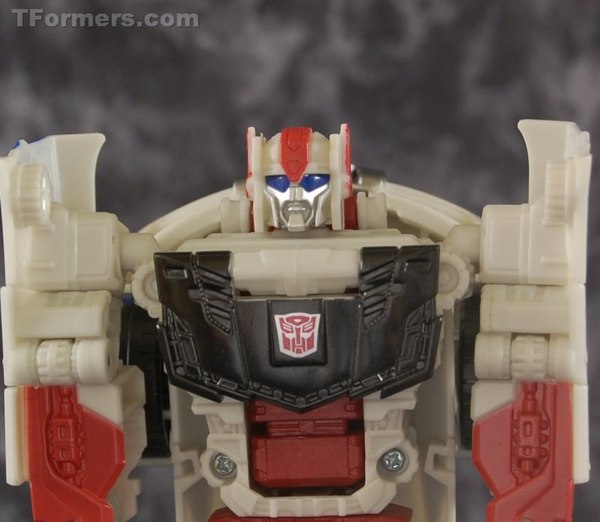 The headsculpt is really nice, though - his G1 head wasn't a Scramble City peg and so had a more dynamic sculpt - and that still shows here. The face kind of looks like a robot version of a Benzite, from Star Trek.
Streetwise's head only swivels in a front arc due to the hinges on the back. It's also very close to the torso and won't tilt much.
The arms may look like a solid patch of car from the outside, but actually have really nice articulation. The shoulders both swivel and swing out to the sides very well.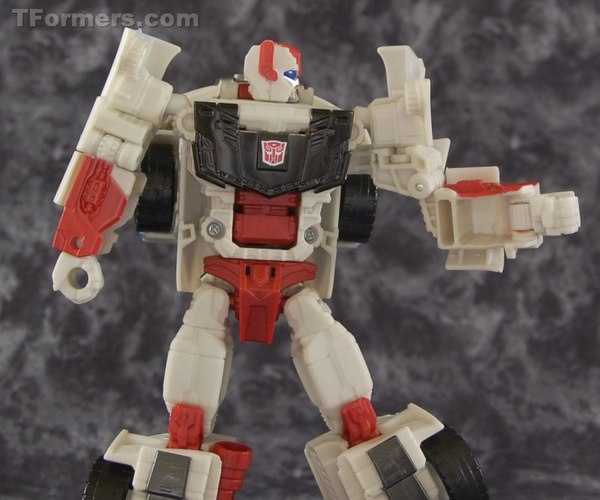 The upper arm swivel will argue with the torso at some angles, but otherwise is fine. The elbow's got great range for a single hinge. As with First Aid and Rook, The way the backpack carefully clears the waist joint is pretty impressive. The hips have fine range, but do feel a bit loose. That may be a problem when Streetwise is an arm.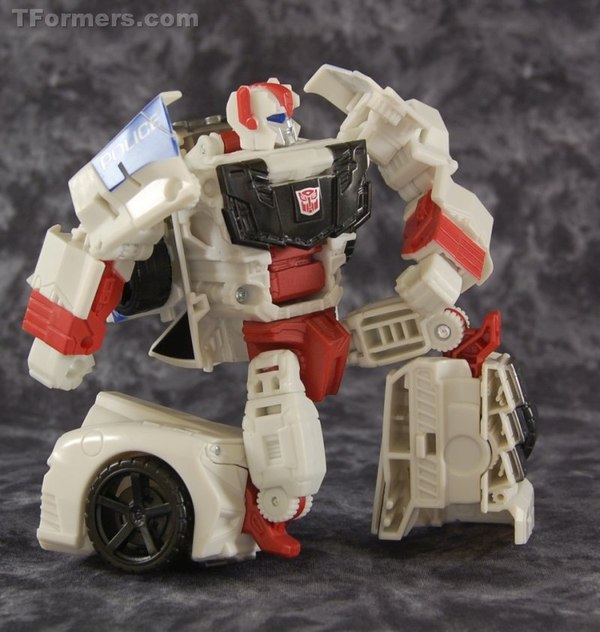 The thigh swivels work well. The knees are better than average, allowing for stable and convincing kneeling poses. He has angled blockfeet with very short "toes" that are big enough as to be plenty stable even when not, er, flatfooted.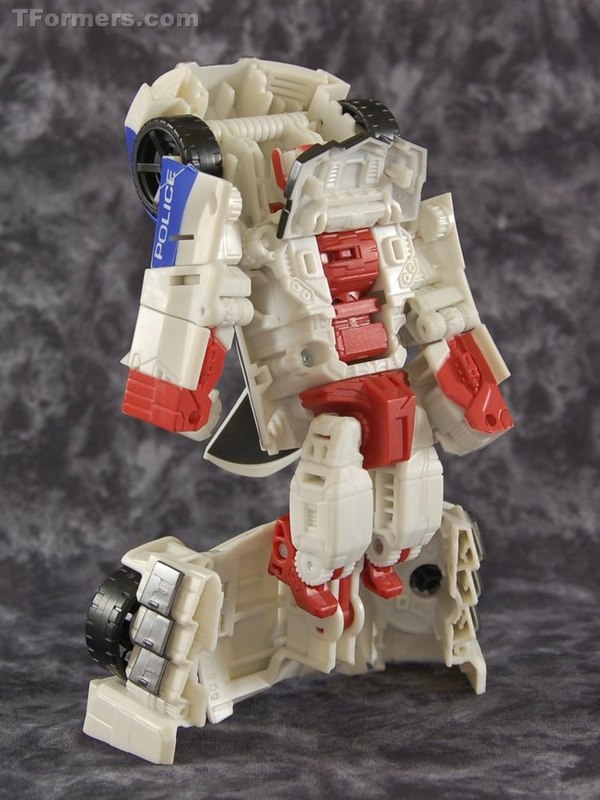 Transforming Streetwise is incredibly easy, and feels very Stunticon, as odd as that may sound. It's also odd how the ratchets for the hands are the stiffest joint on the toy- I didn't even realize that joint moved at first. I do wish the leg flaps were held shut by some mechanism though, since they want to flop open sometimes in Robot Mode.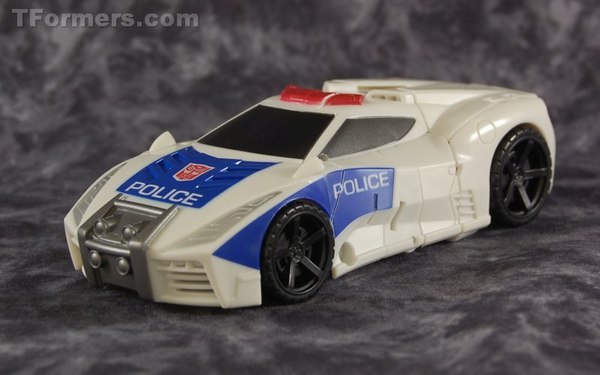 Streetwise turns into a futuristic looking police car. The assumption is that this mold will eventually be Prowl as well, which is probably why Streetwise's original black and white deco isn't really reflected in this toy.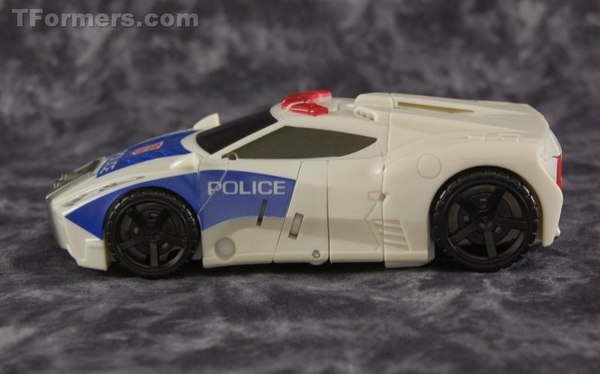 But the blue looks good and is tastefully arranged around the unpaintable plastic in the arms that plagued other versions of this mold. I like how it looks, and it rolls really well - always nice for a toy whose bio emphasizes speed.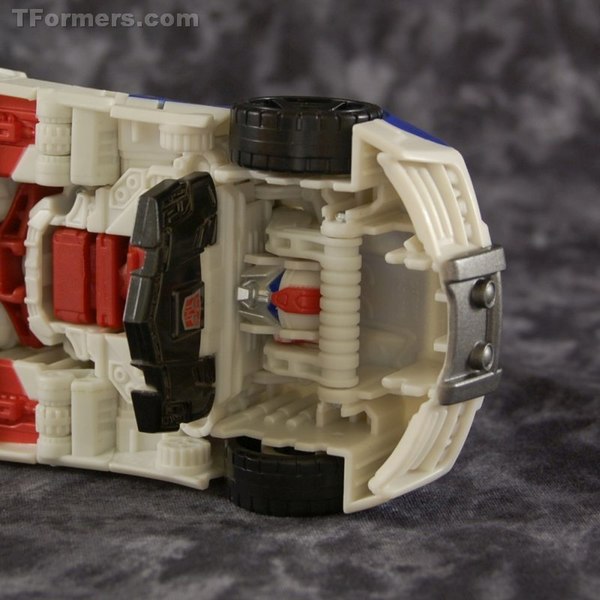 Another nice touch is how the fake hood chest covers Streetwise's head in this mode. There's 5mm ports for the weapons, but no symmetrical way to store them again. Rook's still the clear winner there.
So! If your teammates have Rescue Missiles, Hulk Hands, and a Medical Axe, you better bring something special to the table.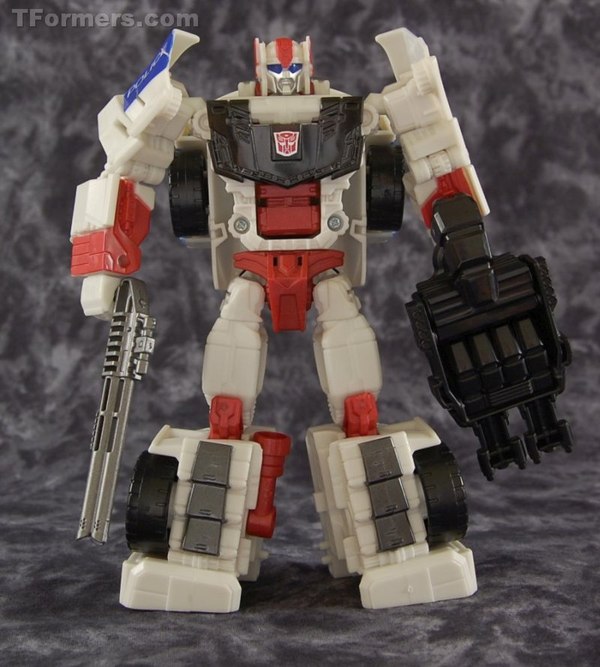 How about a triple-barreled shotgun?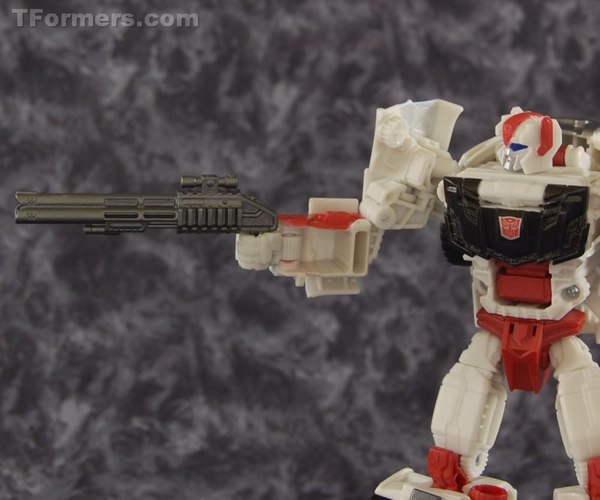 Streetwise's pump-action Energon blaster is a great-looking accessory - though mine is missing a little bit of paint on the very end. But there aren't very many Transformers with shotguns at all, so this is a welcome addition.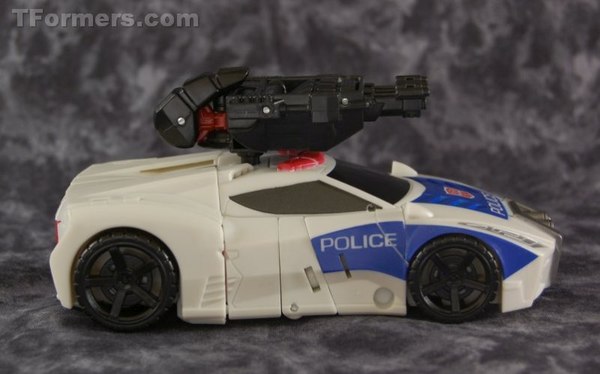 The HandFootGun here is playing the part of Streetwise's G1 air compressor cannon, which was said to have a 50-mile range. So I guess the strategy is knock them down, then blow their legs off, then arrest them?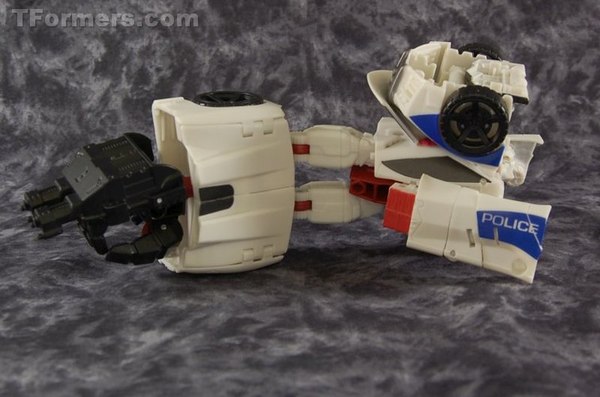 It's a simple transformation, but folding Streetwise's hood and head back for Arm Mode will take more force than you think and probably more than you're comfortable with.
I'm also not thrilled with the shallow pegs that hold Streetwise's arms in place. Visually the arm's kind of blah, but at least the elbow wound up being a bit stronger than expected.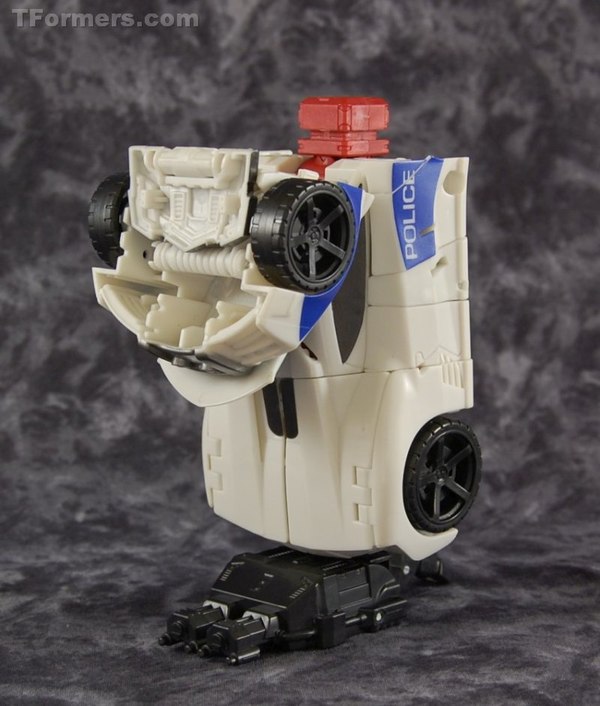 The blahness of the arm may be why most photography shows Streetwise as a leg! Which is incredibly easy to do, as you can see from the lack of cuts in this sequence in the video version of the review. It's not the prettiest leg either, since there's really nothing the underside of the car hood looks like except the part of the toy you're not supposed to look at. It could use a little paint under there, I think.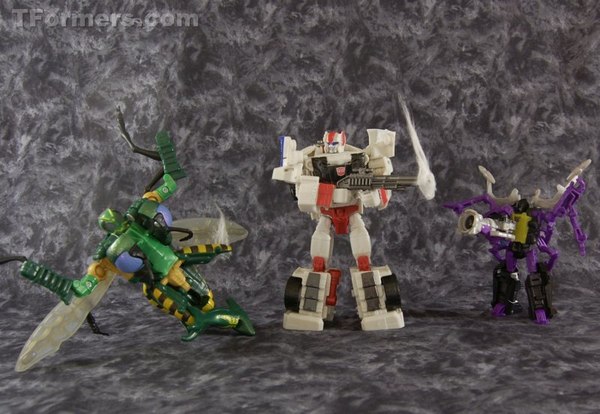 Overall Streetwise is Very Good on the Figurereviews.com non-numeric ratings scale. He's a good robot, a good car, fun to transform between those modes, and has a great personal accessory. As an arm and a leg, he's functional - moreso as a leg - but not too pretty as either.
Streetwise's comic is "The World of Tomorrow," the last issue of The Transformers to be subtitled Robots In Disguise. Streetwise isn't in it - it focuses on Wheeljack getting up to speed with the Starscream Administration after a long period offline - but it's a nice standalone issue with excellent art by Windblade comic artist Sarah Stone.
| | |
| --- | --- |
| Reviewer | RAC |
| Date | June 5th 2015 |
| Score | (8 out of 10) |
| Reads | 5271 |
Back to Reviews Index