The Combiner Wars are over. Starscream's position is stronger than ever, and Optimus Prime has a problem. A Prowl problem. And on Earth, Arcee meets with Galvatron... why? "Now And On Earth" is written by John Barber with art by Livio Ramondelli and Andrew Griffith with colors from Ramondelli and Josh Perez.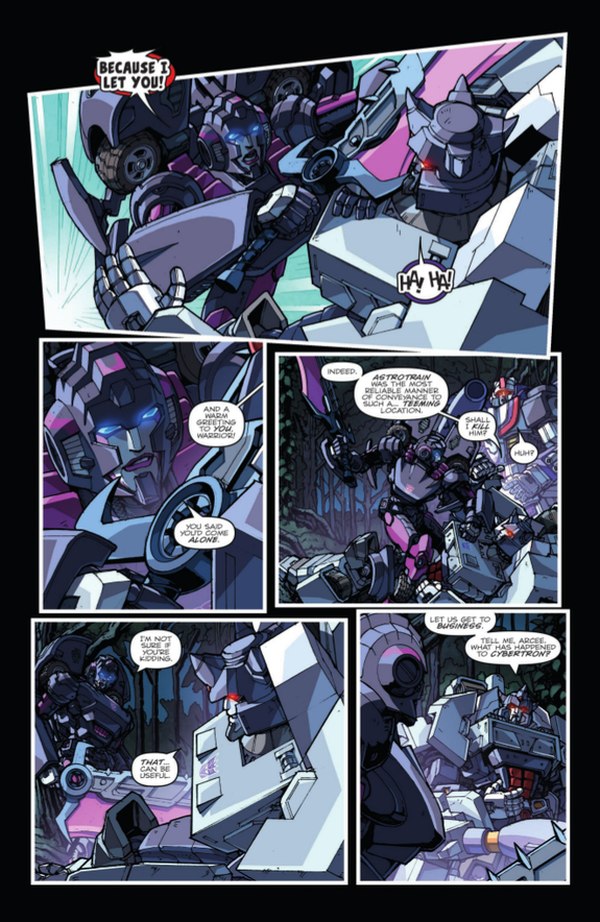 Big hand for the return of Andrew Griffith, everybody!
Optimus Prime fills in
the audience
Arcee
on the outcome of Combiner Wars. She's less than thrilled with it: Starscream has all the Combiners, and Prowl is in custody, currently under Optimus' care. Arcee hangs up with Prime, and goes to her meeting - with Galvatron. On Cybertron, Optimus and Prowl discuss what happened, and at Prowl's indifference to the morality of his actions, Prime explodes. On Earth, Galvatron hands Arcee a tablet made by G.B. Blackrock that runs on the Onyx Interface. Given Blackrock's access to Cybertronian technology, it's something that should be looked over- and the Autobots have access to better scientists than the Decepticons do at present.
If you liked the part of Combiner Wars where Optimus Prime and Prowl talked past each other for a good two or three issues, the epilogue will not disappoint you. Back in John Barber's hands, Prowl's voice is a little bit more sure and more what we're used to - but he and Prime don't see eye-to-eye at such a level that it's hard to believe they
ever
did. Neither's explanation of the other's actions seems wholly satisfying - and I guess that's the point. The more each talks about the other the less I feel like I understand either of them. And even having seen inside one another's minds,
they
still don't understand each other. And in fact they seem to like each other even less now. But there is some slight discussion of the big purple and green elephant in the room: ExVee and I had been afraid that the Constructicons' link with Prowl would be used as an "out" for Prowl's behavior since the end of Dark Cybertron forward, but it's addressed here more as an influence than an excuse.
On the other hand we have Arcee's part of the story, and that's much more interesting and fresh. In this issue she's more or less putting herself in charge of the Ark-7 Autobots, taking command of the situation after her meeting with Galvatron and trying to deal with the implications of the Onyx Interface. And here, where the book is slipping back into the Earth storyline that led into Combiner Wars, is when it's at its strongest. It's leading back towards that setup from when Combiner Wars started, and I'm very much looking forward to exploring Soundwave's quest to build his commune and how that turns out. I'd be very pleased if the IDW comics went back to that clean divide from the Dawn of the Autobots era: Plain Transformers handles Earth, Windblade explores the ins and outs of the Starscream administration, and More Than Meets The Eye sticks to its own quest. Though at the end of this issue, there are situations on Cybertron I don't think John Barber is going to want to let go of or leave unresolved, so we'll see.
By page volume, Livio Ramondelli takes the lead on this issue. His style has all the tics it ever has, but it seems like the "lighting" filters are more subdued for most of the issue, which helps a lot. There's a lot less of a sense of muddiness to the pages. I also think the scale of his story also helps - it's a simple conflict between two people, and with minimal distractions and other things to render he's able to give that some weight. Meanwhile, it is just so nice to see Andrew Griffith's art again. He handles the Earth scenes exclusively, and while in the past I've sometimes felt his art a little too stiff and too technical, it feels just right here. The confrontation between Arcee and Galvatron is handled really well, and back on Ark-7 some of the expressions almost remind me of Alex Milne. Not to the same degree of expressiveness quite, but everything's just a bit looser than I remember it, and in a good way. It seems like Griffith is as happy to be back as we are to have him back. Or maybe I'm reading into those things because I'm just happy to
have
him back. Either way, the art's great.
Four covers this month. The main cover is by Andrew Griffith, coloring his own art for a change and seemingly trying to capture a Livio kind of mood with Optimus Prime. It's a really great image, and seeing Griffith take a more painterly approach to his technical art style is a nice change. Casey Coller and Joana Lafuente provide the subscription cover, which provides a nice, tense alternate look at the confrontation between Optimus Prime and Prowl. Coller's covers are always great, and as much as I like Griffith's Prime image, this
feels
more like it should be the main cover. Japanese artist Naoto Tsushima, author of many Takara pack-in comics as well as lots of other official Transformers art, delivers an image of a pleasantly vicious-looking Galvatron with colors by Lei Kagami. The framing of the image makes it pretty clear we'll see a second part on a later issue of something - perhaps featuring Arcee? Speaking of whom, Sara Pitre-Durocher offers a nice looking convention-exclusive cover of Arcee in her Combiner Hunters colors...
...which leads us to a
sort-of Toywatch!
See, an interesting (to me) thing happens this issue: while on Earth, Arcee uses her Combiner Hunters color scheme (less facepaint) and greatsword when meeting with Galvatron. Back on the Ark-7, she's back in her normal color scheme. It's entirely conjecture at this point, but I'm taking the darker Combiner Hunters color scheme to be an application of the stealth paint last seen
all
the way back in this series when it was still Robots In Disguise. Specifically, roughly a year ago in issue #31, when Jazz was using it. If so, that's sort of brilliant - John Barber has created a way to address (and use) special toy recolors in the pages of the comic while reverting to the more familiar colors when needed. Nice touch!
While this issue will not be packed with a toy, there is of course a connection. The Combiner Hunters cover is one of three exclusive covers being offered by IDW at San Diego Comic-Con this year to support the Combiner Hunters exclusive boxset, and I believe it's a safe bet they'll be offering one on each of the three main books coming out between now and SDCC. And naturally, the Combiner Hunters tie-in comic will also be there at the show, with its own exclusive cover.
| | |
| --- | --- |
| Reviewer | RAC |
| Date | June 16th 2015 |
| Score | (8 out of 10) |
| Reads | 5444 |
Back to Reviews Index