Meet Knock Out and Moonracer, the delegates from Velocitron! Windblade wants -
needs
an alliance on the nascent Council to thwart Starscream's dreams of empire. But there's only one way to make policy on Velocitron...
Transformers: Windblade
#4 is written by Mairghread Scott with art by Corin Howell and colors by Thomas Deer.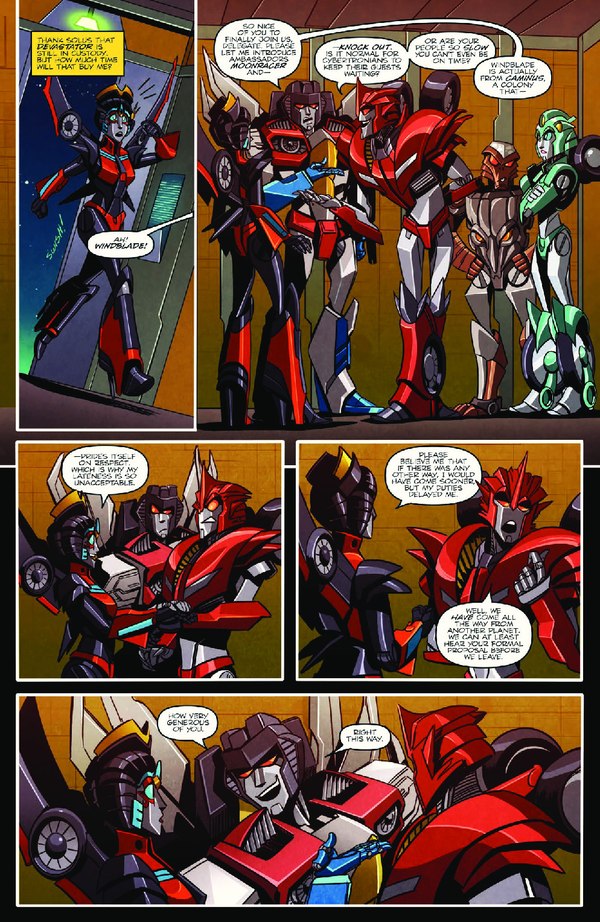 Ah, Knock Out. Just as much of a vain jerk as ever.
The issue opens with Windblade and Chromia breaking up a fight between some Camiens and Decepticons; the `Cons are siphoning energy off of Metroplex, which offends the former inhabitants of Caminus on a spiritual level. Starscream already has what he wants, so it's fallen to Windblade to actually try to make peace between the various factions on Cybertron. Because of this, she's late for the Council's pitch session to the delegates from Velocitron: Knock Out and Moonracer. But Knock Out is not receptive. And besides which, the only way to change the law of Velocitron is to win a race. At which point, Windblade suggests that they all go to the party at the local bar -
Blurr's
bar - and have a drink. While Blurr and Knock Out trade boasts, Moonracer lets Windblade know that not all Velocitronians feel as Knock Out does...
This issue feels like an episode of a TV series in entirely a good way. The direction the story is going to take is clear from when you've seen Knock Out's description of Velocitron's government (and Blurr's picture on the cast page), but as always getting there is at least half the fun. There's a clear goal and everyone is being a little bit more direct, which is a nice break from the heavier Combiner Wars and Prowl and Starscream's machinations. It's especially nice to see Knock Out make his first full appearance in the IDW comics, and naturally in the hands of former
Transformers Prime
writer Mairghread Scott, he sounds and acts pleasantly familiar. As I may have expressed before, I am totally fine and totally happy with IDW/Generations becoming a "G1 Perfected" kind of universe where the most interesting characters from other series mix with the classics. The way Combiner Wars has opened up the Transformers' world, it seems more of that's on the way.
As we saw for parts of last issue, Corin Howell's art is more exaggerated than even Sarah Stone's, especially in terms of facial expressions. That may take adapting for some people, but Scott's writing has always done best with more expressive artists, so I think they're a good fit. There are a few scenes where it feels like the intensity of the dialogue and expressions don't seem to match. It makes me curious to find out if Windblade is written out with a full script in advance or in the Marvel style, where an artist is given a detailed outline and dialogue is determined afterwards. Either way, it's something I expect will happen less as the Scott/Howell partnership settles in. It's also worth noting that Howell does seems to be working from Sarah Stone's character designs in at least some cases; their Wheeljacks in particular are very, very similar. The book still looks great, and doesn't look like any other Transformers title - both positives in my opinion.
We noted in the Windblade #3 episode of
Fanboy Vs. Transformers
that colorist Thomas Deer worked very well with Howell's style, and while we wouldn't be unhappy to see Priscilla Tramontano come on as the presumed colorist for the book, we wished we could see more of Deer's colors as well. Well, Deer is still the colorist for this issue, so we got our wish! Deer's colors definitely add to the cartoony look of the art, with simple but elegant highlights and shadows. That said, he's also one of the better colorists for conveying that, yes, these characters are all made of
metal
- and the more lifelike their expressions, the more important that becomes.
Four covers once again. Priscilla Tramontano provides the standard cover, and while we usually see her work as a colorist I would love to see her do some cover or even interior work more often. Casey Coller and Joana Lafuente's subscription cover show a stern Windblade looking out over a particularly nasty looking section of Cybertron slums. It's kind of conspicuous in that of all four covers, it's the one closest to what feels like IDW's "standard" style - if they can even be said to have such a thing by now. The
most
stylized would go to Naoto Tsushima's Retailer Incentive cover with colors by "Jet Enter." That's a really well-done image, just gorgeous, that plays to Windblade's Japanese stylings. Lastly is Sara Pitre-Durocher's Convention Exclusive cover, which will likely be available at SDCC. Naturally, it shows Windblade in her Combiner Hunters color scheme. As with More Than Meets The Eye, a good month for cover art on a fine comic.
| | |
| --- | --- |
| Reviewer | RAC |
| Date | June 23rd 2015 |
| Score | (8 out of 10) |
| Reads | 14787 |
Back to Reviews Index